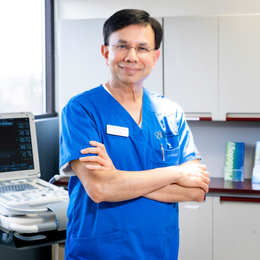 Restoring the Flow
People struggling with vein disease can "look better, feel better, and live better" with help from Dr. Mehul Shah of the Center for Vein Restoration.
Jean Rodgers feels a swell of pride when people remark that she doesn't look her age. At 70 years young, Rodgers attributes one key aspect of her youthful appearance to a chance encounter at a supermarket 25 years ago.
"I was 44 or 45 at the time, and this woman was probably the age I am now," recalls Rodgers, who lives in Paoli. "I'm not exactly sure why, but we started talking about varicose veins and spider veins, and she said if I ever needed it, she recommended that I go to see this one particular doctor in King of Prussia who specialized in vascular medicine. So that's exactly what I did."
The doctor's name: Mehul N. Shah, M.D., FSVM, a board-certified vascular physician who founded the Vascular Medicine Center, a King of Prussia practice that he operated for almost three decades. There, he and his staff specialized in treating patients struggling with a host of vein-related conditions, including spider veins, which are small threadlike veins resembling spider webs or tree branches, and varicose veins, which are bulging ropelike veins that not only look unattractive but also can be potentially harmful.
"At the time, my issue was spider veins on my legs, but I was pretty sure it wouldn't stop there," Rodgers says. "My mother and her father suffered from vein disease, too. My earliest memories of my grandfather were him wrapping his legs in ACE bandages every day of his life to control the swelling. My mother never did anything about it either; in summer, she wouldn't wear anything that would expose her legs. I knew I was going to go down the same road as time went on."
By Rodgers' 60th birthday, when she noticed a few varicose veins on the legs—"buckled and knotty-looking," as she describes them—she knew precisely who to call for resolution. To this day, she continues to see Dr. Shah for preventive care at the Center for Vein Restoration in King of Prussia, where he now serves as lead physician.
"Spider veins and varicose veins are symptoms of a condition called venous insufficiency," says Dr. Shah, a Fellow of the Society for Vascular Medicine who trained at the world-renowned Cleveland Clinic. "In most cases, venous insufficiency comes from leaky valves in the leg veins, which can cause blood to pool in the legs due to reverse or backward flow. Spider veins and varicose veins are the more visible symptoms, but many patients also complain of physical discomfort—the feeling of tired, heavy, aching, or restless legs, for example, without the visible surface veins."
Chronic venous insufficiency affects as many as 25 million Americans, though Dr. Shah suggests only a fraction of that population—fewer than 2 million—seeks treatment, in part because they wrongly assume the condition is a normal part of the aging process. Furthermore, he says only a quarter of the 2 million receive appropriate treatment due to frequent misdiagnosis.
"Many people initially go to their primary care doctor, but primary care doctors are not armed with the information or the tools needed to adequately diagnose it," he says. "What often happens is that the patient is referred to the hospital to have a blood clot ruled out for leg pain or swelling using an ultrasound exam; the patient may be happy to find out they don't have a blood clot, but usually there was no step taken to check for leaky valves. Therefore, the condition is missed, but the patient continues to live with discomfort or swelling.
"If they come to a facility like ours," he continues, "they would receive comprehensive care to assure that they receive the right care from the start."
Solving the Problem
In 2019, Dr. Shah joined the Center for Vein Restoration, a nationally recognized leader in the treatment of varicose and spider veins, with more than 75 locations and growing. The Center for Vein Restoration's mission: "To improve lives in the communities we serve by providing state-of-the-art vascular care in a compassionate and affordable manner."
Depending on the location, size, and position of the vein, as well as the patient's lifestyle, Dr. Shah can choose from a number of modalities to treat patients effectively. These minimally invasive procedures, which enable patients to walk in and out of the office and then return to work the next day, include: radiofrequency or laser ablation, which delivers uniform heat as a way to collapse the target vein; Varithena, an ultrasound-guided injectable microfoam that fills and treats the desired section of the target vein; and VenaSeal, a proprietary medical adhesive used to close the target vein by sealing it shut. For cosmetic spider veins, Dr. Shah uses sclerotherapy with a cold-air machine, or cryo-sclerotherapy, which makes it virtually painless.
When applicable, Dr. Shah may recommend a micro-phlebectomy, a minimally invasive procedure often done in tandem with laser or RF ablation, to treat the residual bulging varicose veins, which Dr. Shah calls "the tip of the iceberg." The same veins will not come back after treatment, he adds. In addition, he often prescribes certain lifestyle changes, such as weight control, exercise, and the use of compression stockings. Because varicose veins with symptoms and treatment are considered medically indicated, they are covered by insurance.
"I wouldn't wish varicose veins on anyone, but people should know that the condition is not something they have to live with," says Bernadette Wasmer, a Telford resident who has been a patient of Dr. Shah's for several years. "Dr. Shah has all kinds of procedures he can do to solve the problem. Some of the treatments sound as though they will be very painful, but you never feel more than a pinch. He has the magic, so you know he must love what he does."
This level of care and attention to detail is what another longtime patient, Nora Martini, appreciates most about Dr. Shah. The West Chester resident describes Dr. Shah as a "trustworthy, professional, and caring doctor with a terrific staff." Over the past 15 years, Martini has relied on him to treat her varicose veins using modalities such as heat ablation and ultrasound-guided Varithena. In the near future, she will visit his office for a micro-phlebectomy to treat a remaining varicose vein.
"Dr. Shah has made the condition manageable," Martini says. "I've been going to him for so long, and I feel so comfortable going there. … I plan on being a patient of his for as long as he practices."
While women are at the greatest risk of developing vein disease, men are hardly immune—as West Chester resident Kevin Donovan* can attest. Donovan was born with Klippel-Trenaunay syndrome, a rare congenital disorder characterized by venous abnormalities, among other symptoms. He has been a patient of Dr. Shah's for more than eight years.
"I had gone to a number of doctors, and every one said I couldn't do anything about it," says Donovan, now in his early 40s. "In addition to varicose veins, I've had a constant aching and heaviness in my right leg, but Dr. Shah has done a few procedures that have helped me feel better. He makes each procedure as painless as possible. Now I'm back to see him every six months or so."
As a result, Donovan says his quality of life has improved greatly. The discomfort has subsided, and he no longer worries about the aesthetic concerns that dogged him for too long. Whereas he used to be self-conscious about wearing shorts or otherwise exposing his affected leg, he says Dr. Shah's treatment has made it so "you can't really tell that I have a problem."
In other words, Dr. Shah and the Center for Vein Restoration have enabled patients of all ages and backgrounds to "look better, feel better, and live better."
"Varicose veins are unsightly, and that's a huge consideration for a lot of people, but what's most important is what happens down the road as people age," adds Rodgers, Dr. Shah's longtime patient from Paoli. "You don't want to get to the point where you're putting your health at risk."
She remembers all too clearly the unfortunate progression of her grandfather's vein disease. After years of going without adequate treatment, he had open ulcers on his legs.
"The treatments that Dr. Shah provides make all the difference, in terms of how you look and how you feel," she continues. "Besides that, he's very calm and gentle, and he has a great sense of humor. If I didn't like Dr. Shah and have faith in his abilities, I wouldn't have been a patient of his for 25 years."
The Center for Vein Restoration
170 N. Henderson Road, Suite 302
King of Prussia, Pa.
(800) FIX-LEGS
* Name changed by request to protect anonymity
Photography by Jody Robinson
Published (and copyrighted) in Suburban Life magazine, April 2019.