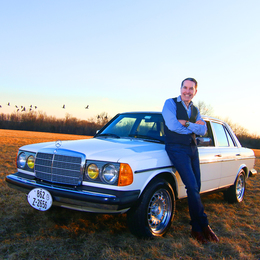 Driven
Matthew Farley, a local professional with a philanthropic heart, prepares for a cross-country road trip in support of people affected by Parkinson's disease.
For Montgomery County resident Matthew Farley, the most fulfilling part of any journey is not the destination but the drive. Sometimes he's on a motorcycle, other times he's in an automobile. Sometimes he's alone, and other times with his family—meaning his wife, Karen, or his son, Kyle. And sometimes, he'll get behind the wheel for the singular purpose of helping others.
Life has been kind to Farley, so he feels compelled to return the favor. For the past 10 years, he has volunteered with Rock and Wrap It Up!, a national think tank devoted to addressing the issues of hunger and poverty in America. Locally, Farley belongs to a small group of volunteers who visit Citizens Bank Park several times during a Phillies home stand, where they gather leftover food from the Phillies organization and then transport it to organizations devoted to feeding the less fortunate.
Farley also volunteers with his wife at the monthly lunch for the hungry and homeless at Doylestown Presbyterian Church. "We're not members of the church, but we know what they're doing helps people who need it," he says. "That's why we do it."
Farley's altruistic nature will soon fuel him through another philanthropic endeavor: a cross-country trek in support of Drive Toward a Cure, a rally program that teams cars and camaraderie to raise funds and awareness in support of those affected by Parkinson's disease.
Parkinson's is an incurable, progressive, neurodegenerative disorder that can lead to mental and behavioral changes, memory difficulties, and fatigue, as well as difficulty with talking, walking, and coordination. Approximately 10 million people worldwide have Parkinson's, and approximately 60,000 Americans are diagnosed with the disease each year. High-profile individuals who have been affected by the disease include actors Alan Alda and Michael J. Fox, former heavyweight boxing champion Muhammad Ali, singer Neil Diamond, Peanuts creator Charles M. Schulz, President George H.W. Bush, and Pope John Paul II.
"I'm hoping to encourage people to do anything to help others who need it most," he says. "I continue to volunteer to help others who need help more out of a gratitude basis, feeling grateful for what I have. Members of my family have gotten involved, too, and those experiences have given me so many stories to tell and so many memories that I look back on fondly."
In May, Farley's son, Kyle, will graduate from Bloomsburg University with a degree in business and finance. Afterward, Kyle's education will continue as he and his father split time behind the wheel of his father's 1984 Mercedes 300D. Father and son will then head toward the West Coast.
"When I mentioned incorporating something charitable into our journey, Kyle said, 'Let's do it!'" the proud father recalls. "I'm a car nut, and Kyle is one by default, so he's really excited. So am I. I want him to experience L.A. and Southern California."
Their first destination of note: Nashville, Tenn., home of the Grand Ole Opry and the Country Music Hall of Fame and Museum, among other sights.
"We're allowing two weeks for the drive, then have the car shipped back home," Farley says. "We'll have a sign on the back of our car with the web address for Drive Toward a Cure. It's easy for people to log on, point and click, and make a donation. I'm not comfortable soliciting, so this makes it easy for me and those who want to donate to a great cause."
This year's Drive Toward a Cure rally would have been Farley's third. He and Karen, his wife, did their first road rally in 2017.
"We met some great people doing great things to help fight Parkinson's," Farley recalls. "Last May, we flew to California and did a rally there. After that, the organizers said they'd like to have us do the rally again in 2019. I said I couldn't, but maybe we'd do something else. That's when the idea of incorporating Drive Toward a Cure in our cross-country journey was born."
Farley expects this year's event to be a unique bonding experience between father and son. At the same time, he's happy to take yet another punch at Parkinson's disease.
"If a lot of people put in a little bit of effort, it can make a big difference," Farley notes. "Someone once explained it to me this way: Put a pen or pencil in your hand, and then raise your hand as high as you can. Then raise it just a little bit more. You find you can always raise it a little more. There's always a little more we can do."
Photograph by Heart and Soul Portraits
Published (and copyrighted) in Suburban Life magazine, April 2019.