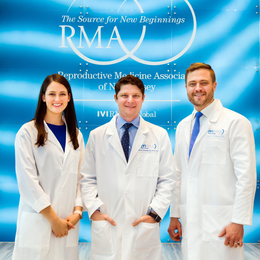 Delivering Results
With the opening of a new location in Marlton, Reproductive Medicine Associates of New Jersey helps more patients than ever realize the dream of building a family.
Starting a family is one of life's greatest joys. For some, however, the road to delivering a healthy baby can be a rocky and circuitous one. No one knows this better than the fertility specialists at Reproductive Medicine Associates of New Jersey, which recently expanded to serve even more patients in a 41,600-square-foot facility conveniently located in South Jersey.
The new office, which opened on April 8, is located in Marlton at the intersection of routes 70 and 73. The Marlton office features the advanced technology and laboratory resources previously available only at RMANJ's northern New Jersey office in Basking Ridge. In addition, the new office includes a world-class embryology lab, spacious areas devoted to clinical and surgical procedures, and an andrology lab focused on issues pertaining to men's reproductive health.
Jason M. Franasiak, M.D., FACOG, lead physician at Marlton's RMANJ location, spearheaded the office's development. He will also serve as laboratory director for the Marlton clinic, responsible for quality assurance and quality control—or, as he explains, "making sure we are performing up to standards."
"I had the opportunity to be involved in the planning of several other facilities that are part of the IVI-RMA Global network, so helping in the development of this facility was natural," Dr. Franasiak says. "I've been driving by the building every day for the last couple of years, and I've seen it evolve from an old diner to a new structure. We're all very excited about the new facility."
Fellow RMANJ practitioner Daniel J. Kaser, M.D., FACOG, says he looks forward to serving patients in the Marlton location, as well as in the practice's Princeton office.
"The Marlton center will contain everything that a couple or individual will need in the course of their fertility treatment," Dr. Kaser says. "It will include clinical spaces in which we can see new patients for everything from routine ultrasound monitoring to fluoroscopy imaging to egg retrieval and transfers in our three-room surgical center. We also have a full IVF (in vitro fertilization) lab for culturing and testing of embryos.
"One in eight couples deals with infertility," he continues. "This is challenging enough, so we've done our best to help streamline the process so treatment is as easy as possible. We have taken all the advancements in care from our flagship center in Basking Ridge and brought it to more conveniently serve patients throughout South Jersey and the Greater Philadelphia region."
Bright Future
In working toward the goal of creating a more convenient patient experience, the Marlton office will offer morning monitoring hours, between 6 a.m. and 7:30 a.m., "so patients' days are not interrupted constantly," Dr. Franasiak notes.
Hayley Eichlin, DNP, WHNP-BC, a nurse practitioner with RMANJ, will be working alongside Drs. Franasiak and Kaser in the new Marlton office. She shares the doctors' enthusiasm for her work with RMANJ, which, as a practice, has live-birth rates that are well above the national average across all age groups.
"Our new Marlton facility will be significantly larger than the space we're in now," says Eichlin, who received her doctorate in nursing practice from Duke University. "The new space features three stories and tons of natural light that comes through into all spaces, particularly the waiting room. The building is very modern and has a beautiful façade."
Eichlin also sees a great deal of symbolism in the brightness of the new facility.
"Infertility is always about trying to see the light at the end of the tunnel," she says. "Light also does so much for patients in terms of outlook. When a patient spends so much time in a place where they are receiving care, the patient wants that space to be a nice one, and that's exactly what we've achieved with this building. We're all so excited to be a part of this. Our mission is to help more people."
As a nurse practitioner specializing in reproductive endocrinology, Eichlin utilizes her education and experience to undertake numerous duties. These include new patient consultations, morning monitoring, ultrasounds, saline sonograms, hysterosalpingograms (wherein dye is injected into the uterus and fallopian tubes and X-rays are conducted to make sure pathways are clear), as well as procedures such as intrauterine insemination.
"We offer comprehensive chromosome screening in the form of pre-implantation genetic testing that we have developed and validated to screen each embryo to determine if the embryo has the correct number of chromosomes," Dr. Kaser adds. "This way, we know if the embryo we're transferring back has the necessary blueprints to result in a healthy pregnancy and live-born child.
"There are a number of causes of infertility," he continues. "One of the more common causes is women waiting later and later to have children. As a woman ages, her egg quality goes down. This type of screening is valuable for all our patients as it improves implant rates by 12 to 15 percent, and decreases miscarriages by 50 percent. This is increasingly important for women over age 35."
Another cutting-edge screening process is single gene testing.
"The idea is that you can test for a specific gene in a chromosome to see if both parents have a 'bad' copy of the gene," Dr. Kaser adds. "For example—if both parents are carriers for cystic fibrosis, single gene testing of the embryo can uncover that. This technology is empowering for patients who happen to be carriers of certain genetic traits. Single gene testing helps start pregnancies off on the right foot, with better chances of successful pregnancies and healthy newborns."
Where Patients Become Parents
Dr. Franasiak earned his medical degree from the University of Virginia, and completed his residency at the University of North Carolina. Whereas he had initially been interested in gynecologic oncology, he says he "fell in love with the patient-practitioner interaction" of infertility work during his reproductive endocrinology rotation at UNC. Now, with RMANJ, he has the opportunity to use some of the world's most advanced technology to help patients become parents.
"There have been such great advancements since reproductive medicine came of age in the 1980s," Dr. Franasiak notes. "This area of medicine is still very young. It's really exciting to be still somewhat on the ground floor of this area of medicine, to be part of research protocol that can really change the way that this area of medicine is practiced."
Dr. Kaser completed his medical education at Dartmouth College and residency at Harvard Medical School in Boston. He is trained as a reproductive endocrinologist and fertility physician who specializes in infertility and recurrent pregnancy loss. He explains that in addition to onboarding the most experienced and caring professionals to all positions within RMANJ, the practice leads the field in research initiatives.
"We conduct a lot of ongoing research at RMANJ," he says. "We stay current by not only attending national conferences featuring renowned speakers, but also by leading from the front and conducting our own research. We have many opportunities for patients to participate in research studies. We often have several available that they can consider."
The professionals at RMANJ also embrace the tenets of fairness and inclusivity.
"What families look like nowadays continues to evolve," Dr. Kaser observes. "We help not only couples struggling with infertility, but also patients who wish to preserve their fertility with egg or embryo freezing. We help single men and women and trans individuals and members of the LGBTQ community to start families or preserve their fertility. Our doors are open. We are happy and proud to take care of anyone who needs or wants help starting a family."
In other words, RMANJ is committed to achieving the same goal for all patients: building families—traditional and nontraditional alike.
"I love my job," Dr. Kaser says. "I get to meet men and women from across the world who are having a difficult time getting or staying pregnant. Through thorough evaluation, we are able to help place within context why patients are having difficulty and offer them hope. Couples often come to the clinic after years of trying without success, or to get a second opinion after failing treatment at another center. I enjoy being able to see someone from an initial visit, when they may have lost hope or be discouraged, help them through the process of conceiving, and celebrate with them when they are successful. To be able to offer someone hope again, what an amazing thing!"
Eichlin has realized some of the greatest joys of her life seeing the bonds build between a mother and her baby. The bond, she notes, tends to begin long before the baby is born.
"I always knew I wanted to work with babies or pregnancy growing up, and my experience working in the NICU (neonatal intensive care unit) gave me a very unique perspective," she says. "My No. 1 joy is helping patients get pregnant. I love being present during ultrasounds and pointing things out to curious patients. To share a scan with a parent seeing their baby for the first time, to see the heartbeat flickering, is one of the happiest scans you can have."
"I think that one of the things that is most rewarding about being a part of this field is helping couples realize their family-building goals," Dr. Franasiak adds. "To help someone overcome issues to build a family is truly one of the most rewarding things you can imagine."
RMANJ Marlton
Elmwood Business Park
767 East Route 70, Building B101
Marlton, N.J.
(856) 267-8100
Photograph courtesy of RMANJ