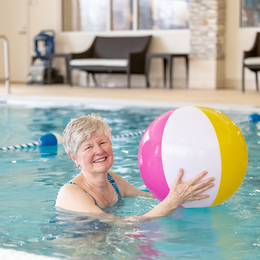 Living Well at Every Age
For residents and employees of Meadowood Senior Living, wellness is a way of life.
Formal exercise did not figure into Peggy Hinman's daily routine until she moved to Meadowood Senior Living in Worcester. Now she exercises five days a week, participating in wellness classes with fellow members of the close-knit community, splashing around in the pool, and playing on the community's water volleyball team.
"I just love water volleyball," says Peggy, who lives at Meadowood with her husband, Trip. "We have a great group of people, and no one takes it too seriously. Sometimes we'll even play the staff. You don't have to be good or competitive; you just have to want to have fun."
Although Trip has a neurological condition that affects his speech and balance, his wife says it hasn't stopped him from taking advantage of Meadowood's health and wellness programs. Although Trip can't stand without assistance, Peggy says the fully accessible campus enables him to "get around beautifully" on a motorized scooter. In fact, he often rides his scooter along the community's perimeter road, with their fearless companion dog, Beth, beside him.
"Meadowood has been great for my husband and me," Peggy says. "There's something different going on here every day. I never thought I would get into exercise, but it's part of the culture here—and they make it fun."
No Limits
Meadowood residents like Peggy Hinman understand that growing older doesn't have to mean getting old. The diverse health and wellness programs help residents stay active, engaged, and as independent as possible. Becky Anhorn, who became Meadowood's director of fitness and wellness in December 2018, believes "the sky is the limit" with regard to the continued evolution of the community's wellness programs.
"I believe there's so much that can be done in a community like ours," says Becky, who was a fitness instructor, dancer, and entrepreneur prior to joining Meadowood. "Our existing wellness program has a good balance, but it's just the beginning. We have over 45 physical fitness classes a week. We want to cater to every skill level, whether someone is fully capable, in a wheelchair, or in a walker. We also have some residents with physical and cognitive challenges, but that doesn't mean they don't deserve to live their life in the best ways possible."
With every aspect of the community, including its approach to lifelong fitness, Meadowood aims to nurture the six dimensions of human wellness—emotional, intellectual, physical, social, spiritual, and vocational. In addition, Becky says that the community caters to the wellness needs of both employees and residents, with the goal of having a "well staff taking care of well residents."
Nancy Kocher, Meadowood's director of environmental services, shares Becky's devotion to physical fitness. Prior to joining Meadowood, when she was working for another Life Plan Community, she had an experience that changed her life for the better.
"In the morning, when I would do my rounds, I would see the residents in the gym pumping iron," she recalls. "I thought, If they're doing it, there's no reason I can't, so I started getting to work at 5:30 or 6 a.m. and swimming or working out with the residents."
Her commitment to physical health only intensified when she came to Meadowood. Working at the community inspired her to compete in her first triathlon, for example. She now encourages members of her 18-person housekeeping staff to follow her lead; she offers to adjust team members' work schedules if they wish to participate in staff fitness classes organized by Becky. In addition, Nancy is currently rallying her fellow co-workers to participate in a unique team-building exercise: a challenging, mud-slicked obstacle course called the Tough Mudder, coming to Coatesville next month.
"Working out brings energy to every part of your life," Nancy says. "Being in this community and seeing the residents work hard and make a difference in their lives encourages me, and I hope it encourages my team members. This is a challenging industry to work in, and stress can have a big effect on the human body. Healthy employees are more productive employees. That's why it's so important to encourage people who have an interest in healthy eating and overall wellness."
Endless Options
Paul and Jane Anderson moved into Meadowood 10 years ago. It was "an easy transition," they say, in part because of the abundance of ways to boost their health and wellness.
"You can use the treadmills and other exercise equipment 24 hours a day, so you can always find time to exercise if you want to," says Jane. "I like aerobics, and if the regular aerobics class is too much for some people, there's a level below that where you can sit in a chair and do aerobics. You can essentially design your own exercise program."
Paul, on the other hand, has had "enormous fun" playing on the water volleyball team. He's also eager for the return of kinder weather, when he intends to make the most of the walking trails and natural beauty surrounding the idyllic campus.
"The body responds differently to exercise when you get into your 80s," he says. "The instructors here understand that, and they're careful that you don't put too much stress on your knees and shoulders, and that you're exercising safely. They're part of the community, too—and that's one of the great things about Meadowood. It's a community of people who know each other, greet each other, and help each other."
Much like the community itself, Meadowood's health and wellness programs will continue to evolve to suit the changing interests, needs, and skill levels of the men and women who live on campus. While residents can participate in everything from yoga and tai chi to bocce and pickleball to Conductorcise and DrumFIT, Becky says the future options are "endless." One possibility is therapeutic riding at an equestrian facility nearby.
"It's impressive and motivating for me to realize that people never stop wanting to grow and experience new things," Becky adds. "A lot of the things we might do in the future will be the result of trial and error, but I don't ever want to miss out on an opportunity just because something hasn't been done before or someone thinks it's outlandish. Our residents crave new things, and we're happy to oblige."
It's that kind of passion and commitment to new thinking that have been so important to longtime Meadowood residents like Peggy and Trip.
"I never exercised a day in my life before coming to Meadowood, and now I'm in the pool almost every day," Peggy says. "The staff here is wonderful. They really try to accommodate everyone. A happy staff makes for happy residents, and we are happy here. I think it helps that the staff is part of the wellness program, too. They really love the residents, and it's obvious how much they care because of how involved they are."
Meadowood Senior Living
3205 W. Skippack Pike
Worcester, Pennsylvania 19490
(610) 584-1000
Photograph by Nina Lea Photography