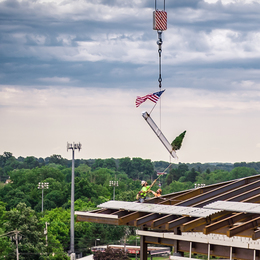 2020 Vision
Chester County Hospital sets its sights on its largest expansion yet.
In 2020, Chester County Hospital will complete a 250,000-square-foot expansion and 26,000-square-foot renovation plan that will make world-class health care accessible to all of Chester County.
The project will include 15 state-of-the-art operating rooms, three of which will be high-tech labs for cardiac catheterization and electrophysiology, and new areas for interventional cardiology and pre-admission testing.
The expansion will also include a 99-bed tower featuring private patient rooms for peaceful healing, an expanded Emergency Department with 13 additional rooms for expedited care, a new community pharmacy, calming public spaces and interior courtyard, and additional dining and shopping options in the new café bistro and gift shop.
Collaboration and Planning
Planning an expansion of this size and complexity requires consensus building among multiple stakeholders. To get a true idea of the time and effort that's been invested in the expansion of Chester County Hospital and the renovation of its Emergency Department, imagine the undertaking as an iceberg and the construction as the part that sits above the water's surface; we physically see only part of the larger picture.
For more than two years, starting in 2015, the architects, Ballinger, met with clinical staff to seek their feedback on each of the areas—operating rooms, Post-Anesthesia Care Unit, Intensive Care Unit, patient rooms, and Emergency Department—that comprise the largest expansion in the hospital's history.
"There's a lot that had to be worked out [before we started construction] because everybody had different views on how everything had to fit in the room," says Larry Bell, the hospital's Senior Project Manager for the expansion and renovation.
"So, a lot of time and energy went into ensuring that the designs met everyone's respective needs," adds Jen Corse, the hospital's Business Manager of Surgical Services and clinical advisor for the project.
In each meeting, Ballinger architects would arrange a large-scale layout of the specific floorplan across a table and populate it with proportionate, 3-D printouts of the various pieces of equipment that would fill it. The architects and clinicians then discussed how they could improve on current deficiencies and maintain other positive aspects.
Planning for a rapidly evolving and largely unknown future was also an integral part of most of the conversations, especially with the operating rooms.
"To try to figure out what the next 50 years is going to look like in an operating room is kind of difficult to wrap your head around," Corse says. "What kind of technology will be available? What will the equipment look like? You're using your current-day knowledge and a little creativity to try to understand an unknown. As one of the clinicians involved, it's been a little daunting. You try to prepare for every scenario, but you can never be completely sure that you are."
"What we tried to do was provide a lot of flexibility in the design, to the extent that we could, in an effort to 'future-proof' the facility," Bell says. The operating rooms, for example, will be especially large spaces that will be able to accommodate large equipment and added personnel for increasingly complex surgeries.
To aid the effort, full-size mockups of each of the floorplans were also created in an unused corner of the hospital and presented to the clinicians. In the case of the operating rooms, that meant a 750-square-foot room and a 1,100-square-foot room complete with walls and equipment.
"It goes beyond just looking at a drawing and trying to guess, 'Is this adequate circulation space?' 'Is this where we want to place everything?'" Bell says. "We even did one for an elevator because one of the critical parts of treatment is patient transport in the elevators."
The design meetings concluded before the start of the construction in May. A similar round of sessions is expected to begin in the coming months. This time, decision makers will address how to best incorporate the new and updated spaces into the rest of the hospital so that they function seamlessly.

Designing a Better Space for Healing
The expansion will promote an environment that fosters healing by giving patients and their families choice and control, and offers care providers a compelling place to work.
This new space will resonate with the needs of patients, families and medical providers, and will support the values of a community-based hospital. Chester County will benefit from having urban innovation right here in the suburbs. The expansion will allow more space for the most sophisticated medical procedures, provide more personalized care for inpatients, increase the patient care space in the Emergency Department, and allow local residents and the surrounding communities to stay close to home to receive the highest quality of care.
"The community we serve relies on our mission-based approach to care, our reputation for quality, and our history of providing advanced clinical services," says Michael J. Duncan, President and CEO of Chester County Hospital. "This expansion project, which is a testament to Chester County Hospital's partnership with Penn Medicine, highlights the hospital's and the health system's commitments to expand lifesaving treatments and programs in the community. The venture also accommodates anticipated growth and will continue the hospital's movement towards world-class health care for all of Chester County."
It is an elegant, forward-looking design rooted in the hospital's architectural tradition, as well as its lasting mission: to be the leading provider of care in the region and a national model for quality, service excellence and fiscal stewardship.
Rendering courtesy of Chester County Hospital