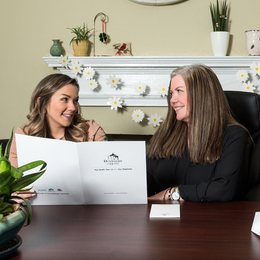 Safe at Home
Through Dunwoody at Home, seniors maintain their independence as they age safely in place.
When it comes to loved ones, particularly seniors, only the best care will do—that's why so many in the Philadelphia area turn to Dunwoody at Home. As an extension of Dunwoody Village in Newtown Square, Dunwoody at Home offers professional assistance with home health, as well as home and personal care. Skilled nursing, occupational therapy, physical therapy, and intermittent visits for short or extended periods, as well as continuous 24/7 care, are available to local seniors.
"Care depends on each individual's need," explains Dunwoody at Home Director Mary Grace Brown, BSN, RN. "We create an individualized care plan for each client and work with their family to see what kind of care and time commitment is needed. Care can involve morning and evening visits, assistance with mobility and nutrition, companionship, and more." This includes light housekeeping, medication reminders, showering or bathing, meal preparation, and even transportation.
The professionals of Dunwoody at Home strive to streamline the process for each client's family. At the outset, a Dunwoody at Home liaison can explain the benefits of home health care over the phone or in person. "Then, depending on the needs of the person, the liaison will go to the senior's home and talk about specific services," Mary Grace explains. "Next, we talk with the family to see what their needs are, and the client's needs are, and we offer what we can do for them." From there, as families and caretakers work together to arrange a care plan suited to the client's needs, the seeds of a relationship are sown.
"One of the things that always stands out to me is how rare it is to hear a complaint about anything from Dunwoody," says Dunwoody at Home Community Liaison Kelly Boland, LSW. "Our quality of care shines through in all of our clients. Dunwoody is not only a great place to live, but the care we provide to the outside community in the home is exceptional." Kelly's background is in health and social work; she is Dunwoody at Home's visiting social worker.
"Aging is inevitable for people," Kelly says. "Eventually, many people need help, and many of those people want to stay and be cared for in their homes. For those whose goal is to age in place, we provide the resources for them to stay at home if they can."
As one might expect, a high level of personalized care isn't possible without a dedicated, caring, and compassionate group of supporting individuals. "Our staff is wonderful," Mary Grace says, noting that clients may choose 24-hour on-call availability for home care and home health. "The entire team is dedicated to making sure that the best service is given. When we interview people who will be caring for clients, we ask: What do you think our clients really want? Most agree that they want someone who's honest—who can be trusted with their mother or grandmother, someone who will care for them and make them feel safe, independent, and not as if they are alone or a burden. These are things we keep in mind with our care."
"We always talk about the 'Dunwoody way,'" Mary Grace adds. "We work as a community and act as a team to give the best quality of care possible. We have the attitude that nothing is impossible—that we can get anything done. We work hard to help each client achieve his or her goals."
Dunwoody at Home is a Medicare-certified home health agency, and medically necessary skilled services are covered under a person's Medicare benefit. Most home and personal care clients pay an hourly fee with a minimum shift amount of three hours per shift on the Dunwoody Village campus, or four hours per shift for those living in homes elsewhere in Chester, Delaware, or Montgomery counties. Client visits can range from daily to weekly, depending on the individual's wants and needs. As Mary Grace says, "It's an investment in quality of life."
"The feedback we receive from clients and their families is overwhelmingly positive," Kelly adds. "It's really amazing to work for a company with such great people that I can say with confidence to every potential client, 'You will not be disappointed.' With Dunwoody, you know your loved one will be taken care of. Dunwoody at Home affords seniors safety and a sense of independence that they are able to age in place."
Dunwoody at Home
3500 West Chester Pike
Newtown Square, Pa.
(610) 359-4503
Photograph by Jeff Anderson
Published (and copyrighted) in Suburban Life magazine, April 2019.