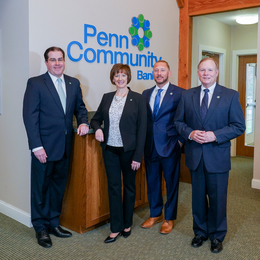 'A True Financial Partner'
Penn Community Bank's commitment to evolution enables customers to follow multiple pathways toward their financial goals.
The world of consumer banking has been turned on its ear in the past decade. Given the rise of telephone banking, online banking, and mobile banking, the era of waiting in long lines for the next available teller has faded into the ether. In fact, many consumers now choose to do most, if not all, of their banking without stepping foot into the nearest branch.
Even so, financial institutions such as Perkasie-based Penn Community Bank remain more vital than ever. As an independent mutual bank whose roots stretch back to the 1880s, Penn Community Bank has embraced the practice of continual evolution—not only in its bank branches, but also through allied services such as insurance and investments—to serve the ever-changing needs of families and businesses alike. This close relationship with the community stems in part from the bank's unique structure, according to Jeane Vidoni, President and CEO of Penn Community Bank.
"We are not publicly traded and do not have any outside investors who expect a return," Vidoni says. "This translates into a mission of truly serving our markets to promote economic and basic wellbeing. … Our point of difference is how we do business—how we treat each other and our customers. Combine technical talent with genuine care, and you have Penn Community Bank."
The company's 24 branch locations in Bucks and Montgomery counties offer the full gamut of financial products, ranging from standard savings and checking accounts, to IRAs and certificates of deposit, among others. The greatest value for customers may come from the opportunity to have "good conversations" about their financial goals, according to Jake Iampietro, Senior Vice President and Retail Banking Director.
"Branch banking requires much more of an advisory approach than it used to," Iampietro says. "We want to understand what keeps customers up at night. 'Am I going to be ready to retire when I want?' 'Will I have enough to afford the kind of retirement I want?' 'Is my family going to be taken care of if I'm no longer here?' All of these questions weigh on a person's mind. So when we sit with a customer, we like to ask, 'If there's one thing I can help you with in regard to your financial life, what would it be?' By doing so, we put the customer in the driver's seat."
Building Trust
As part of an ambitious project to redesign its branch locations, Penn Community Bank is reimagining the way staff members engage with customers. At the same time, the bank is reimagining how customers engage with their own money, through technology such as MX Money. This digital money-management tool enables users to manage their internal accounts at Penn Community Bank, as well as any external accounts, plus spending and budgeting features, to provide a "complete picture" of their financial life.
"We may not be a large national bank, but we have all the tools and capabilities of a much larger financial institution," Iampietro adds. "We've worked hard to build trust with our customers and make sure they have the same positive experience at any of our branches, and to make sure they get the same experience across all of our business lines."
Specifically, he's referring to not only retail banking but also Penn Investment Advisors and Penn Community Insurance. All three divisions work closely together to maintain a high level of consistency, all working toward the same goal: putting clients in a position to achieve their financial goals.
"As people approach retirement, there's a common theme that many don't feel prepared," says Sean M. Schmid, Senior Vice President and Chief Operating Officer of Penn Investment Advisors. "They're concerned about not being able to retire when they want. They're concerned about rising healthcare costs. They're worried that they may run out of money during retirement. When we sit down with them, we listen to their concerns and answer a lot of questions. Our goal is to educate and advise them, helping them feel more confident about the future."
Each member of Schmid's 16-person team works to gain an intimate understanding of a client's individual goals and "pain points," and then works to develop a custom financial plan designed to facilitate a worry-free retirement. But that's just the beginning.
"A financial plan is a living, breathing document," Schmid says. "We're always looking to help people answer the question, 'What's next?' Someone could spend 30-plus years in retirement, so we want to look at not only return on investment but also return on life. Most people are so focused on the financial aspects of retirement that they forget to think about what their retirement will look like. Part of our job is to prepare people mentally for the next chapter, to help them envision how they will achieve fulfillment in retirement."
This approach differs significantly from the transactional nature that once characterized the relationship between advisor and client. In fact, Schmid says his team members refer to themselves as "longevity advisors" rather than financial advisors.
"People's situations will change over time, and we want to account for those changes," he says. "Through someone's 70s and 80s, they can experience changes to their health, and we want to have what we call 'courageous conversations' and then address these changes in their financial plans. We have a fiduciary responsibility, and that means we always have their best interests in mind."
Always Changing
While planning for the future through a carefully thought-out financial plan is essential, Penn Community Bank wants to help customers protect their investments, among other assets, from the unexpected. That's where Michael Meeneghan comes in. As President of Penn Community Insurance, Meeneghan leads a team of professionals who take a consultative approach to helping clients make informed decisions about their insurance coverage.
"Most people think of insurance—home or auto or umbrella—as something static they buy in the event of an accident, or a fire, or a lawsuit, and put in the file and put it out of mind," he says. "That's not the case. Your insurance needs change as your life changes."
Meeneghan suggests people tend to view insurance as complicated and, therefore, don't like to invest the time to understand it. In many cases, he says when people take a little time to talk with someone from his team to learn what they have and what they may need, they are surprised at how inexpensive it can be to protect the things that are most important to them.
"Often what happens is a renewal comes up and, even though their premiums have gone up, they go ahead with it because inertia takes over," he says. "Many times we're able to place people with higher coverage, meaning they're better protected, and still save them money."
Meeneghan treasures the opportunity to help clients preserve and protect what they have built. He also appreciates being part of a bigger team capable of addressing all aspects of an individual's financial health.
"We're not just a bank to help people with a checking account or provide them with a loan," he says. "What we really want to do is help them with their overall financial wellness and be a true financial partner. We're not just a bank branch, we're not just an insurance agent, and we're not just an investment firm; we're here to work together to help people."
To his point, Penn Community Bank is committed to helping communities in ways far beyond its customers' financial health. The organization contributes 5 percent of its annual net income to assisting those in need, through initiatives to provide affordable housing, financial literacy and self-sufficiency, and food security.
While Penn Community Bank has evolved considerably over the years, Vidoni says it's not done yet.
"We plan to continue to strategically expand where it makes sense," she adds. "This may mean a cutting-edge branch office, a loan production office, or simply an online presence. … Our relationship [with the community] is genuine, and we are here for the long term."
Photograph by Jody Robinson