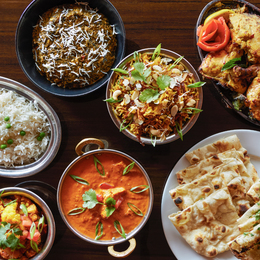 Spice of Life
Known for inventive dishes featuring the bold flavors and aromas of Southeast Asia, Tiffin Indian Cuisine expands its footprint in the Greater Philadelphia Area.
Tiffin Indian Cuisine has played an instrumental role in popularizing dishes such as paneer tikka masala and tandoori chicken. In fact, many restaurant goers throughout the Greater Philadelphia Area now include Indian cuisine as one of their go-to food choices—and they have Munish Narula to thank.
Narula, the man behind Tiffin Indian Cuisine, earned an undergraduate degree from Johnson & Wales University in Providence, R.I., where he studied hotel and restaurant management. He then went on to earn an MBA from the prestigious Wharton School of Business at the University of Pennsylvania, putting his degree to use as an investment banker on Wall Street. After two years, he decided to change course and pursue something closer to his heart.
He combined his love of cuisine from his native India with his extensive operational experience and financial acumen to set him up to start a food concept that would soon become a small chain of 10 restaurants.
From the very beginning, Narula's goal was to share what he refers to as "my cuisine" with the region he now calls home. Carryout and delivery played essential roles in his then-fledgling concept, which he modeled after a popular concept in Mumbai that delivers thousands of homemade lunches daily in metal canisters to homes, offices, and schools.
"When I started, there were not many good Indian food choices around," he says. "When we discussed the menu, we said, 'Let's pick what we feel will be the most popular, and we will make it accessible by becoming the first Indian restaurant delivering to most parts of the city. The region—north or south—didn't matter. We picked Indian cuisine from all over the country that would be accessible to someone who hasn't tried it before."
Working with his chef partners, Narula's team developed dishes that have since become Tiffin staples, running the gamut from spicy and light to rich and creamy. Guest favorites include dishes such as chicken tikka masala, saag paneer, vegetable samosas, and garlic naan. Narula particularly enjoys the lamb roganjosh, a dish spiced with aromatic ginger and garam masala.
All Tiffin locations—including suburban locations in Bryn Mawr, Elkins Park, King of Prussia, Newtown Square, and Wynnewood—offer a rotating lineup of specials, just to provide even more options for guests. For health-conscious customers, Tiffin recently added nutritional information on its website, so guests can get a sense of the healthfulness of every dish on the menu.
"If cooked properly, Indian food can be very healthy," Narula shares. "We are very focused on the vegetarian aspect of our offerings. We also use many spices such as turmeric and cinnamon that have known health benefits."
After starting solely as a web-based delivery service from its flagship location, the organization has since flourished.
Expansion is on the horizon for Narula as well, of course. The newest Tiffin location, in Newtown Square, opened in fall 2018, and Narula plans to open new locations each year. Tiffin also broadened its menu at the Newtown Square location to include two pizza options, a chicken burger, and a tikka masala for kids.
In addition, because Narula considers Tiffin a "food-tech company," technology remains a vital method for interacting with customers and vice versa, including through its website and its own devoted app.
"My goal was initially to make Indian food more accessible and mainstream in Philadelphia," he says. "We did that by offering carryout and delivery, so that people could enjoy food in the comfort of their home or office."
He appears to have succeeded. One might even suggest Indian cuisine would not be nearly as popular in the Greater Philadelphia Area had it not been for Tiffin.
"We have 10 restaurants now, and we just opened our first franchise location in King of Prussia," he adds. "I'm proud that we are a local, homegrown company serving Philadelphia and the suburbs, and I'm happy to have introduced people in this area to delicious Indian food."
For more information on Tiffin Indian Cuisine locations throughout the Greater Philadelphia Area, visit Tiffin.com.
Photograph courtesy of Tiffin Indian Cuisine