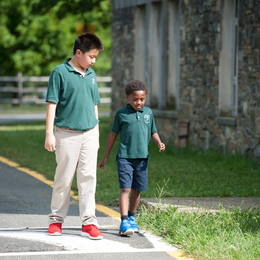 When a School's Mission Is Also a Cause
Princeton Academy, a K-8 all boys' school in Princeton, N.J., confronts toxic masculinity to develop a new generation of compassionate men.
On a bright and sunny morning, a wide-eyed student arrives at school with his arms full. He is carrying his backpack, lunch box, athletic equipment, and a violin case but still has the composure to extend his hand to the headmaster of the school who is holding the door open to welcome him. Their eyes meet and a handshake, greeting, and acknowledgment are shared which serves as the first check-in of the day.
"At Princeton Academy of the Sacred Heart, each boy is known, valued and cared for; he is part of a community that supports his development as a student and his spirituality and character as a citizen of the world," shares Princeton Academy Headmaster Rik Dugan.
Boys at Princeton Academy are guided by five goals that serve as the ballast of Sacred Heart education: Believe, Persevere, Serve, Respect, and Grow. The school's mission is to develop young men with active and creative minds, a sense of understanding and compassion for others, and the courage to act on their beliefs.
"In today's context, that mission becomes a cause to educate boys to be compassionate men who seek not only gender justice but also nonviolent, peaceful conflict resolution," says Dugan. "The school's focus on educating and developing boys to be creative, compassionate, and courageous from the earliest age can help to break the cycle of boys feeling trapped in the limiting construct of America's manufactured definition of masculinity."
Dugan describes how the school accomplishes this in a world dominated by socially charged and often violent news headlines, "As a school community, we are constantly asking ourselves the following questions: How do we create safe and healthy learning environments? How do we protect our boys' physical and emotional wellbeing and nurture boys' wellness? How do we engage our students after a tragedy occurs in our world? How do we ensure that our young men grow up to be loving, caring, kind and compassionate human beings as part of their character?"
Although the task seems daunting, in a most optimistic way, Dugan frames the school's approach as an answer to a call. The cause, he says, is paramount and "our boys vitally need this from us now." Dugan is an educator who has served and led in New Jersey independent schools for more than 20 years. He is a graduate of Williams College and holds a master's degree from Teachers College, Columbia University.
The cause as Dugan describes is shepherded by the school's leadership team and faculty. Head of Lower School Paris McLean states, "Our educators provide inspired curriculum that motivates and challenges our students to engage in learning at a high level. In addition, our boys enjoy intentional programming centered on wellness, mindfulness, diversity, equity, and inclusion." He continues, "Our yoga and mindfulness practice are favorites among the boys, as well as our partnership with Jesse Neuman of Musicworks, who uses music education to address topics of diversity and social justice."
The school describes how peer mentoring and opportunities for leadership are woven into the curriculum in a way that supports healthy development while preserving the joys of boyhood. "The successful marriage of academic excellence with character development is when the magic happens—and I believe this is what sets Princeton Academy apart," says McLean.
Older students in Princeton Academy's Middle School also benefit from a designated wellness program and they explore character-building through engaging in meaningful dialogue centered on social awareness. Head of Middle School Kathleen Humora describes this with a smile, "Our gentlemen scholars think of others before themselves; they lead by serving and they excel in the classroom in myriad ways."
Humora's statement brings to light the notion that the school believes is the reason to send a student to Princeton Academy—because the development of his character and spirituality matter as much as his academic success.
"Whether it's a student-led fundraiser for our sister school in Uganda, a community-building project to construct 3D-printed hands for those in need of an upper limb assistive device, or a third-grader collecting and supplying donated coats to those in need in his community, our boys lead with heart," Humora says.
In a recent statement from the International Boys' Schools Coalition, the support of boys' schools was highlighted by "striving to instill the importance of an inner life that helps boys shed societal stereotypes." This, it is explained, "encourages boys to discover the good within themselves and recognize its desire to blossom into empathy for others and acts of service."
Dugan attests, "When boys are around other boys and have the benefit of positive adult role models, they can 'share emotions and vulnerability and lean on each other in profoundly moving ways.' They can also explore 'issues of gender and sexuality and the many versions of manhood in an authentic, testing way that might not work for them in a different environment.'
"It is crucial that boys find the 'good within themselves' at the earliest of ages because this is the foundation or building blocks, if you will, to the formation of the men they will become," Dugan continues. "We do not take this formation lightly and are committed to seeing each boy through his journey, standing beside him shoulder to shoulder, knowing that this sense of belonging and community will last him a lifetime."
One look at the school's website confirms that this philosophy is effective all around: The Princeton Academy third grader mentioned was recently featured on The Rachael Ray Show for his community service work; a seventh grader recently advanced to compete in the New Jersey National Geographic GeoBee; the middle school squash team is ranked 11th in the nation; the basketball team finished second in Mercer County; and graduating eighth-grade students consistently earn admission to the finest secondary schools in the nation.
Dugan observes, "When boys are needed, known and valued, they can be their best self and give back in ways that are truly inspiring."
Princeton Academy of the Sacred Heart
1128 Great Road
Princeton, N.J.
(609) 921-6499
Photograph courtesy of Princeton Academy
Published (and copyrighted) in Suburban Life magazine, April 2019.
For more info on Suburban Life magazine, click
here
.
To subscribe to Suburban Life magazine, click
here
.
To advertise in Suburban Life magazine, click
here
.