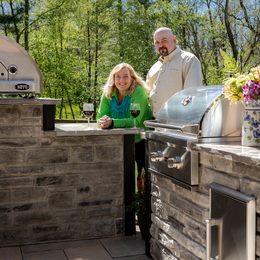 Like a Rock
With the launch of a new venture, Stone Forge Outdoor Living, Home Concepts Construction Co. founder Tommy Richardson opens up a world of possibilities for homeowners.
Collegeville native and former U.S. Marine Tommy Richardson is no stranger to hard work. In fact, he was only 15 years old when he built his first house with the help of a close friend. This enterprising spirit has fueled a decades-long career in home construction and renovation, most notably through Home Concepts Construction Co., the Worcester-based firm he founded 26 years ago.
"We are a family-owned, local business," Richardson explains. "We strive to make sure we keep our clients and our team informed when we're doing a project, and we strive to do each job in a timely manner. We want to keep people happy. It's all about customer service and integrity."
This customer-first philosophy may explain why the nationally respected company ClifRock approached Richardson to be an exclusive purveyor of its distinctive products. ClifRock manufactures a tremendously durable building material that's perfectly suited for creating or adding to outdoor living spaces, thereby opening up a world of possibilities for homeowners throughout the Greater Philadelphia Area. As Richardson says, "The only limit is a person's imagination."
"The nice part was that ClifRock came to us," Richardson explains. "They found our business and wanted to partner and expand with us."
Endless Options
The structural integrity of ClifRock is "significantly higher" than that of cement, according to Jason Rivera, area development and field trainer for ClifRock. This makes it an ideal building material for virtually any outdoor project, from showers and kitchens to countertops and pool features to sliding boards and bases for outdoor games such as Cornhole. In other words, the applications for ClifRock are practically endless.
"We're currently working on veneering a timber-tie retaining wall with panelized [ClifRock] boulders," Richardson explains. "When poured, the boulder panels can be as thin as three-eighths of an inch to an inch thick. We can create a poolside water feature with a slide or a diving ledge, or to disguise pool pumps and equipment. And the great thing is that ClifRock has a national network of 400-plus installers, so we're all constantly sharing ideas on uses for the product."
One particularly popular use for ClifRock is the poured countertop. With a tensile strength estimated at nearly 8,500 pounds, ClifRock countertops are incredibly durable and can be made in many colors and patterns. In addition, the countertops don't retain heat in the same manner as traditional granite or marble. They're also incredibly lightweight.
"We can put a ClifRock structure on a deck, patio, or even on top of an apartment building," Rivera shares. "It's engineered to put very little weight on existing structures. We can put an entire outdoor kitchen on a deck. With traditional rock and stone, you have to reinvent the wheel. With ClifRock, in a lot of cases you build without any additional structural reinforcement."
Wendy Kaminsky, a certified ClifRock installer with Stone Forge Outdoor Living, says ClifRock's lightness, combined with its tremendous strength, makes the product not only uniquely durable but also incredibly flexible and mobile.
"With ClifRock, if you decide a few years down the line that you'd like to move into a new home, you can take your outdoor kitchen with you," Kaminsky explains. "A ClifRock outdoor kitchen can be taken apart and moved. It's light enough that it doesn't need to be a permanent fixture."
For homeowners who are concerned about how a home-renovation project can affect the environment, ClifRock is an exceptionally green product in more ways than one.
"ClifRock does not have the same impact on landscaping," Richardson says. "It's much easier on the environment. For a new stone kitchen in a backyard, for example, you'd need to excavate an area maybe 3 feet deep by 28 inches wide by 10 feet in length. With ClifRock, you can do just a compact little section."
In other words, no heavy equipment is needed with a ClifRock installation.
"You and your neighbors won't be seeing truckloads of rocks and cranes," Rivera adds. "Whether it's an entire kitchen or a water feature, ClifRock leaves a minimal impact on the property."
Ready to Rock
ClifRock has another remarkable feature: ultra-fast flashing time, or curing time. This unique attribute makes the speed of ClifRock projects significantly faster than traditional masonry jobs.
"If a client calls on a Monday and asks if they can get a new outdoor kitchen put in their backyard for a party on Sunday, we can do that as long as the grill option is in stock," Richardson says.
Although a speedy installation offers tremendous benefits for the homeowner, it can also pose some unique challenges to the installer. For example, Kaminsky notes that it usually takes three days to order appliances. Working as a team, however, the Stone Forge Outdoor Living crew can make the timely completion of such projects a reality.
"We all work together as a family," she explains. "If we need to pour a kitchen, we will work nights, weekends—whatever we need to do to get a project finished for a customer on time."
The all-for-one, one-for-all mentality is another reason why the ClifRock partnership is so important to the Stone Forge Outdoor Living crew. Whereas some manufacturers might simply add purveyors to their extensive lists of distributors, ClifRock carefully chooses each partner and constantly reinforces those partnerships through advanced training and support programs.
"ClifRock is very stringent about training," Rivera shares. "This isn't like cement, where you just add water to a bag and mix. You have to complete training, with hands-on time working with the product, and get certified at the end of the training cycle."
"Nobody else offers what we have to offer here with the ClifRock product," Kaminsky adds. "And Tommy is meticulous. He's the pickiest with himself, and he wants everything to be perfect. He has a creative, artistic side, and he just does beautiful work."
As Richardson says, "People always ask if we can do this or that with ClifRock, and the answer is always, 'Yes, we can.'"
Stone Forge Outdoor Living
Eagleville, Pa.
(610) 809-5826
Photograph by Nina Lea Photography
Published (and copyrighted) in Suburban Life magazine, May 2019.
For more info on Suburban Life magazine, click
here
.
To subscribe to Suburban Life magazine, click
here
.
To advertise in Suburban Life magazine, click
here
.