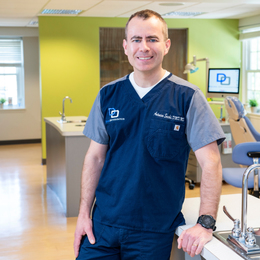 A Class by Itself
At Devon Orthodontics, the team led by world-renowned orthodontist Dr. Antonino Secchi provides "happy and healthy smiles" for patients of all ages.
With every day Antonino G. Secchi, D.M.D., M.S., walks through the doors of his Chester County-based practice, Devon Orthodontics, he brings with him a clear and determined focus: to provide the highest level of orthodontic care in the most comfortable atmosphere possible.
Based on the office's "Wall of Smiles," which bears photographs of the many beautiful smiles Dr. Secchi has helped create over the years, he appears to be succeeding.
"We maintain a practice that is thoroughly focused on our patients," says Dr. Secchi. "Changing smiles is not only about outward appearance. Over the years, I have had many patients who have undergone radical changes, and by changing their smile they greatly enhanced their confidence and self-esteem."
Dr. Secchi has spent nearly two decades building his reputation as a world-class dental health professional. As a young man with a strong artistic streak and a fascination with science, he saw the many ways in which his father, a surgeon, had a positive effect on other people's lives. Furthermore, he had a positive experience with his own childhood orthodontist while growing up in Chile. As a result, he opted to go to dental school.
He graduated from the University of Pennsylvania School of Dental Medicine in 2003, where he received his Doctorate of Dental Medicine, a Certificate in Orthodontics, and a Master of Science in Oral Biology. His background and extensive education guided him as he started his own practice, which specializes in orthodontic cases some practitioners might consider exceptionally difficult. His patients range in age, from 7 to 80, and each one is treated with the same level of respect and the same degree of personalized attention.
"We want to provide the best orthodontic care available in a relaxed, inviting, and family-friendly atmosphere," he says. "We always take time to listen to our patients and make sure that they know they are important to us. I personally see every patient each time that they come here. I review every case and devise a customized treatment plan for every child and adult who comes to see me.
"It is extremely satisfying to work with a child or adult for six months to two years and see their happy and healthy smiles," he continues. "When we have the opportunity to see them feeling good about the results, it's the best reward for the work we're doing every day."
High Standards
Dr. Secchi and his team have created a soothing, modern, and comfortable office environment, which he describes as "more like a spa than a sterile dental office." The office includes an area devoted specifically to kids, complete with iPads and old-school arcade games that keep children (and sometimes parents) engaged while family members receive orthodontic treatment.
"Moms often tell us that their children can't wait to come back to our office," he notes. "This is certainly music to our ears."
Devon Orthodontics strives to offer maximum convenience. In fact, the practice offers 24/7 support, if needed, as Dr. Secchi will come in on weekends to assist patients with orthodontic emergencies that cannot wait for standard office hours. Among patients with set appointments, Dr. Secchi says the practice often receives high marks for minimal wait times. He attributes such promptness to his devoted staff, which includes Maria Secchi, his wife, who serves as the practice's office manager.
"Patient satisfaction is our top priority," she says. "We believe in personalized customer service, and this means we love to create happy, healthy smiles for people of all ages. We also use high-end technology, including 3D imaging, 3D printers, and clear aligners, to provide the highest standard of care for our patients.
"We truly love our community, and we love what we do," she continues. "That's why we have so many options for treatment and flexible, affordable payment plans for families. With all of these options, it is possible for everyone in the family to have a healthy smile."
While the Secchis take pride in their ability to transform patients' smiles, they also work hard to impart important life lessons to their own children. Together, they are the proud parents of five children, ranging in age from 3 to 23—Sofia, Rafaella, Isabella, Leonardo, and Camilla—and they make a point of having dinner as a family every night.
"Each one of us has to be at the table to talk about his or her day," Dr. Secchi says. "They see me and Maria working hard, and that is a positive example for them. At the same time, they see that we spend a great deal of time with them, as well. They know if they want to have a meaningful life, they have to work hard for what they want and find a balance between work and home."
World-class Care
Besides being an orthodontist and a parent, Dr. Secchi enjoys a reputation as a skilled teacher. He has taught at the University of Pennsylvania School of Dental Medicine in Philadelphia, where he has worked as a faculty member and clinical director to guide the next generation of dental professionals.
In addition, he has traveled near and far to share his expertise with orthodontists around the world. So far, he has taught throughout the Americas, China, Europe, and South Korea, and he has intentions to add Russia and Australia to the list in the near future.
"I enjoy getting to know the different cultures and meeting colleagues from all around the world," he says. "Sometimes I go there to participate in conferences, and other times I go to teach at universities. It has been a very rich and rewarding experience."
In addition, his experience helped him serve as a consultant for a large orthodontic appliance manufacturer, through which he developed a bracket system that has the potential to provide superior results compared with traditional wire-and-bracket braces. When used correctly, Dr. Secchi's bracket system can provide excellent results in an abbreviated time frame. He has adopted this revolutionary system in his own practice, and he says it has yielded "extremely positive" feedback.
In the words of Carla Meell, who serves as the practice's insurance and financial coordinator, Devon Orthodontics is in a class by itself—thanks in large part to Dr. Secchi's considerable expertise, commitment to care, and breadth of treatment options.
"Dr. Secchi is a gifted clinician who gives personal attention to every patient, and our dedicated team follows his lead," she says. "He is an extremely humble man, but his extensive clinical experience gives him a world-renowned reputation and broad perspective on orthodontic care that is rare."
As proof, she refers back to the practice's Wall of Smiles, showcasing the fruits of Dr. Secchi's labor.
"No two smiles are the same, and each one is an example of the world-class orthodontic care we offer here on the Main Line," she says. "I'm grateful to be part of offering that level of care to the place that I have called home for 37 years."
Devon Orthodontics
229 W Lancaster Avenue
Devon, Pa.
(484) 580-8050
Photograph by Jody Robinson

Published (and copyrighted) in Suburban Life magazine, May 2019.
For more info on Suburban Life magazine, click
here
.
To subscribe to Suburban Life magazine, click
here
.
To advertise in Suburban Life magazine, click
here
.