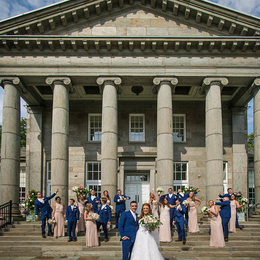 Ready to Shine
As the newest jewel in Finley Catering's sparkling crown, the Ballroom at Ellis Preserve provides an unforgettable backdrop for weddings and other significant events.
Finley Catering has long been known for its luxurious, elegant, and grand event spaces in Philadelphia—namely, the Ballroom at the Ben, the Crystal Tea Room, and Union Trust, all of which sparkle like jewels in a crown. The company's newest gem, the Ballroom at Ellis Preserve in scenic Newtown Square, provides the same level of style and sophistication, but with the added charm of spacious, beautifully maintained grounds that are suited perfectly for outdoor celebrations.
In 2016, the Ballroom at Ellis Preserve became the newest member of Finley Catering's family of remarkable properties. Constructed in a Greek revival style, the architecture of the Ballroom at Ellis Preserve has been compared to another iconic local structure, the Philadelphia Museum of Art.
"The historic building dates back to the 1930s, but the property look brand new thanks to the combination of renovations and the ongoing maintenance we perform," says Carly Sheller, Finley Catering's event coordinator. "Some historic spaces leave something to be desired aesthetically, but as a company we do an excellent job of upkeep. The entire space is bright and welcoming."
The Ballroom at Ellis Preserve consists of the grand ballroom, as well as a cocktail room, with magnificent 15-foot-high ceilings that allow an abundance of natural light to highlight the interior. An outdoor patio serves as an extension of the cocktail room, complete with a beautiful custom bar, seating, string lighting, gas lanterns, and fire tables.
In addition, the venue's artfully designed bridal suite comes equipped with a private restroom, hair and makeup counter, and large sofas for relaxation during downtime. Built to accommodate brides-to-be prior to the big event, the bridal suite ensures that each client has the perfect start to the perfect day—with music, fun, and laughter, as well as mimosas. Once the ceremony has concluded, the bride can welcome parents and members of the bridal party into the bridal suite, where they can partake in a wealth of fresh food and spirits.
Blending history and modernity, the Ballroom at Ellis Preserve features crystal chandeliers and dramatic tones of gray and white—an ideal backdrop for wedding parties with colorful gowns and just-picked flowers. Likewise, the spacious and beautifully manicured grounds are perfect for outdoor celebrations of any kind. In other words, the sky is the limit when it comes to the venue's ability to make guests' dreams come true.
"Our elegant ballroom has a bar right inside the space, so a guest's party can be contained," Sheller explains. "The bar is absolutely gorgeous, complete with onyx countertops. We pride ourselves on providing ample choices to fit each guest's style and vision. In fact, our packages are designed so guests know exactly what they are paying for so there are no 'extras' involved."
Of course, weddings account for only a fraction of the events held at the Ballroom at Ellis Preserve. For example, the idyllic grounds have hosted bar and bat mitzvahs, baby and bridal showers, fundraisers, and graduation celebrations.
Guests appreciate another unique aspect of the Ballroom at Ellis Preserve: exclusivity.
"While some venues have multiple events at one time, we're a private venue," Sheller adds. "In other words, we host one event at a time."
Maître d' Megan McCarthy, who serves as the "day of" coordinator for Finley events, embodies this philosophy of guest-first service.
"We hear such great feedback from brides and other guests who say, 'We can't thank you enough,'" she says. "Whether it's a bride, groom, or their immediate family, our main goal is to make sure each guest has a great experience. Our staff pays attention to each guest."
Guests clamor to return to Finley Catering properties for the service and style, but Sheller suggests another Finley signature leaves a lasting impression.
"We are definitely known for our food," Sheller says. "Of all the events we have hosted, we have had the opportunity to feature many different styles of meals, from seated dinners to buffets to cocktail stations and hors d'oeuvres. Our menus are completely customizable. … All of our dishes are wonderful, so whatever a client needs or wants, they and their guests will be more than satisfied."
Finley Catering may be best known for dishes with a classic American influence, such as the filet mignon and prime rib. Even so, Sheller suggests the venue's "amazing" chefs can accommodate virtually any dietary request, ranging from gluten free to vegetarian and vegan options.
"More than anything, people talk about our service," McCarthy adds. "When a bride, a groom, or a parent gives someone from our team a big hug and says, 'You made our day,' it's just amazing. Knowing we've had a part in someone's special day is very rewarding. Taking care of people is what we do."
The Ballroom at Ellis Preserve
3821 West Chester Pike
Newtown Square, Pa.
(610) 298-5530
Photograph by Love Struck Photography

Published (and copyrighted) in Suburban Life magazine, May 2019.
For more info on Suburban Life magazine, click
here
.
To subscribe to Suburban Life magazine, click
here
.
To advertise in Suburban Life magazine, click
here
.