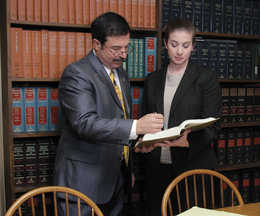 Good Counsel
In estate, real estate, business or injury matters, Mackrides Associates fights for you
William "Chip" Mackrides has served the needs of Delaware Valley clients since 1980. Mackrides Associates, his Media-based law firm that practices in areas of estate planning and administration, real estate, business and personal injury, is the product of more than 30 years of experience, with a seasoned legal team behind him that is second to none.
The firm's philosophy grew directly out of Mackrides' upbringing. He was raised in a tight-knit family, with parents who were well known and respected in the community. His mother, Louise, was a teacher with a master's degree in child psychology, while his father, Bill, was both a former quarterback with the Philadelphia Eagles and a guidance counselor at Springfield High School with a doctorate in child psychology. In the Mackrides home, character was stressed and taught by example, along with other honorable traits such as loyalty, integrity and hard work. Although competition was considered healthy and productive, education was valued over sports.
Mackrides recalls an incident while growing up when a friend agreed to purchase a bicycle from an older child, who instead sold the friend a lesser one. The friend felt compelled to accept the swap because the seller was bigger and older, but Mackrides accompanied his friend back to the seller's home and negotiated a compromise. He employs those same skillful methods in his law practice today.
"First, we listen to our clients," says Mackrides. "We can't help [our clients] if we don't hear all of the facts and their concerns. We then enter into a discussion and provide our analysis of their situation, the issues and our client's goals. We discuss our fees and strategy, and answer questions—then we get to work."
He suggests that people seeking legal counsel research the most qualified attorneys in their particular areas of practice and then choose a firm that does not like to lose. Above all, Mackrides insists, people should find an attorney they can trust and then listen to his or her advice: "We are our clients' big brothers and bodyguards, their gladiators and their counselors and, over time, their friends."
A team approach increases a client's chance of success in legal matters. Four years ago, it became obvious to Mackrides that his firm needed to expand. When he began his search, he had jokingly been told that he needed to clone himself. He did better than that by hiring Lindsey Conan. Impressed by Conan's intelligence, energy and focus, he hired her as a law student. She has since become an integral part of the firm's legal team, which, in turn, has continued to expand.
Jonathan "Dutch" Becker, for example, started working of counsel to the firm this past year. "We had a need for someone with a very strong background in taxes and trusts, and Dutch is that person," says Mackrides. Becker has a Master of Laws degree in taxation and is appreciated for his good nature, hard work and expertise. His skill set allows the firm to offer clients alternatives that fit their needs and circumstances, saving them money in tax-related matters and otherwise helping them to accomplish their goals.
Tom Lawrie, meanwhile, has added a strong litigation component for clients of Mackrides Associates. He has been practicing civil law for 36 years, including 24 years as a prosecutor with the district attorney's office. His wisdom and experience have caused many legal opponents to rethink their position and seek an amicable resolution, making him a valued asset.
The attorneys and staff at Mackrides Associates are kept busy by multiple client referrals, on top of many referrals from other attorneys, who value the firm's accomplishments and expertise in the fields of estate administration and planning, real estate, business and injury law. "When another attorney entrusts us with their client, we consider it a great responsibility to achieve their client's goals and to return their client to them—satisfied or better," says Conan.
The firm also has strong associations with other experienced attorneys who practice in other areas, making the firm capable of handling the needs of any client. Imagine having the ability to choose from a "dream team" of the most qualified attorneys in different areas of law. This is exactly what Mackrides Associates offers.
Like Family
Although the firm can handle any legal matter, estate-planning matters remain a key area of focus. To simplify a complex yet vitally important process, Mackrides Associates has created an estate planning "package" for its clients at a low price of $400 for individuals and $550 per couple. The package includes a standard will, financial power of attorney, health-care power of attorney and living will, which together can help clients achieve their final wishes and safeguard the financial and emotional well-being of loved ones. "We wanted to make these necessary documents affordable to people, and these documents are sufficient for 90 percent of our clients," says Mackrides.
Mackrides Associates gives back to the community in many ways, through service to charitable organizations and other philanthropic causes. Mackrides serves as a local township official and sits on the board of several organizations where he is involved with fundraising, public relations and legal assistance. He and Conan also give back to their profession by teaching their colleagues through the Pennsylvania Bar Association, the Pennsylvania Bar Institute and the Chamber of Commerce, among other affiliations.
Mackrides has been recognized as an "Awesome Attorney" by Suburban Life, a "Super Lawyer" by Philadelphia Magazine and a "Top Lawyer" by Main Line Today. He also gained a 10 out of 10 rating by Avvo Inc., as well as a prestigious AV rating through Martindale-Hubbell, which is the highest rating for practice skills and professional ethics. Conan has already been named a "Rising Star" by Philadelphia Magazine and a "Top Lawyer" by Main Line Today. The firm has also received high marks from other authorities on legal eagles—namely, its clients.
"I've been using Mackrides Associates for over 20 years," says Victor Stitz, a local builder and developer. "They make you feel like family. They care about me, my business and my family, [and] they always return our calls. They are there for us."
Mackrides Associates
755 North Monroe Street, Media
610-565-6688, lawyers@verizon.net
LawyersPA.com
Sharon A. Shaw is a freelance writer from Doylestown.
Rob Hall is a freelance photographer based in Plumsteadville.