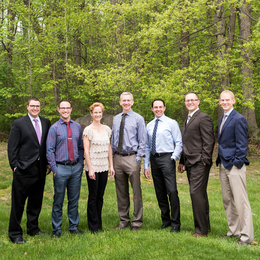 On the Mend
Princeton Spine and Joint Center helps patients of all ages and abilities find relief from musculoskeletal pain, injuries, and other issues that may be holding them back.
Nothing disrupts, derails, or otherwise alters a person's life more than the specter of persistent pain. Maybe lingering neck pain is inhibiting a good night's sleep, or otherwise impairing quality of life. Perhaps a nagging sports-related injury is keeping an athlete from returning to the field of play. Or maybe the simple passing of time has caused debilitating joint discomfort that prevents even the simplest of tasks, such as walking up and down the stairs.
Some people choose to live with such pain, because they believe it "comes with the territory" of getting older, or because they wish to avoid the invasive surgery often prescribed to address their particular issue. Grant Cooper, M.D., co-founder and co-director of the Princeton Spine and Joint Center (PSJC), wants people to know that they do have other options.
"If things hurt, we take care of them," says Dr. Cooper. "Each of us has a particular area of specialty, whether it's pushing the envelope of regenerative medicine or dealing with the foot and ankle issues associated with running and dance. We see ourselves as primary care for musculoskeletal issues."
Dr. Cooper and his colleagues at PSJC have become a destination for nonsurgical orthopedic care and pain management, to residents near Princeton, N.J., and beyond. In fact, word of PSJC's capabilities has reached the ears of residents far from Princeton, including the metropolitan areas of New York and Philadelphia. Even those who live from as far afield as Arizona have traveled to Princeton to benefit from the practice's expertise.
"We're proud of how the practice has evolved," Dr. Cooper says. "But we're not done yet."
High-quality Care
PSJC owes its beginnings to Dr. Cooper and Ana Bracilovic, M.D. The two physicians first met while students at Princeton High School, and they remained friends as undergraduates at the University of Pennsylvania and Princeton University. They reunited in medical school at UMDNJ-Robert Wood Johnson and married shortly thereafter. While in New York City during residency training at New York-Presbyterian Hospital, The University Hospital of Columbia, and Cornell University, Drs. Cooper and Bracilovic pledged to return to Princeton with a singular mission: to found their own practice offering patient care of the highest quality.
"In order to do so, we needed a skilled team of physicians who were as devoted as we were," Dr. Cooper says. "So that's what we've assembled."
In all, PSJC has seven board-certified physicians, each of whom brings a specific area of expertise to the practice.
* Besides being co-director of the practice, Dr. Bracilovic serves as director of the practice's Princeton Dance Medicine division. A longtime dancer herself, she has firsthand knowledge of the issues and injuries capable of keeping ballerinas and other dancers on the sidelines.
* Scott Curtis, D.O., is the director of the practice's sports medicine program. From weekend warriors to professional athletes, and from members of local sports teams to tennis players of a certain age, Dr. Curtis has a passion for helping patients recover from a wide range of sports-related injuries.
* Along with Dr. Cooper, Marco Funiciello, D.O., and Zinovy Meyler, D.O., serve as co-directors of PSJC's interventional spine program. Together, they specialize in the nonsurgical treatment of back and neck pain resulting from serious issues such as lumbar spinal stenosis.
* Jason Kirkbride, M.D., and Zachary Perlman, D.O., are co-directors of the regenerative medicine program at PSJC. In this position, they play a lead role in this rapidly evolving field of medicine, which uses living tissue to restore the structure and function of damaged tissue. The doctors can address pain in the spine, joints, muscles, and nerves through platelet-rich plasma (PRP) delivered by way of image-guided injections.
"There's a common ethos that connects us all," Dr. Cooper says. "We've always taken care of one person at a time, and when you do that, the rest takes care of itself. Whenever we bring someone new on board, we typically interview 30 to 40 people, because we want to make sure they share our values, our vision, and our mission.
"In addition," he continues, "I think all of us enjoyed orthopedics, we all liked working with our hands, and we loved talking to people. At the same time, we didn't want to spend all of our time in the OR. We have the best of both worlds."
At the Forefront
PSJC offers the full gamut of diagnostic and therapeutic services for disorders of the spine and musculoskeletal system. The practice's physicians work closely with each patient to diagnose the source of their specific problem and help them resume a pain-free lifestyle as quickly and painlessly as possible, without surgery.
The PSJC website brims with glowing reviews of the care they have received, with each testimonial detailing a journey in which the patient came to the practice with unresolved problems and left with a cure. From children as young as 8 to patients in their 80s and beyond, patients of all ages and backgrounds have come to rely on the PSJC medical team to fix what ails them.
"We have some 80-year-olds who get upset because they've missed a day of golf," Dr. Cooper says. "We have at least 10 patients in their 90s, and our oldest patient is 102. People are expecting to stay as active as possible for much longer, and that was unimaginable 30 years ago. That's why they come to us."
The physicians of PSJC are widely considered experts in their respective areas of specialty. In fact, the practice's physicians have written or edited enough published works to fill a bookshelf or two. Examples include Dr. Cooper's The Arthritis Handbook: Improve Your Health and Manage the Pain of Osteoarthritis and Dr. Bracilovic's Essential Dance Medicine. At present, three PSJC physicians are working with Joseph Herrera, D.O., of Mount Sinai in New York to co-edit a new textbook on the use of regenerative medicine for spine and joint pain. Also, two other PSJC physicians are co-editing a textbook on sports medicine.
"There's an intellectual curiosity that drives each of us, and that helps each of us stay at the forefront," Dr. Cooper says. "It may be one thing to read these textbooks when they come out, but when you're involved in their creation you become immersed in these topics and strive to learn as much as you possibly can. It's important to be the absolute best at what we do. In the end, that's going to make us better physicians for our patients."
Selfishly, Dr. Cooper and his colleagues get a great deal of satisfaction from their work. Part of this satisfaction stems from the fact that patients receive "instant gratification" in their care.
"People come in with pain and leave without pain," Dr. Cooper adds. "You don't have the opportunity to work so closely with people and see the same kind of appreciation in other areas of medicine. Our group is full of passionate people who care and who look at each person as an individual. When you do that, everything else tends to take care of itself."
Princeton Spine and Joint Center
(609) 454-0760
256 Bunn Drive, Suite B
Princeton, N.J.
601 Ewing Street, Building A-2
Princeton, N.J.
Photograph by Jeff Anderson

Published (and copyrighted) in Suburban Life magazine, May 2019.
For more info on Suburban Life magazine, click
here
.
To subscribe to Suburban Life magazine, click
here
.
To advertise in Suburban Life magazine, click
here
.