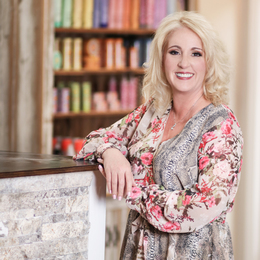 At Ease
Yardley Day Spa offers "the ultimate spa experience" for anyone seeking a sanctuary specializing in relaxation and personal rejuvenation.
In less than a year's time, Yardley Day Spa has distinguished itself as one of Bucks County's premier destinations for services to promote clients' health and wellness. The enterprise's rapid success can be attributed to the spark provided by two women with vastly different skill sets, entrepreneur Cheryl Vitow and aesthetic professional Sherry Yesilsoy.
"I come from a high-stress science and business background, and I would always feel more at ease after going for a massage, facial, or nail treatment," Vitow says. "Out of many aesthetic technicians, Sherry displayed the most professionalism and heart. When she talked about the dream she had, we discovered that between our backgrounds in business and client services that we could form a fantastic partnership."
In July 2018, the women opened their serene Bucks County haven, offering skincare, haircare, and nail-care services, as well as massage services provided by professionals who specialize in multiple massage techniques including sports massages and certified oncology massages. The spa also offers Reiki sessions with Yesilsoy, a Reiki master, to promote holistic wellness and stress reduction.
"Sherry is extremely sensitive to people's needs," Vitow says. "She is excellent at helping people relax and de-stress. These are not just important for aesthetics but for wellness overall. Her ethics and professionalism are unparalleled. She has a love for skin care that I think absolutely makes a difference with her ability to help people—not just with their aesthetics but as a whole."
The spa's location—within Makefield Executive Quarters in Yardley—provides blissfully calm surroundings in which clients can enjoy an abundance of treatments. "We're very happy to be here in Bucks County," Yesilsoy shares. "I grew up here, I raised my family here. Being here and getting to know people within this community is an honor. I feel like I'm giving back."
A firm believer in healthy living, Vitow praises the benefits of some of Yardley Day Spa's most popular services. In particular, she favors the detoxifying facials performed by Yesilsoy, featuring Yon-Ka naturally derived phytotherapeutic botanical products. "You walk out of here feeling like a new person after Sherry does a facial for you," she notes.
The menu of facial services includes treatments for sensitive skin, teens, anti-aging treatments, hydrating treatments and more. Yardley Day Spa's areas of expertise also include a full hair salon.
"We have a range from young, up-and-coming stylists to those who are classically trained and have been in business for 30 years," Yesilsoy notes. "All are up on the latest trends—balayage and expressive colors are hot for hair right now—and our staff are always attending continuing education courses and working with representatives from top haircare lines."
Yardley Day Spa is committed to using only premier products, such as Yon-Ka, for all client treatments, with 10-free and Leaping Bunny certification wherever possible. This includes the amika: haircare line and CBD-infused products from Green Helix.
"Our Green Helix products are formulated with synergistic herbs to help with specific needs," Vitow says. "If someone is feeling extremely anxious, for example, we can recommend a Green Helix product designed to help alleviate that stress. We talk to clients about their needs and formulate a plan that works for them. We always want to do what's right for our clients and offer them the ultimate spa experience."
Clients feel a sense of calm from the moment they walk through the door, thanks in part to the spa's tranquil interior. Vitow's passion for art has turned the spa into a gallery of sorts, showcasing a variety of works by local artists. Artwork aside, Vitow credits Yesilsoy for being the true visionary behind the space's distinctive aesthetic.
"What's beautiful about our partnership is that there's a little bit of each of us in the spa," she adds. "Sherry is the heart and soul of this place. From design to décor, the whole spa was her vision. When clients walk in, they will truly experience a feeling of home."
Yardley Day Spa
301 Oxford Valley Road, Suite 1904
Yardley, Pa.
(267) 399-9314
Photograph by Heart and Soul Portraits

Published (and copyrighted) in Suburban Life magazine, May 2019.
For more info on Suburban Life magazine, click
here
.
To subscribe to Suburban Life magazine, click
here
.
To advertise in Suburban Life magazine, click
here
.