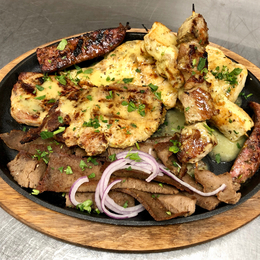 Mediterranean Celebration
At Theo's Mediterranean Cuisine in Prospect Park, food and family come first.
Many companies tout their status as family-owned businesses, but in the case of Theo's Mediterranean Cuisine in Prospect Park, this is not just something to say—it's a pillar that upholds the restaurant's business ideals, its integrity, and its commitment to the community.
"My parents are inspirations to me both personally and in business," says Cleanthes Papadopoulos, the restaurant's proprietor. "They were no strangers to hard work, and they have set the best example for my brothers and me to follow. They sacrificed everything to provide for us and share opportunities with us."
Papadopoulos, a member of the family behind the business empire that began with Colonial Marble & Granite in King of Prussia, has worked alongside his relatives for many years. Before opening Theo's, he served as regional director of sales for Colonial Marble, managing all showrooms and all sales associates for the company owned by his father, Tom, and eldest brother, Nikos.
"Honestly, I've been very fortunate to have worked closely with my family in variety of businesses since I was young," he adds. "They have always supported one another with every business venture and now that I am pursuing my own, I felt it only appropriate to keep the same family culture and values in Theo's."
This culture extends to the guest experience as well. In fact, Papadopoulos takes great pride in ensuring that his guests feel as if his family is theirs—a staple of Greek culture. Likewise, as a chef and restaurateur, Papadopoulos truly takes pride in each dish that comes out of the kitchen.
"There is no better comfort than your family," he adds. "We want our guests to always feel that very comfort each time they dine with us. … In my opinion, there is no better cuisine than Mediterranean. I grew up loving it, and being able to share these dishes with the community is incredible. Many of our guests have never tasted many of these dishes. When they try something new and love it … well, that's what it's all about."
Although he finds it tough to choose a favorite on the restaurant's menu, he suggests many guests prefer a number of traditional Greek dishes, such as the cheese saganaki or the shrimp saganaki, each accompanied by a traditional Village salad and another staple of Greek cuisine, octopus. Other house favorites include small plates such as the handmade dolmades, which are grape leaves stuffed with rice and ground beef, served with a tangy lemon sauce; the melitzanosalata eggplant, which includes feta, garlic, parsley, and red pepper spread; and the spanakopita, a gloriously flaky phyllo pastry with feta and spinach.
Among entrées, Papadopoulos prefers the moussaka and pastitsio. The former features eggplant, potatoes, zucchini, ground beef, and béchamel sauce, while the pasta-based pastitsio features a rich and creamy mixture of ground beef and béchamel.
The menu's bountiful selection also includes Italian favorites such as eggplant parmesan, shrimp scampi, and carbonara with bacon. Crab cakes, swordfish and salmon steaks, and crab meat-stuffed flounder will delight seafood lovers, while vegetarian diners will enjoy the charcoal-grilled vegetable platter, a medley of zucchini, onions, tomato, and eggplant topped with fresh spinach and tzatziki, or the Greek veggie burger, flavored with oregano and green onion, topped with tzatziki.
Those looking for meatier options will not be disappointed. Theo's offers chicken and pork souvlaki (grilled and skewered meat), chicken and lamb kebabs, lamb chops, a Greek-inspired pork chop served grilled with tomato, peppers, onion and feta, and a hearty selection of steaks—New York strip, rib eye, and filet mignon, for example. For guests in the mood for a traditional Greek treat, the bifteki gemisto, which is made with spiced ground beef and feta, does not disappoint.
'Amazing, Affordable, Authentic'
Some dishes are not only recipes but also wonderful memories for Papadopoulos. The avgolemono—a Greek lemon soup with rice and shredded chicken—has particular significance to Papadopoulos.
"Every Sunday my family would go to church and immediately after we would all meet at my grandmother Sophia's house for avgolemono soup," he says. "I have always loved this recipe and the memories as well."
Preparing nearly every dish from scratch is a time-consuming process, but for Papadopoulos, guest experience is paramount.
"Our guests visit Theo's to experience authentic Greek food, and there's no better way to do so than having it prepared daily," he says. "Positive feedback from guests is what matters most to me. I opened this restaurant to share these authentic Greek recipes and dishes with everyone. There is no better reward than hearing how much they love their dining experience with us."
Considering this restaurant's focus on family, taking great care to ensure his staff's happiness is a top priority for Papadopoulos as well.
"We must always be dedicated to our employees first and foremost," he says. "It all begins with them—ensuring they are happy and properly trained, with a lot of focus on repetition and consistency. This is very important in order to consistently satisfy our guests."
As for the future of this destination for fresh Mediterranean cuisine, Papadopoulos believes the sky is the limit.
"I would love for Theo's to be a staple for dining in our area," he says. "The food is amazing, affordable, and authentic. That in itself is the recipe to becoming one of the area's favorite restaurants."
Theo's Mediterranean Cuisine
611 Chester Pike
Prospect Park, Pa. 19076
(610) 532-4800
Photograph courtesy of Theo's

Published (and copyrighted) in Suburban Life magazine, May 2019.
For more info on Suburban Life magazine, click
here
.
To subscribe to Suburban Life magazine, click
here
.
To advertise in Suburban Life magazine, click
here
.