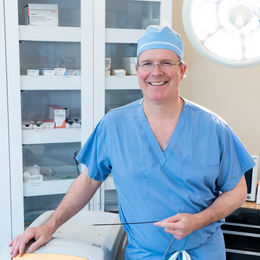 A Beautiful Transformation
Dr. Brannon Claytor, Chief of Plastic Surgery for Main Line Health, is a board-certified plastic surgeon in Bryn Mawr, at the forefront of aesthetic innovation for his patients and the world at large.
Brannon Claytor, M.D., FACS, found his sense of purpose in the most unexpected of places: an impoverished village in Ecuador. In this South American country as a young doctor in training, Dr. Claytor performed cleft-lip and palate surgeries on children who struggled with the basic functions of eating and speaking. This experience profoundly touched him in that his surgeries allowed each of the children to live their lives fully.
"Transforming someone's life for the better is at the core of my being," shares Dr. Claytor. "To be able to make such a difference in people's lives is an amazing experience that I bring to patients locally and throughout the world."
Dr. Claytor pursues his passion both by serving as the Chief of Plastic Surgery for Main Line Health and through his private practice, Claytor Noone Plastic Surgery. His expertise and responsibility to the world of aesthetic surgery requires a significant amount of time and effort. He treasures these roles as it ensures the highest-quality medical care for both his patients and the medical professionals he trains throughout the year.
Dr. Claytor, who most recently operated on 82 children and adults in Bangladesh, plans to continue such mission-minded trips throughout his professional career. Locally, Dr. Claytor is changing lives in our own community on the Main Line and throughout Philadelphia at his Bryn Mawr-based surgical practice offering compassionate care and exceptional results to patients who seek options to enhance their appearance in surgical and nonsurgical ways. Dr. Claytor's humanity and surgical skill are what appealed to R. Barrett Noone, M.D., FACS, a renowned pioneer in the field of cosmetic surgery who entrusted Dr. Claytor to continue the 40-year Noone legacy.
"We strive to help every patient achieve his or her best self," says Dr. Claytor, a board-certified plastic surgeon and a Fellow of the American College of Surgeons. "This often means helping them achieve a younger version of themselves. We offer a multitude of options such as noninvasive skin treatments including microneedling, laser treatments, Botox, and fillers to expert surgical procedures for breast augmentation, tummy tucks, facelifts, and liposuction. Ultimately, it's about giving patients the aesthetic result and highest level of service they deserve."
The facelift remains highly popular in Dr. Claytor's practice and he has continued to perfect this treatment through his ongoing study of technology and surgical innovation. Historically, this procedure was performed in a hospital under general anesthesia that lasted for as many as five hours and required an overnight stay. Today, Dr. Claytor performs his hallmark "natural" facelifts as a same-day procedure in his certified surgical facility utilizing local anesthesia, and patients experience a full recovery within one week.
Dr. Claytor also offers patients less invasive options for achieving a more youthful appearance. Minimally invasive facial-rejuvenations procedures include laser skin resurfacing, microneedling with PRP (platelet-rich plasma), cosmetic injectables, and Silhouette InstaLift, the latter of which utilizes suspension suturing to achieve increased cheek volume and reduced jowling.
Internationally and locally, Dr. Claytor is sought after for his expertise in the drainless tummy tuck which combines liposuction and tightening of the stomach muscles to regain a flat abdomen. Dr. Claytor is one of the few surgeons on the East Coast who achieves this result without drains. He is also renowned for his skillful breast augmentation, reduction, and reconstruction surgery. Other procedures for which he is acclaimed include rhinoplasty, mastopexy, and the increasingly popular labiaplasty. In the ongoing search for fat reduction, Dr. Claytor achieves results via SmartLipo or PrecisionTX, as well as noninvasive procedures such as CoolSculpting and SculpSure.
"We work very hard to help patients realize their dreams," he says. "In doing so we focus on their emotional and physical well-being. Every patient has my cellphone number so they may reach me at any time with any questions on their journey to self-improvement."
Last year Dr. Claytor's practice moved to a new location to benefit patients and staff members alike. Still in Bryn Mawr, Claytor Noone Plastic Surgery is now directly across from Bryn Mawr Hospital and features a beautiful, state-of-the-art, AAAASF-certified Surgical Facility. The expanded office also offers additional treatment rooms and tranquil recovery spaces to care for patients as the practice accommodates increasing demand.
Dr. Claytor's reputation as a skilled cosmetic surgeon extends far beyond Philadelphia. He is an integral member of some of the most respected professional organizations, including the American Society for Aesthetic Plastic Surgery (ASAPS) and the American Society of Plastic Surgeons. In this capacity, he regularly participates and lectures at national and international meetings to serve as an educator of other plastic surgeons. Dr. Claytor most recently returned from France, where he taught a course on the drainless tummy tuck technique and shared the results of his IRB microneedling scar study with other plastic surgeons from around the world.
In every way possible, Dr. Claytor relishes the opportunity to play a leading role in the advancement of plastic surgery. His humanitarian efforts as a young doctor helping children in Ecuador forever serve as a personal goal to make a positive difference in the lives of others. He considers himself fortunate to actualize this mission every day, with every patient, and in every role he serves professionally.
"It is humbling and heartwarming when patients come back and share their positive feedback with us," Dr. Claytor shares. "Their words of gratitude help me to know I have met my purpose to provide the transformation they sought to achieve a full life, beautifully."
Claytor Noone Plastic Surgery
Brannon Claytor, M.D., FACS
135 S. Bryn Mawr Ave., Suite 300
Bryn Mawr, PA
(610) 527-4833
Photograph by Jody Robinson

Published (and copyrighted) in Suburban Life magazine, May 2019.
For more info on Suburban Life magazine, click
here
.
To subscribe to Suburban Life magazine, click
here
.
To advertise in Suburban Life magazine, click
here
.