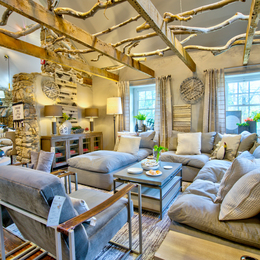 Style with Substance
At Black-eyed Susan in Bucks County, homeowners discover all of the interior design resources they need to create spaces that blend elegance, sophistication, and function.
"There are not many brick-and-mortar stores left like this."
So says Susan Taylor, the woman behind Black-eyed Susan, a 10,000-square-foot store on the edge of Buckingham that offers personalized interior design services, as well as hundreds of accessories and furnishings to suit any style.
"Black-eyed Susan offers a high-end experience as well as affordable style," Taylor says. "We offer very complete and comprehensive service covering every detail you might need."
A feature not available at big-box stores or online retailers, Black-eyed Susan offers clients on-site concierge design services—free of charge.
"We offer in-home consultations, but we also offer complimentary in-store design services," she says. "Clients can come into the store and furnish us with room sizes or photos, and we can help them complete their project, from soup to nuts or just draperies."
As one might imagine, this is a popular offering, so Taylor suggests making an appointment, over the phone, in person, or online.
The store is arranged as a series of rooms, or as Taylor calls them, "vignettes." These vignettes are each decorated by Taylor's own hand on a weekly rotating basis, so that visitors will always be greeted with a novel design perspective.
"Every week, I spend one night in the store putting all new things out," she says. "I want to offer clients a different vision—spaces that always look fresh. Some people will come in and say, 'I'll take the whole room.' From rugs to art to accessories to lighting, any part of a display room is available to a client."
She has developed business partnerships with hundreds of vendors over the years. In upholstery alone, this list includes renowned lines such as Vanguard Furniture, Universal, Bernhardt, and Rowe. "We also offer hundreds of lamp lines, hundreds of accessory lines, and more in our showroom," she adds.
"We see all sorts of clients, from young families to older families, people with children or pets," she says. "We design so much around pets or children, and we offer tons of performance fabrics."
From upholstery options to carpets, Black-eyed Susan offers options with a dual purpose that are easy to clean and built to handle life's wear and tear. At the same time, they also have style in mind.
In fact, Black-eyed Susan recently expanded its offerings with the introduction of Ease upholstery from Vanguard Furniture—combining comfort, quick shipping, and pure style.
"All five of Vanguard's quick-ship styles in sofas and chairs are available in current and classic styles," Taylor says. "Each style features performance fabrics, European technology, and Pacific Coast down-filled cushions. We often use the tagline, 'Black-eyed Susan plus Vanguard Furniture equals 10,000 square feet of pure style.'"
Taylor and her team use their collective passion for design to stay current on the latest trends. For the remainder of 2019, she suggests grays and gray-beige neutrals will remain strong, as they have for the last five or so years. Also, "almost every color of blue" is popular for accents, such as art, rugs, and furniture. Classic colors, such as neutral khaki, rich chocolate, and merlot, are on the cusp of trending once again.
"One of my staff members attended a trend show in Paris recently, and some of the colors that were popular 20 years ago are starting to make waves again," she says. "We're seeing a lot of pretty orange accents, and chartreuse to go with blues."
While Taylor appreciates that design is intensely personal, she applies her lifelong passion for creation to ensuring clients achieve elegance, sophistication, and function in their spaces.
"I started in the design business almost 30 years ago, with a 600-square-foot store in Lower Makefield/Yardley," she shares. "In a few years, we grew and grew, and now we have our 10,000-square-foot store in Buckingham."
At her store, Taylor says, you'll never see something as simple as a row of vases, for example. She approaches each space as if it were someone's room and then designs accordingly. Her primary goal: to inspire, and to help clients visualize how certain accessories, colors, or accents would look in the home.
"I have a passion for retail," she says. "There's something to be said for the ability to look, touch, and feel products, but also to have personal communications—relationships—with clients. I've put together my love of design and retail all under one roof."
Taylor may be a force of nature in her own right, but no business can boast decades of success without a top-notch team in place. She credits much of her success to her excellent staff that has been working by her side for many years.
"They have the same passion I do, be it for retail, design, or both," she says. "This is very important, because people trust us with their homes."
Black-eyed Susan
5222 York Road
Holicong, Pa.
(215) 794-1800
Photograph by Jody Robinson

Published (and copyrighted) in Suburban Life magazine, May 2019.
For more info on Suburban Life magazine, click
here
.
To subscribe to Suburban Life magazine, click
here
.
To advertise in Suburban Life magazine, click
here
.