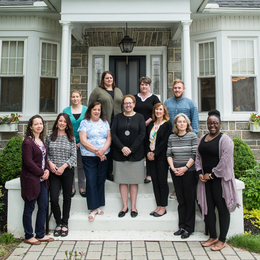 'Stories of Resilience'
With the guidance of Anderson Elder Law, aging adults and individuals with special needs, as well as their families, find the inner strength to overcome a host of unique challenges.
Linda M. Anderson, CELA, considers herself incredibly fortunate. She has spent her 30-plus-year legal career providing individuals and families with the knowledge needed to make informed decisions as they navigate uncharted territory, often in times of extreme duress. Two words come to mind when she thinks of the many people with whom she has worked with over the years: inspiring and resilient.
"I find myself amazed by my clients," says Anderson, a Certified Elder Law Attorney and founder of the Media-based law firm Anderson Elder Law. "My clients are often going through some of the most challenging times of their lives, yet throughout the process, they find strength inside themselves they didn't know existed. Time and time again, I am privileged to witness and assist these clients and families in working through the most complex problems of life, and I often learn from them every day."
Anderson has devoted her career and practice to solving the unique legal issues faced by aging adults and individuals of all ages with special needs regarding estate planning, health care, long-term care options, and guardianship. She also assists clients with solutions for home care and nursing-home care and the drafting of vital legal documents designed to preserve clients' financial assets and autonomy.
A trio of cases that came across her desk in just the past month underscores the core mission and compassionate spirit of her practice: an older couple looking to fine-tune their long-term care plan after one spouse was diagnosed with multiple sclerosis; an adult child with power of attorney over an aging parent who had suffered a major stroke and was seeking guidance to fund the parent's immediate and long-term care; and new parents proactively looking to tap into available resources to address any challenges their baby, who was born with a genetic disorder, would experience in the future.
Although each client presents unique circumstances, Anderson suggests a common thread that connects them all.
"At the very beginning of a crisis consultation, there's a complete rawness and vulnerability," she says. "Our goal is to provide more than just transactional legal documents, but to begin a working relationship where we help them navigate through the important financial, medical, and legal decisions around aging, special needs, and disability planning."
Anderson says she and her team enjoy helping families understand, in a very proactive way, how to navigate a healthcare-delivery system that's almost impenetrable; how to access public benefit resources they didn't know were available; and how to keep control when it feels like things are out of hand.
"In my 30 years of being a lawyer, I'm astounded by the pure resilience I see from people on a daily basis" she adds. "Clients will arrive at the beginning and not know how strong they are, but with time and guidance, they realize things will be OK, even if it means a new normal. That is what makes working in elder law, and supporting or caring for people with special needs, among the most satisfying types of legal services in which an attorney can be involved."
Prepared for the Unexpected
Planning for the future started early for Anderson, both for herself and others. As a 5-year-old, she coveted one "toy" among all others: a briefcase to hold all the pieces of papers she had deemed important, including the primitive wills she drew up for the people closest to her. As she grew older, she felt drawn to the wisdom of her elders, especially her grandmother.
In the late 1980s, when Anderson earned her first job with a local law firm, many of the early cases she worked on involved advocating for elders. She quickly developed a taste for the work, treasuring the satisfaction of guiding people through some of the most vulnerable periods of their lives.
"When there's a sudden change in someone's health status and someone is moving through different levels of care, every transition increases the risk of falling through the cracks," she says. "What also happens is that people don't know what public benefits they might qualify for to help pay for certain care. When does Medicare apply? When do Medicaid and Veterans Affairs benefits come into play? You're essentially trying to bring all the resources together so the person in question can stay in the least restrictive environment."
When Anderson founded Anderson Elder Law 15 years ago, she wanted to help clients "prepare for the unexpected" while protecting their assets from the financial burden of long-term nursing care. The practice has since grown to include another elder law attorney, Chari A. Maddren, as well as a social worker who functions as an elder care coordinator, and a team of paralegals, legal assistants, and other staff members who assist clients through the legal challenges that come their way.
Anderson also works to advance the elder law field, volunteering to share her knowledge with community organizations and serving as the current president of PAELA (Pennsylvania Association of Elder Law Attorneys), which is the Pennsylvania chapter of the National Academy of Elder Law Attorneys; her two-year term is set to expire at year's end.
"It's never too early to plan, and planning does make a difference," says Anderson. "Nobody wants to think about dying, but it's something that's going to happen to everyone. Still, how many people have a will? In the same regard, nobody wants to think they will one day have a catastrophic stroke or disability. If you're proactive, though, a good elder law attorney can provide protections to carry you through any crisis, and those protections can make all the difference between trying to navigate the system blindly and keeping in control."
Despite the risk, many families react only when a crisis arises, such as the day when an aging parent ends up in the hospital or has to make a quick transition to a nursing home. This lack of advance planning may result in hasty or uninformed decision making concerning how to fund necessary care, quickly eroding assets earned over a lifetime in the process.
"The good news is that even if you didn't proactively plan, it's never too late," Anderson says. "Your parent may be in a hospital or a nursing home after a catastrophic event, but there are still opportunities to be their best advocate. If somebody can give you the road map, the better off you'll be. That's where we come in."
Anderson Elder Law
206 State Road
Media, Pa.
(610) 566-4700
Photograph by Jeff Anderson