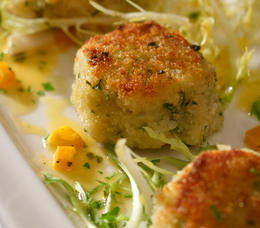 Welcome to Radice
This Blue Bell trattoria returns to the roots of simple yet refined Italian cooking
When locals are asked which European country has the best food, many would easily answer Italy. So where in the Philadelphia suburbs can locals find the best Italian fare? If they have eaten at Blue Bell's new Radice, the answer is obvious.
Radice, which literally means "roots," is not your typical Italian restaurant. The restaurant takes guests back to a bygone era in southern Italy, when food was slowly cooked in wood-burning ovens in one of the village's open kitchens. Radice opened in July, and despite its relative newness this elegant trattoria is already gathering high praise; in late October, for example, Radice earned a three-bell (or "excellent") review from Philadelphia Inquirer restaurant critic Craig LaBan.
"We offer simplistic, refined Italian dishes with a focus on quality and seasonal ingredients in a style that people aren't accustomed to," says co-owner and executive chef Donna Ewanciw. "We roast any dish that can be individually contained in a terra cotta crock in our own wood-burning oven."
The white-stucco, dome-like oven, which is the centerpiece of Radice, is lit with an authentic ash-wood fire. Family and friends savor the relaxed, casual environment while sharing a plentitude of Italian delights around the table. Eighty percent of Radice's dishes are made in the oven, according to Chef Donna.
Co-owner Toto Schiavone originates from Badolato, a Calabrian village beside the Ionian Sea, where food was cooked in this exact same manner. He recalls the village of 7,800 relying on 18 public ovens dispersed throughout the town, because the homes had no gas stoves or cooking facilities. "You had to make a reservation to use one," he says. Both his mother and grandmother often made lunch using produce picked daily from the family farm and cooked it in one of these ovens during their heyday in the 1950s.
"We believe that food tastes better and cooks more evenly with the terra cotta crock," says Toto, adding that Chef Donna makes dishes the same way he remembers them being made in Badolato. An example: The meatballs "Braciolini," which are made from pork, pecorino and milk-softened bread, simmer in tomato sauce and are then enriched with pork bones and sage—just like in the old country.
Although Donna doesn't have an Italian heritage, she has spent considerable time cooking in the kitchens of Italian restaurants. "When I first came to Philadelphia, I wanted to understand the Italian heritage and food," she says. "It reflects my style of cooking."
Perfect Pairings
Toto and Donna have been professionally connected since 1985. In addition to co-owning Radice, she is the executive chef at Moonstruck, a revered Italian restaurant owned by Toto and his wife, Claire DiLullo, at 7955 Oxford Avenue in the Fox Chase section of Northeast Philadelphia.
When Toto and Donna decided to open a modern suburban Italian restaurant, it took two years to find the right location and building. They chose a site in Blue Bell—a former steakhouse in the Village Square Shopping Center—and totally renovated the space. The restaurant, as they envisioned it, called for an opened-up "farmhouse feeling," with an abundance of carefully plotted details to provide further distinction. A large and stunning photo-mural of the hilltown of Badolato hovers above the bar, while tables are dressed in green checkered cloth and white chairs. Meanwhile, the front room provides a perfect vantage point for watching the excitement and activity around the oven.
Although its atmosphere is highly unique, Radice stands out even more when it comes to the menu. Radice's kitchen uses only the best local and imported ingredients. Staples include meats such as house-cured soppressata and capocollo, as well as prosciutto di Parma; cheeses such as mozzarella and ricotta; the finest olive oils; fresh herbs and vegetables such as eggplant and tomatoes; and crisp greens such as arugula, Swiss chard and radicchio.
The "assaggi" portion of the Center City-style menu is designed for guests to choose three or four small dishes to taste. For instance, guests might consider pairing melanzana (parmigiana of eggplant, tomato and basil) with spiedino (crispy calf's sweetbread, parsnips and pomegranate) and polpo (octopus, fennel, celery and potatoes).
"Many of our traditional meat dishes are slowly cooked with vegetables and wine," Donna says. "That is our winter style of cooking." Suggestions include spezzato (roasted chicken with lemon rosemary, sausage, potatoes, onions and peppers); brasato (slow cooked pork shoulder, vegetables and rapini polenta); or osso buco (braised veal shank with saffron risotto and orange gremolata).
For a hearty soup, try the memorable papazoi (fava and borlotti beans, escarole and pasta minestra) or delight in "Radice," the signature salad comprising olive-oil roasted beets, fennel, celery root and white balsamico. The owners designed the menu to include selections that are indicative of Italian cooking beyond pastas, although its five pasta dishes are extremely popular; favorites include lasagnetta (traditional Bolognese and besciamella) and gnocchi (potato ricotta dumplings, creamy gorgonzola and sage).
Hand-tossed pizzas are offered as well, with boscaiola (spinach, garlic, wild mushroom and fontina) being a top choice. Of course, each of the thin-crust pizzas is baked in the signature wood-burning oven.
Radice's stylish bar offers an affordable selection of delightful Italian wines by the quartino, providing the perfect preamble to dessert. Speaking of, Chef Donna's unique version of something sweet—the addictive crostata or cannoli—is the perfect way to conclude a dining experience at this new Montgomery County treasure.
Radice
722 W. DeKalb Pike at Village Square, Blue Bell
610-272-5700, RadiceRestaurant.com
Radice is open for lunch and dinner.
Reservations are now being accepted for New Year's Eve.
Karen Reuben is a Royersford-based freelance writer.
John Wynn is a freelance photographer based in Cheltenham.