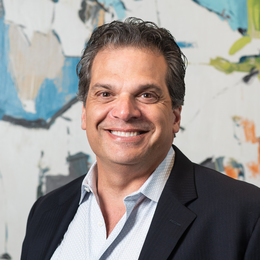 'A Truly VIP Experience'
At a new state-of-the-art surgical center in Bucks County, plastic surgeon Dr. Edward S. Kole takes a compassionate approach to helping patients achieve their optimal results.
If he had followed through with his original plans, Dr. Edward S. Kole would be well into a career in gastroenterology at the moment.
Instead, he shifted his focus during medical school and discovered a passion and skill for plastic surgery. Now, in his 20th year of leading his own practice in Southampton—The Kole Plastic Surgery Center—there is no doubt that he made the right decision.
"I love my job," Dr. Kole says with a gleam in his eye. "Helping people is wonderful and having them come out of their shell and be more confident in their appearance, is remarkable.
"Many of us have self-esteem issues," he continues. "If you don't like the way you look because of your nose, your eyes, your chin, your breasts, your love handles, or your saddle bags, even tiny little improvements can make a huge change in your mental state and how you feel about yourself."
Above and Beyond
Dr. Kole understands that making the choice to undergo a procedure, whatever the scope and size, can be a life-changing one. Throughout his career he has made a commitment to offering the safest and most sensible options available, and he goes above and beyond to ensure the comfort and safety of his patients.
That much is clear with the practice's new location, which opened last August around the corner from its original site. While it includes space for complimentary consultations and follow-up appointments, the highlight of the 5,000-square-foot facility is the Ambulatory Surgical Center.
Fully licensed by the Pennsylvania Department of Health, the state-of-the-art surgical center complies with all of the stringent safety codes in place and allows for Dr. Kole to give his patients an appealing alternative to a hospital or more crowded surgical center for their plastic surgery procedures.
"It's less expensive, more convenient, more relaxing, and completely private—a truly VIP experience," he says.
Compared to other surgical centers, which are often multidisciplinary, plastic surgery is the sole focus and Dr. Kole is the only surgeon. The space includes an operating room and two recovery beds, and because it is much larger than the previous surgical center, The Kole Plastic Surgery Center has expanded to 10 lasers for a variety of treatments, from skin tightening and cellulite reduction to tattoo removal.
"We're also staffed with amazing nurses who have been with me for years and years, we use board-certified anesthesia doctors, and patients get one-on-one care from the time they walk in the door until they leave," Dr. Kole says. "It's a VIP experience for all of our patients."
Even before treatment gets to the surgery stage, Dr. Kole puts his patients at ease with his down-to-earth approach. From their very first meeting, he strives to be honest and upfront about what they can expect.
"When you come in for your complimentary consultation, it's private and one on one with me," he says. "Instead of you telling me what you think you need, what I like to do is teach the patient what's out there, both with technologies I have and technologies I don't have.
"We want to find out what bothers the patient and what can be done to achieve their goals in their time frame for recovery," he continues. "We also make sure they are genuine and they are looking to improve something to feel better about it, not for someone else's benefit."
Natural and Refreshed
Dr. Kole is excited about the future of his field, notably advancements in laser technology, which have allowed for similar results to surgery through less invasive methods. He also sees more patients opting for smaller, multiple procedures over a period of time as opposed to one major surgical overhaul.
"The whole idea about good plastic surgery is that no one should be able to tell you had it done," he says. "When you have a nose job, you should still look like you, just better. That's the kind of thing I've been doing for years, and now the mainstream plastic surgeons are catching up because people don't want to look fake. They want to look natural and refreshed and keep their friends guessing about whether any work was done."
The Kole Plastic Surgery Center treats a wide range of patients, including men, who make up about 25 percent of the practice. Dr. Kole is happy to address their concerns through liposuction, eyelid surgery, and nose jobs, among other offerings.
Both women and men are also embracing the use of CoolSculpting, a noninvasive way to remove fat without surgery.
"CoolSculpting is great," Dr. Kole says. "There is an applicator that goes on your love handles or belly or other area of concern and freezes the fat. It's cold enough to kill the fat cells but does not damage the blood vessels, nerves, or skin. It's a 35-minute treatment, and when we remove the machine we massage you to break up the ice crystals and then you walk out the door.
"You get your initial results at about four weeks, and you get your final results at about three months. There's no pain, no cutting, no needles and no anesthesia. You sit in a private room with a big-screen TV, watching Netflix movies and getting skinny. It's a win-win"
Kole Plastic Surgery Center
1122 Street Road, Suite 100
Southampton, Pa.
(215) 354-1010
Photograph by Jeff Anderson

Published (and copyrighted) in Suburban Life magazine, May 2019.
For more info on Suburban Life magazine, click
here
.
To subscribe to Suburban Life magazine, click
here
.
To advertise in Suburban Life magazine, click
here
.