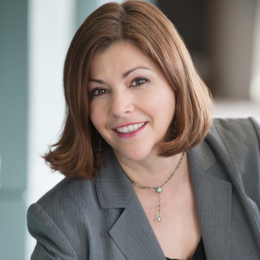 Big Questions
As host of WHYY's The Pulse, Maiken Scott delves into the unexplored terrain of health and science.
From the mystery of car carpets to the murky border between life and death, human existence presents an unlimited number of topics to explore for someone like Maiken Scott. Her intellectual curiosity makes her the perfect person to serve as creative director and host of The Pulse, a radio show on WHYY-FM that explores "the unexpected corners of the health and science world." New episodes air on Fridays at 9 a.m.

"What I'm hoping the show does is translate things to people who are curious and want to learn more," she says. "I see myself as a kind of translator, a curious person who comes from the platform of not being an expert but wanting to know more from people who are."

Born and raised in Germany, Scott came to the United States in the early 1990s. She settled in southeastern Pennsylvania, living in Pottstown and Boyertown. She studied at Montgomery County Community College before heading to Philadelphia, where she continued her studies at Temple University. She now lives in Fairmount with her husband and two children.

We spoke with Scott about her thoughts on her career in radio, her entrepreneurial spirit, and the thrill she gets from having conversations about topics some people might consider "mundane."

Q&A
How and why did you decide to pursue a career in radio?
It was a total coincidence. When I graduated from high school, I was not sure what I wanted to do. My grades were not very good, and I was floundering a bit. A family friend who worked at a radio station told me about a summer internship there. I loved it, and they liked me, so I took to it like a duck to water. I ended up staying there for a year, and they wound up taking me on as a junior reporter. … At Temple, I knew I wanted to stay in radio, and one day I was looking for an internship and someone suggested, "You should try WHYY. It's public radio." I thought: I didn't know you had public radio here. I was introduced to the news director in 1996, I did an internship, and I never left.

You're on the health and science beat. Is that because of personal interest, the station's need, or the intersection of both?
When I was working on Dr. Dan's show (Voices in the Family, featuring Dan Gottlieb, Ph.D.), the subject was mental health. I thought the topic was very interesting, so I suppose the topic found me. We've broadened things with The Pulse. We've found that we can pretty much do so just about any topic, so there's this gigantic sandbox in which I get to play. … The many different people I talk to keep the job interesting. The interviews I enjoy the best are ones in which people explain the mundane things to me—like, why there are long waits in the doctor's office.

The topics are fascinating—from failure as a motivational tool, to the need for wilderness, to the fluidity between life and death. I imagine it's quite a storyboarding process.
The show is really about the science of everyday things, so that gives us some wiggle room. Something very simple could be the foundation for an episode. I was recently dealing with the issue of trying to clean my car, and I was wondering why it's so hard to vacuum carpets in a car. I thought: Why do cars have carpets in the first place? So that's how that episode started.

Is it true that you once ran a recording studio in Philly?
Yes! It was 24,000 square feet—a gigantic warehouse in Port Richmond that we converted to rehearsal space and recording studios. I've gained so much respect for people who run small businesses. It was tough and all consuming, because there's always something to deal with. We didn't lose money, but we never got to a place where it paid me a reliable income.

What does life look like for you away from the station?
I was recently at a panel discussion, and there was a young woman who asked about handling the work-life balance. I have no hobbies, so that makes it easier. I love my work; it's incredibly interesting. I'm also on the board [of governors] of the Pen & Pencil Club, which is a journalists' group. Other than that, I just do family stuff with my husband and our kids, who are 8 and 10. We have a place in Maryland, so I love being outdoors and by the water. … When the kids are grown, I'm sure I will return to pursuing some new hobbies, because there's no limit to the things that interest me. Right now, the work is intellectually stimulating enough so I don't feel the need to pick up a book when I go home at night.

Photograph by Dana Romano
Published (and copyrighted) in Suburban Life magazine, May 2019.

For more info on Suburban Life magazine, click
here
.
To subscribe to Suburban Life magazine, click
here
.
To advertise in Suburban Life magazine, click
here
.