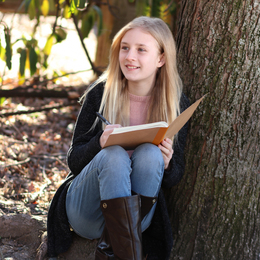 Birth of a Poet
Matilda Bray, a precocious wordsmith from Bucks County, finds her voice.
Joanne Leva remembers the first time she crossed paths with Matilda L. Bray. The interaction occurred at the Michener Art Museum in Doylestown, likely some time in 2012, during Liz Chang's tenure as poet laureate of Montgomery County.

"One of the ways we distinguish ourselves is that we invite the poet laureate to develop a community project, and we work with them during the year to create it and make it happen," says Leva, executive director of the Montgomery County Poet Laureate program. "During Liz's year as poet laureate, she was doing an ekphrastic poetry workshop, where you use a piece of art as a stimulus or catalyst to create a poem."

During this particular workshop, the group of aspiring poets was sitting around a table at the Michener, when in walked a precocious poet who introduced herself as Matilda Bray. The group was surprised to see such a young girl so confident, so capable, and so eager to participate alongside adults.

"Matilda blew us all away," recalls Leva, who lives in Lansdale. "She can take an image or an experience and turn it into something meaningful. … Technically speaking, she's very advanced. I'm stunned by the way she begins a poem, and she will remain with the subject throughout. That's something other people have to work on for years—remaining consistent with the image you begin with. She also knows when to end the poem."

In the years since, Bray has become something of a rising star in local poetry circles. The 13-year-old New Hope-Solebury School District student has earned awards from organizations devoted to arts and culture, including the Main Street Voices Poetry Contest and the Flash Poetry Festival hosted by New Hope Arts. She has also published her first chapbook of poems, Under the Moon as My Sun, with help from successful crowdfunding campaign. While some of the book's poems on everyday topics, such as math tests and cupcakes, she does not shy away from darker themes, such as the immorality of factory farming. (Editor's note: Bray's poem "The Hippo," though brief, is a remarkable delight.) The book's title, she says, alludes to her ability to look at the world from a slightly different perspective.

'A Master of Her Craft'
Starting with the first poem she ever wrote—"about bullying and why not to do it"—Bray has used her words to try to make sense of a complex and sometimes confusing world. She wants others to experience the same joy. With her parents' help, she linked arms with the Children's Literary Initiative, a national nonprofit that aims to close the literary gap between disadvantaged children and their more affluent peers. The Philadelphia-based organization works with pre-kindergarten through fifth-grade teachers across the country to help children become better readers, writers, and thinkers through early literacy instruction.

Last month she donated proceeds from the sale of her book—more than $1,100—to CLI. She also visited a second-grade class at Inquiry Charter School in Philadelphia, to field questions from students, talk about her approach to poetry, and discuss crowdfunding as a tool to help aspiring writers get published.

"Early literacy is important because it helps kids read to learn instead of them having to learn to read later on; it furthers their success," says Amanda Alexander, development associate with CLI. "That's the part Matilda was most excited about. … I was impressed with how poised she was, and she was very encouraging to the students. You could tell she was a master of her craft."

Bray finds inspiration in the genre's most celebrated poets, including contemporary writers such as Maya Angelou and Tracy K. Smith. (See sidebar.) Some of her favorite poems include "Stopping by Woods on a Snowy Evening" by Robert Frost and "Blackberry-Picking" by Seamus Heaney, as well as Angelou's "On the Pulse of Morning."

"One of my favorite things about poetry is that people can interpret the same poem in different ways," Bray says. "There's not a correct answer; you do what fits best with your personality. I'm self-conscious about my poems, because I want to make it so the reader does have to think a lot before they can interpret it."

Bray, who is mulling a follow-up to Under the Moon as My Sun, attributes her early success to the support of her family—her parents, Chris and Tracy, her sister, Willa, and her dog, Tuck. She's also thankful to the teachers and fellow poets who have provided encouragement and helped her hone her craft. In particular she cites Joanne Leva of the Montgomery County Poet Laureate program and Lorraine Henrie Lins, the 2010 Bucks County Poet Laureate, both of whom are active in Tekpoet, a collaborative through which experienced poets mentor emerging talents.

"When I think of Matilda, I think of a day in the not-too-distant future," Leva says. "I'm sitting in the audience and she's standing at the podium, and I see her accepting the Bucks County Poet Laureate award. … She's not intimidated by things that intimidate other people, and she has a youthful sense of wonder that touches every part of her life. She's just such a wonder to me."

Photograph by Heart and Soul Portraits
Published (and copyrighted) in Suburban Life magazine, May 2019.