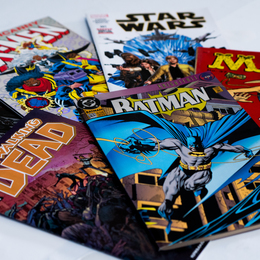 Origin Story
How Jim Drucker became a hero to comic-book collectors around the world.
John Donaldson grew up in a two-newspaper family. Every Sunday, after his parents finished leafing through the pages of the Philadelphia Inquirer and Bucks County Courier Times, he would follow suit. His first destination: the comics. He loved the smell of the ink and the feeling of the grain against his fingers as he smirked along with Blondie, The Family Circus, and Hagar the Horrible.

He also consumed comic books by the dozens. His favorites include war-themed books along the lines of Sgt. Rock, but he also adored those that had to do with horror and science fiction—mummies and monsters and invaders from different worlds, to be precise.

"To me, there's always been something special about comic books," says Donaldson, a creative professional on the cusp of 50 who lives near Quakertown. "They make you think anything can happen, and that's pretty addictive when you're a kid."

As often happens when people transition from adolescence to his teen years, Donaldson slowly parted ways with childish things: first, his collection of action figures and cap guns, followed by the rest. He doesn't remember exactly what happened to his collection of comic books, whether he gave them away or they simply got thrown in the trash.

Although he was busy doing adult things—finding his way in the working world, getting married, starting a family—every so often he would think about some of the things he let go.

"There was one [comic book] in particular I couldn't stop thinking about—it was a Conan the Barbarian," he recalls. "This one issue had him fighting a horde of small, orange devils, and I swear there was blood on every page. For a 12-year-old kid, it doesn't get much better than that."

Then, one summer while on vacation, serendipity struck. He walked into a second-hand shop on the boardwalk in Ocean City, N.J., and saw stacks of old comic books. As he leafed through scores of classic plastic-sleeved books, he saw a familiar cover staring back: Marvel's Conan the Barbarian, volume 1, issue 123, from June 1981, titled "The Horror Beneath the Hills"—his favorite from childhood.

"I couldn't believe it," Donaldson says. "Of course I snatched it right up. This was the mid- to late 1990s, before the internet, or before the internet became the internet we know today. Now you can get anything anywhere, anytime you want, but back then you really had to hunt things down."

Enter Jim Drucker. Donaldson is among the growing universe of people Drucker might consider potential customers. Drucker founded NewKadia.com, an online comic-book marketplace, nearly 20 years ago. Since then it has grown to move as many as a quarter of a million comic books per year.

"I read comics from age 6 to 12, and I used them as my primary source of learning and vocabulary," says Drucker, a Plymouth Meeting native. "I loved the dots, how you would get a purple dot by printing a red dot next to a blue dot. When I left for college in '69, I told my mom, 'Don't throw out my comics,' because I had such fond memories of them. Every year for the next 20 years, she could tell me, 'Hey, come get your comic books.' Eventually I relented and my wife became the reluctant caretaker."

'There Is Something to This'
For Drucker, peddling comic books online is something of a third or fourth career. An attorney by trade, Drucker once served as commissioner of the Continental Basketball Association and, later, the Arena Football League. In between he served as a legal commentator for ESPN. When he retired from his AFL job in the late 1990s, he took some time off to consider his next step.

"I sat by the pool and went to the movies three times a week," he says. "We closed the pool in mid-September, and my wife said, 'Now what are you going to do?' I thought: I'll look into this World Wide Web thing. TIME magazine had just done a story on Jeff Bezos [of Amazon], who was selling books online. I said, 'This guy seems pretty smart. I'm going to see if I can sell these [comic books] online.'"

He taught himself how to program, built a website, and secured a domain name. The site went live on Jan. 1, 2000, at 12:01 a.m. He got three orders the first day.

"I was in shock," he recalls. "One order was from Laramie, Wyo., one was from Sydney, Australia, and one was from Manhattan. I thought: There is something to this."

Drucker started with an initial inventory of approximately 500 comic books and slowly expanded from there. His business grew along with it. Today, his inventory exceeds 720,000 comic books, including those from the so-called Golden Age of comic books, circa the 1930s to 1950s. The 66-year-old Drucker says the business has grown every year for the past 18 years.

"The movies have helped," he says, referring to the spate of big-budget action films featuring beloved characters plucked from the Marvel and DC universes. "I'd say our market is split, but a lot of it comes from people who would say, 'I'm trying to recreate the collection my mother threw out.'"

Over the past 15 years or so, blockbusters featuring heroes and villains that first came to prominence in comic books have lit up the box office. The most recent, Avengers: Endgame, made more than $2.5 billion in global ticket sales in less than a month in theaters, putting it within spitting distance of the all-time record holder, Avatar's $2.9 billion.

While casual observers of the genre might dismiss the audience for comic books—and the movies they inspired—as legions of nerdy white males, the appeal is much broader. Last year's Black Panther, featuring a mostly African-American cast, earned more than $1.3 billion in global ticket sales and a Best Picture nomination. Also, Captain Marvel (2019) and Wonder Woman (2017), each film featuring a female lead, netted ticket sales of more than $1 billion and $820 million, respectively.

For those who mull over the name of Drucker's business and look for a tie-in to some obscure Marvel or DC reference, they're going to struggle to find one.

"In the biography of George Eastman, the founder of Kodak, he talks about the lengths he went to come up with a name for Kodak," Drucker says. "He found that K is the least used letter of the alphabet, so a name with the letter K is more memorable. … There are also three words that stick: new, free, and sex. So, that's where the name NewKadia came from."

Although John Donaldson hasn't yet logged on to NewKadia.com, he definitely sees the value in such a site.

"I always liked the hunt, physically going through stacks of comic books and looking for a hidden gem," he says. "At the same time, there's something to be said for knowing exactly what you're looking for, and then going out and getting what you want with a few clicks of the button. That seems to be the way the world is moving."

If he ever wants to seek out the vintage horror and sci-fi comic books of his youth to rebuild his old collection, now he knows exactly where to point and click.

Photograph by Jody Robinson
Published (and copyrighted) in Suburban Life magazine, May 2019.
For more info on Suburban Life magazine, click
here.

To subscribe to Suburban Life magazine, click
here.
To advertise in Suburban Life magazine, click
here.