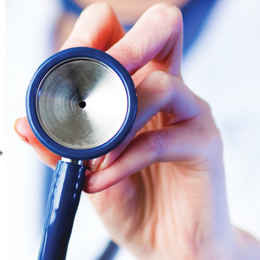 The Best Medicine
Locally rooted health systems raise the standard of care in the Philadelphia suburbs
Years ago, any suburbanite who had an urgent health issue that required the care of the area's elite health systems usually needed to spend an hour or two behind the wheel. Reason is, all of the big-name hospitals were located downtown, well across the dividing line between city and suburbs.
It's a different story these days, as residents of Bucks, Chester, Delaware, and Montgomery counties don't have nearly as far to travel for exceptional care. The reason is simple: The region's top healthcare providers have migrated from their roots in the city and set up shop much closer to home. At the same time, health systems that started in the suburbs have evolved to provide an increasingly high level of care.
So whether someone is in need of a routine medical screening, a minimally invasive procedure, or life-saving surgery, the health systems featured on the following pages have made high-quality, compassionate care more accessible than ever.
Children's Hospital of Philadelphia
Founded in 1855 as the first hospital in the U.S. dedicated to caring for children, CHOP has become synonymous with excellence in pediatric care. For the seventh consecutive year, U.S. News & World Report has designated the Department of Pediatrics at the University of Pennsylvania's Perelman School of Medicine, located at CHOP, as the No. 1 department of pediatrics in the United States. CHOP's main campus in Philadelphia always seems to be abuzz with self-improvement, but the organization's efforts to better serve patients and their families extends deep into the Philadelphia suburbs. For example, CHOP has announced two significant additions to the CHOP Care Network: a 250,000-square-foot inpatient hospital in King of Prussia; and a 37,000-square-foot specialty care and urgent care center in Abington. The King of Prussia hospital, which will offer a range of pediatric specialties, including orthopedics, plastic surgery, and otolaryngology, is expected to open in 2021. CHOP.edu
Crozer-Keystone Health System
Through its network of hospitals, outpatient centers, and other locations throughout Delaware County, Crozer-Keystone Health System continues to commit resources to improving the health of the communities it serves. Crozer-Keystone's four hospitals—Crozer-Chester Medical Center, Delaware County Memorial Hospital, Springfield Hospital, and Taylor Hospital—offer advanced care for the treatment of everything from cancer and cardiovascular issues to OB/GYN concerns and neurosurgery. In fact, Crozer-Keystone has entered into a partnership with Global Neurosciences Institute to develop a comprehensive neurosciences institute focused on delivering clinically advanced brain and spine care services. Also, Crozer-Chester Medical Center in Upland has added a neurosurgery hybrid operating suite featuring a biplane imaging system that enables neurosurgeons to use minimally invasive technology to provide swift treatment for stroke, aneurysm, and other serious neurosurgical conditions. In regard to breast health, both Crozer-Chester Medical Center and Delaware County Memorial Hospital have been accredited through the National Accreditation Program for Breast Centers. CrozerKeystone.org
Doylestown Health
Doylestown Health has undergone many changes in its more than 100-year history. The evolution theme continues with a significant reimagining of its Bucks County campus, in the form of coming-soon Cardiovascular and Critical Care Pavilion. The expansive space will house the Center for Heart and Vascular Care and the Richard and Angela Clark Center for Critical Care Medicine, with clinical and patient areas devoted solely to cardiovascular and critical care medicine. Slated to open its doors later this year, the Center for Heart and Vascular Care will keep patients' heart health in mind with every aspect of care, including the heart-healthy menu at the 24-hour café. Doylestown Health already has a sterling reputation in regard to cardiovascular care. In 2018, Doylestown Health was named one of the "50 Top Cardiovascular Hospitals" in the nation by IBM Watson Health. It also improved its regional and state rankings (No. 7 and No. 13, respectively) in U.S. News & World Report's "Best Hospitals" list. What's more, Doylestown Health is in the process of adding a pavilion for outpatient services. Set to open in 2020, the addition will include an ambulatory surgical center, with rehabilitation medicine and other complementary support services. DoylestownHealth.org
Einstein Healthcare Network
Einstein Medical Center Montgomery in East Norriton is a fine example of health care's migration from city to suburbs. There, patients have access to many of the same resources available at Einstein locations in Philadelphia. The spacious Montgomery County campus offers a full range of medical and surgical care services, including 24-hour emergency medicine and a full-service maternity unit with a Level III NICU, as well as devoted service lines for cancer care, orthopedics, and bariatric surgery, among others. The hospital also specializes in advanced heart care, guided by a team of board-certified cardiothoracic surgeons capable of offering the full gamut of cardiac surgical solutions, from routine screenings and minimally invasive procedures to complex cases and emergent care. Einstein.edu
Grand View Health
Sellersville-based Grand View Health serves patients in need of inpatient and outpatient care involving cancer, cardiology, orthopedics, women's health, and much more. The health system recently earned its seventh consecutive "A" rating from the Leapfrog Hospital Safety Group, which provides "grades" to approximately 2,500 U.S. hospitals by measuring hospital safety data. Grand View, which is a member of the Penn Cancer Network, has been once again granted a three-year accreditation designation by the National Accreditation Program for Breast Cancers. Administered by the American College of Surgeons, NAPBC accreditation recognizes centers that provide the highest level of quality breast care, based on a careful evaluation and performance review. On the surgical side, Grand View has added the da Vinci surgical system to its repertoire, meaning patients who are eligible for minimally invasive gynecologic or general surgery may experience the benefits of robotics-assisted surgery—namely, smaller and more precise incisions, which can translate to diminished postoperative pain and a speedier recovery. GVH.org
Jefferson Health
From its suburban hospitals in Abington, Lansdale, and Langhorne, to its health centers throughout Bucks and Montgomery counties, Jefferson Health continues to find ways to better serve residents of the Philadelphia suburbs. Last year, for example, Jefferson Health opened the Asplundh Cancer Pavilion, an 86,000-square-foot, $80 million outpatient center built to provide the continuum of outpatient care, plus clinical research and support services, to patients fighting cancer. Offering an intensive focus on healing, the pavilion features gardens with walking paths, meeting space for cancer support groups, and other touches to provide a sense of calm to individuals during their cancer fight. Of course, Jefferson Health continues to earn high marks for patient care, as evidenced by Abington Hospital's receipt of the American Heart Association/American Stroke Association's "Get with the Guidelines" Stroke Gold Plus Quality Achievement Award. The award is given to hospitals that provide the most appropriate treatment for stroke patients, according to nationally recognized, research-based guidelines based on the latest scientific evidence. JeffersonHealth.org
Main Line Health
From Ardmore to Wynnewood, Main Line Health is devoted to protecting the health of residents of the western suburbs and surrounding areas. Perhaps the most visible sign of this commitment is Bryn Mawr Hospital's transformed campus. An eight-story Patient Pavilion, the result of a years-long, multimillion-dollar modernization project, has completely remade the 125-year-old hospital. The transformation includes a number of clinical advancements designed to add greater predictability to patient outcomes. They include larger ORs, preoperative imaging technology to enhance visualization for surgeons, and robotics-assisted technology for greater precision in joint-replacement procedures, among others. Bryn Mawr Hospital continues to focus on improving patient care in ways apart from the physical plant. One example: The hospital recently earned Thrombectomy-Capable Stroke Center certification from The Joint Commission, in collaboration with the American Heart Association/American Stroke Association. MainLineHealth.org
Penn Medicine
Penn Medicine's sterling reputation extends far beyond the Greater Philadelphia Area. The Hospitals of the University of Pennsylvania-Penn Presbyterian ranked among the nation's top hospitals in 2018, according to U.S. News & World Report, while several other Penn-affiliated hospitals—Chester County Hospital, for example—were named among the best in the region and across the state of Pennsylvania, for everything from cancer to urology. Speaking of Chester County Hospital, the West Chester-based facility is undergoing an ambitious 250,000-square-foot expansion and a 26,000-square-foot renovation plan (see rendering) designed to better serve the rapidly expanding population of Chester County. As an organization, Penn Medicine remains a pioneer of groundbreaking medical research, particularly in regard to cancer treatment. At Abramson Cancer Center in Philadelphia, Penn scientists continue to make breakthroughs involving clinical trials of potentially life-saving cancer drugs. In fact, Penn Medicine's Carl June, M.D., was named one of 2018's most influential people in the world by TIME magazine, for his work in the development of CAR T-cell therapy to treat certain cancers. PennMedicine.org
St. Mary Health System
Langhorne's St. Mary Medical Center is known for excellence across numerous areas of medicine, including maternity services, bariatric surgery, and orthopedics. In orthopedic care, for example, St. Mary physicians offer solutions for total joint replacement, hand and upper extremity surgery, and spine and neck surgery, as well as trauma services, sports medicine, physical therapy, and pain medicine. At St. Mary, a successful recovery begins well before the actual surgery. Prior to a patient's procedure, St. Mary can offer a home care visit and home assessment to assist in a patient's postsurgical recovery. Patient satisfaction scores rank among the highest in the nation, but patients aren't the only ones who notice the attention to detail. St. Mary has received accolades including the Gold Seal of Approval from The Joint Commission for hip and knee replacement. StMaryHealthCare.org
St. Luke's University Health Network
Long regarded as a leading healthcare provider throughout the Lehigh Valley, St. Luke's continues to expand its healthcare services by way of an ever-widening footprint in the Philadelphia suburbs. St. Luke's Bone & Joint Institute in Quakertown offers orthopedics, occupational medicine, physical therapy, pain medicine, and foot and ankle specialty care. In the near future, residents of Bucks County and surrounding areas will notice a much greater presence in their backyard, figuratively speaking. As St. Luke's prepares to open a new 80-bed hospital in Quakertown, patients will benefit from a beautifully designed, state-of-the-art campus with facilities designed to match the high level of care that St. Luke's has been providing at its existing Quakertown campus for many years. SLHN.org
Temple Health
Through pioneering clinical innovation, research, and education, Temple Health's team of physicians, scientists, and other health professionals aim to bring "tomorrow's treatments to the bedside today." Temple Health, which offers primary care, specialty care, and urgent care throughout Philadelphia and its surrounding suburbs, is perhaps best known for its programs in the areas of oncology, organ transplantation, cardiovascular care, neuroscience, and orthopedics. As a health system, Temple Health stands at the forefront of medicine by taking the lead on innovative new procedures. For example, Philadelphia's Temple University Hospital—perennially ranked among U.S. News & World Report's list of leading healthcare institutions—recently became the first U.S. hospital to treat a patient with severe emphysema using a new minimally invasive treatment called the Spiration Valve System. TempleHealth.org
Tower Health
Tower Health comprises six hospitals in the Greater Philadelphia Area and environs: Reading Hospital, a teaching hospital in West Reading; Brandywine Hospital, based in Coatesville; Chestnut Hill Hospital, a teaching hospital in Philadelphia; Jennersville Hospital in West Grove; Phoenixville Hospital in Phoenixville; and Pottstown Hospital in Pottstown. At the same time, the organization is also expanding its footprint, locally speaking. Tower Health recently acquired Premier Urgent Care, consisting of 19 urgent care locations throughout the Greater Philadelphia Area, each of which has been accredited through the Urgent Care Association—the highest level of distinction for urgent care centers. Tower Health has also shown a devotion to educating the next generation of physicians; the organization has linked arms with Drexel University to establish a new four-year regional campus of Drexel University College of Medicine in West Reading, near Reading Hospital. Tower Health expects the campus to be operational for the 2020-2021 academic year. TowerHealth.org
Published (and copyrighted) in Suburban Life magazine, May 2019.
For more info on Suburban Life magazine, click
here
.
To subscribe to Suburban Life magazine, click
here
.
To advertise in Suburban Life magazine, click
here
.