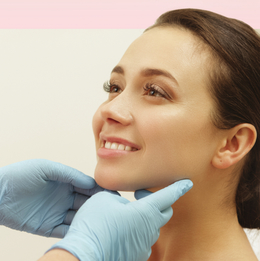 Close to Perfect
The Greater Philadelphia Area's premier cosmetic doctors and dentists excel at refining the human form.
From an early age, we're encouraged to embrace the desire to excel. "Reach for the brass ring." "Do your best work." "Dress for the job you want, not for the one you have." "Be your best self."
While every individual is graced with his or her fair share of positive traits, nobody's perfect. Put another way, anyone who stands in front of the mirror is likely to see things about their appearance they might consider in need of a tweak here, a lift there. Maybe it involves toning and tightening certain parts of the body. Maybe it involves straightening and whitening our smile. Maybe it involves eliminating our reliance on corrective lenses. Or, in some cases, perhaps more dramatic measures are required.
No matter the need, the Greater Philadelphia Area has an abundance of skilled physicians who have devoted their lives to the art of getting the human form a little closer to perfect. By way of a months-long online poll, we asked readers to tell us exactly who those individuals are. You'll find the results below, along with some suggestions of our own, based on the interviews we've conducted over the past year or so with some of the region's most reputable practitioners.
Without any further adieu, we present our list of 2019 Top Cosmetic Doctors and Dentists.
Physician Transformations
Lower Gwynedd and Malvern
Gambhir Cosmetic Medicine
Exton and King of Prussia
AESTHETIC VASCULAR SURGERY
Main Line Vascular Institute
The Center for Vein Restoration
Dr. Victoria A. Cirillo-Hyland
Bryn Mawr Skin & Cancer Institute
Cirillo Cosmetic Dermatology Spa
Cirillo Center for Plastic Surgery
Bryn Mawr and Newtown Square
Bucks County Plastic Surgery and Dermatology
Buckingham, Newtown, and King of Prussia
Montgomery Dermatology LLC
The Philadelphia Institute of Dermatology
Dermatology Specialists of Warrington
Dermatology & Mohs Surgery
Doylestown, Quakertown, and Sellersville
Wilson Dermatology and Skin Care
Dermatology Associates of Plymouth Meeting P.C.
Bryn Mawr Facial Aesthetics Center
Capital Health/Plastic Surgery Associates of New Jersey
ORAL AND MAXILLOFACIAL SURGERY
Russel S. Bleiler, D.M.D.
Oral and Maxillofacial Surgery Centers
Warminster, Fort Washington, and Newtown
Oral Surgery Associates of Chester County
Kennett Square and West Chester
Innovative Implant and Oral Surgery
PLASTIC AND RECONSTRUCTIVE SURGERY
Children's Hospital of Philadelphia
Eugenie Brunner, M.D., FACS, Cosmetic Facial Plastic Surgery & Skin Rejuvenation Laser Center
Louis P. Bucky, M.D., FACS
Claytor Noone Plastic Surgery
Philadelphia and Villanova
Davis Cosmetic Plastic Surgery
Philadelphia and Cherry Hill, N.J.
Penn Plastic Surgery Bryn Mawr
Kole Plastic Surgery Center
Princeton Rejuvenation Institute LLC/Reliant Surgical Center LLC
Aesthetic Facial Plastic Surgery Center Inc.
Bucks County Plastic Surgery and Dermatology
Buckingham, King of Prussia, and Newtown
Surgical Specialists P.C.
Subbio Plastic Surgery & Medical Spa
Capital Health/Plastic Surgery Associates of New Jersey
Abrams Center for Cosmetic Dentistry
Dr. Jeffrey A. Bellisario
The Office of Doctor Bellisario
Doc Bresler's Cavity Busters
DiGiallorenzo DMD & Associates
Advanced Dental Esthetics
Heine & Associates Family Dentistry
Dr. Stephen P. Howarth Sr.
Dr. Stephen P. Howarth Jr.
Wallingford Station Family Dental
Chester County Dental Arts
Artistic Expressions Dentistry
Published (and copyrighted) in Suburban Life magazine, May 2019.
For more info on Suburban Life magazine, click
here
.
To subscribe to Suburban Life magazine, click
here
.
To advertise in Suburban Life magazine, click
here
.