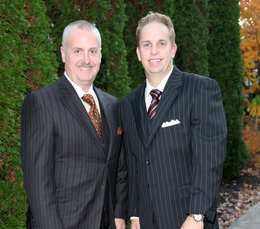 What You Deserve From Your Financial Advisor
The Barlow Group at Morgan Stanley Smith Barney offers five guidelines for gold-plated service
According to Drew Barlow and Brian McKeon, few things are more frustrating to investors than a financial advisor who fails to deliver on a promise of high-quality client service.
The financial advisors and senior vice presidents of The Barlow Group at Morgan Stanley Smith Barney in Doylestown say clients deserve better: better communications, better investment planning, better performance monitoring, better personal interaction and better pricing, to be exact.
Following are five qualities The Barlow Group believes all investors should consider before entrusting their financial future with a financial advisor:
1: Pre-set Communications
"We believe that a primary reason people change advisors is due to lack of contact," says Barlow, senior vice president and portfolio management director, who leads the six-person team. "We hear that all the time when we speak to people describing their relationships with other advisors—'My advisor never calls me.'"
The Barlow Group offers clients pre-established and agreed-upon communications, such as monthly phone calls to discuss their investment performance.
"Service is best delivered on a proactive basis from the advisor's standpoint," he adds. "We don't wait until a client is upset or confused. We reach out on a regular basis to notify clients about their investments and update our strategies—not to sell them products."
2: Investment Planning
"We recommend having a well-defined plan, whether a client just needs an investment, income or retirement plan or a full-blown financial plan, which includes an estate plan," says McKeon, senior vice president and senior portfolio manager. "At The Barlow Group, we take an overall wealth-management approach. We may advise a client to restructure their mortgage or other debt (such as credit cards) to lower their borrowing costs.
"We have access to a terrific network of planning professionals at Morgan Stanley Smith Barney's Wealth Planning Center," he adds.
3: Performance Monitoring
Advisors should offer systematic performance reviews around the overall progress of their clients' specific accounts—and their progress compared to the stock market or other indicators.
The Barlow Group also asks its clients how frequently they want to review their accounts. Most prefer monthly, but some choose quarterly reviews. The team likes to have at least one annual in-person meeting as well.
"Just receiving printed reports is not enough to keep clients informed," Barlow says. "They need to understand the context of the performance and the strategy going forward either to correct underperformance or to avoid making mistakes that may keep them from reaching their goals."
4: Personal Interaction
Does your financial advisor offer opportunities for you to increase your financial knowledge and build relationships with others in the community?
"The Barlow Group continually invites clients and prospective clients to educational events at a variety of local venues," Barlow says. For example, the team offers an ongoing seminar program on a variety of pertinent financial topics at local restaurants. It also hosts a series of Mom's Night Out events at the Mercer Museum in Doylestown.
5: Pricing
"Pricing should be based on the value you receive," McKeon says. "Morgan Stanley Smith Barney's pricing guidelines have been simplified and are flexible based on the level of service needed.
"We are very happy to provide more service, such as customized trading strategies, if that's what the client wants," he adds. "A client should always be aware of the overall value of the services that they are paying for."
The Barlow Group includes:
Drew D.Barlow CPM® Senior Vice President Portfolio Management Director
Brian J. McKeon CMFC®, CRPC® Senior Vice President Senior Portfolio Manager
Tracey A. Herring Relationship Manager
Chip E. Schilling Jr. Relationship Manager
Kathleen Lansing Senior Registered Client Service Associate
Karen McLaughlin Senior Client Service Associate
The Barlow Group can be reached at 4259 West Swamp Road, Suite 400, Doylestown, PA 18902, or 215-230-2910. Morgan Stanley Smith Barney LLC. Member SIPC.
Maria Martino Evans is a writer and PR professional in Pipersville.
Kim Billingsley is a freelance photographer based in Doylestown.