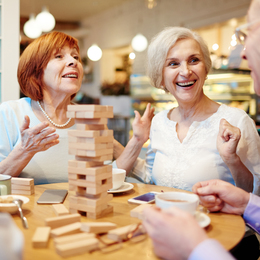 Best of Times
At the area's premier retirement communities, residents find comfort, peace of mind, and a path to unlimited self-discovery.
A few years ago, Matthew Bruce felt the pull to "come home." He was living in Ocean City, N.J., at the time, and he wanted to return to the Philadelphia suburbs. His initial thought was to get an apartment, maybe somewhere near the Willow Grove home where he and his late wife had lived for almost 50 years.
His granddaughter had ideas of her own.
"She had been checking out various residences and told me, 'You have to check out this place,'" he recalls. "Turns out she had done her homework well."
Although he had never given much thought to moving into a retirement community, he liked what he had seen at "this place," meaning The Solana Doylestown, a retirement community in Warrington. He was attracted primarily to the community's flexible foodservice options and financial arrangements, as well as its ability to provide the continuum of care, meaning he's confident he will be in good hands should his health ever change.
"If I reach the point where I need more care," he says, "I don't have to go anywhere else."
Any move, at any age, requires a period of adjustment, but the retirement communities (also known as life-plan communities or continuing care retirement communities) in the Greater Philadelphia Area strive to make the transition as smooth as possible. In fact, many go to great lengths to ensure that new residents see no diminishment in their quality of life; quite the contrary, as many residents find that their lives improve significantly when they change addresses.
"Satisfying every notion of wellness is a core competency when people come to a community like ours," says Paul Nordeman, CEO of Meadowood Senior Living in Worcester. "Maintaining physical health is essential, but all the other components of the wellness wheel are just important."
To his point, Meadowood aims to nurture the six dimensions of overall wellness—emotional, intellectual, physical, social, spiritual, and vocational—for each resident. Meadowood offers dozens of exercise and physical wellness programs every week, with facilities to match, and a staff of professionals committed to helping residents lead a life of engagement and enrichment.
Full Schedule
Bruce says his move to The Solana was relatively seamless. He attributes this fact to the community's welcoming nature, but also to his own preparations.
"Far too many people come into these places not thinking about how they will spend their time," he observes. "I insisted that if I was going to move into a place like this, I was going to plan. I brought enough of my library, my computer, and some of my 'toys.' The community has a very interesting activities schedule here, but even if they didn't, I knew I could manage based on what I wanted to do with my time.
"There's a range of people here who are interesting to talk to," he continues. "I spend as much time as I can, talking to people about what they did with their time prior to coming here, and what they're doing with their time now that they are here. That in itself is intriguing."
A retired professor who taught at Temple University for 35 years, Bruce fills his days with activities and events that make him think, and make him happy. Examples: sampling unfamiliar dishes at local restaurants through the community's Out to Lunch Club; visiting local points of interest such as the Bryn Athyn Cathedral, Peddler's Village, and the Jersey Shore; and exercising daily, with his playlist of favorite songs to motivate him.
He has also used his time to pursue his interest in history, particularly the largely unknown history of a very specific aspect of the Civil War. He wrote a book about incidents that occurred between opposing navies during this pivotal point in American history. The first draft is done, he says, and he hopes to one day shop it to major publishing houses. He's grateful to receive encouragement from his fellow community members, and from the community itself.
"My background is in physics and math, but I'm a student of history," he says. "[The Solana] caught on early on that I was interested in the Civil War, and they came to me looking at doing a series of lectures. They've been supportive of my publishing efforts, too."
This kind of stimulating environment has the potential to yield numerous benefits, both for the individual and the community in which he or she calls home.
"When residents come to a community like ours, they have every opportunity," Nordeman says. "You see that for a number of reasons, including the fact that our residents are so actively involved in creating those opportunities. That's why I believe coming to a community like ours gives you an opportunity to extend your life."
Matthew Bruce would likely agree. He's thrilled to have made the decision to relocate to one of the many premier retirement communities in the Greater Philadelphia Area.
"I've been here for almost three years, and I have no intention of moving out," he says. "There's no reason anybody should be bored or say they have nothing to do when they come to a place like this. There's plenty to do; you just have to want to take advantage of it."
Where to Retire
Anyone on the cusp of retirement and looking for a new place to call home has plenty of choices in the Greater Philadelphia Area. The city, suburbs, and surrounding areas have an abundance of life-care communities offering the continuum of care, many of which excel at helping residents lead lives of enrichment, engagement, and, if they so choose, adventure. The following communities and organizations have earned a reputation for providing the highest levels of comfort, security, and peace of mind for all individuals who come through their doors.
Acts Retirement Life Communities
Locations include Brittany Pointe Estates in Lansdale, Fort Washington Estates, Granite Farm Estates and Lima Estates in Media, Gwynedd Estates in Ambler, Normandy Farms Estates in Blue Bell, Southampton Estates, and Spring House Estates in Lower Gwynedd.
ActsRetirement.org
Arbour Square of Harleysville
Harleysville
ArbourSquare.com
Atria Senior Living
Atria Center City in Philadelphia, The Solana Doylestown in Warrington, and, coming soon, Atria Lafayette Hill.
AtriaSeniorLiving.com
The Attleboro Community
Langhorne
AttleboroCommunity.com
The Beaumont at Bryn Mawr
Bryn Mawr
BeaumontRetirement.com
Brandywine Senior Living
Brandywine Living locations include Dresher Estates, Haverford Estates, Longwood in Kennett Square, and Upper Providence in Phoenixville.
BrandyCare.com
Chandler Hall
Newtown
CH.Kendal.org
Dunwoody Village
Newtown Square
Dunwoody.org
Five Star Senior Living
Locations include Devon Senior Living and NewSeasons at New Britain in Chalfont.
FiveStarSeniorLiving.com
Friends Home & Village
Newtown
FHVpa.org
The Hearth at Drexel
Bala Cynwyd
TheHearthAtDrexel.org
Masonic Village at Lafayette Hill
Lafayette Hill
MasonicVillages.org
Meadowood Senior Living
Worcester
Meadowood.net
Pennswood Village
Newtown
Pennswood.org
Pickering Manor
Newtown
PickeringManor.org
Pine Run Retirement Community
Doylestown
PineRun.org
Pleasant View Communities
Manheim
PleasantViewCommunities.org
Presby's Inspired Life
Locations include Rydal Park in Jenkintown, Rosemont, and Spring Mill in Lafayette Hill.
PresbysInspiredLife.org
Priority Life Care
Symphony Manor of Feasterville and Independence Court of Quakertown
PriorityLC.com
SageLife
Locations include Echo Lake in Malvern, Kyffin Cove in North Wales, Daylesford Crossing in Paoli, and Plush Mills in Wallingford.
SageLife.com
Symphony Square
Bala Cynwyd
MilestoneRetirement.com
Waverly Heights
Gladwyne
WaverlyHeightsLtd.org
White Horse Village
Newtown Square
WhiteHorseVillage.org
Published (and copyrighted) in Suburban Life magazine, June 2019.
For more info on Suburban Life magazine, click
here
.
To subscribe to Suburban Life magazine, click
here
.
To advertise in Suburban Life magazine, click
here
.