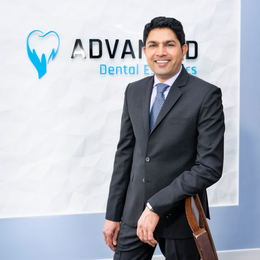 Second to None
Dr. Dilip Dudhat is known as a visionary in progressive and compassionate dental care.
Dr. Dilip Dudhat, a 1996 Temple University graduate, is always ahead of the game in dentistry. From being at the forefront of the latest techniques and technologies to continually enhancing his education, he has become a leading dental expert in the tri-state area. With the combined goal to provide the most advanced dental care available, every member of Dr. Dudhat's growing team shows the same enthusiasm for continuing their education and elevating the practice of dentistry.
He has affiliations with practices in Abington, Ambler, Blue Bell, Collegeville, Colmar, Dresher, Hatfield, Harleysville, Lansdale, Parkesburg, Whitehall, Warminster, and Northeast Philadelphia. Dr. Dudhat's offices participate in major PPO insurance plans, submit medical billing for special procedures, and offer flexible payment arrangements so that dental work is affordable for all.
His 20-plus years in dentistry have changed how Dr. Dudhat approaches his profession. His team focuses on creating an atmosphere where patients want to come to the dentist. In his words, "We want to create an experience. Sometimes patients are fearful and afraid to walk into the practice, but when greeted by our team, know they are now part of a 'family-friendly practice.'"
His success in this area is evident by the number of rave reviews that are left about him and his practices. From a compassionate greeting and amenities that include a beverage station and massage chairs in the waiting area, the comfortable, relaxed environment continues into the treatment rooms. High-end massage chairs and a wide selection of music await. Most patients can indulge in total relaxation with these offerings. For those needing a little more support, they can supplement their care with different types of sedation, including nitrous oxide.
Because oral health and overall health are so closely connected, the entire team ensures all patients receive a comprehensive evaluation. This experience begins with a thorough medical history, blood pressure screening, and evaluation of oral abnormalities utilizing technology that detects oral cancers at their earliest stages. It continues with a full gum health assessment and, when needed, a fully personalized treatment plan.
He has placed more than 10,000 dental implants, treats failing implants, and replaces teeth with single implants up to full-mouth rehabilitations. The challenges associated with tooth loss have driven the team to implement a strong preventive program, and he is among the 5 percent of dentists certified in LANAP laser therapy, which is a noninvasive treatment for periodontal disease that can lead to healthy gums and the retention of teeth for a lifetime.
Lisa Maisonet joined his practice in 2017 and serves as director of operations/clinical educator. She states, "Dr. Dudhat does not hesitate when it comes to integrating the best in technologies to improve patient care. He never cuts corners, knows exactly what he needs to do to continue to enhance care for his patients, and ensures his practices are calibrated and staffed with passionate and caring individuals."
The team works to further dental health education in the community, too.
"We're trying to serve as a bridge between the medical and dental communities," Dr. Dudhat says. "We reach out to seniors about tooth replacement options and establish relationships with expectant and nursing moms to help prevent disease and preserve healthy smiles by implementing early oral health care habits."
Dr. Dudhat recognizes his success is dependent on creating a strong team. He considers it essential that his team is well educated on every procedure offered, so they can provide personal attention to help ease any fears or concerns. They work together to create a relationship that ensures continuous care and a bright, healthy smile for each patient.
"Providing the highest quality of care and having patients leave with a smile on their face—that's why our goal is to always be better and stronger," Dr. Dudhat says. "Patients appreciate the care we provide, and we want to continue to see the benefits that they are receiving."
It is evident that Dr. Dudhat and his team will continue to work toward being the best at what they do, and their passion and drive should be emulated by others.
Advanced Dental Esthetics
2406 N. Broad Street
Colmar, Pa.
(267) 209-6381
Published (and copyrighted) in Suburban Life magazine, August 2019.