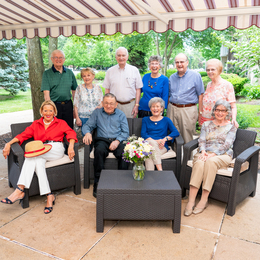 Welcome to Attleboro
For more than 30 years, active seniors have been coming to the Attleboro Community to realize the benefits of life enrichment, security, and the continuum of first-class care.
Making the transition from a longtime family home to a continuing care retirement community is rarely an easy decision. Although the Greater Philadelphia Area is blessed to have a profusion of high-quality CCRCs, such abundance can complicate an important question that must be answered: "Which community is the ideal fit for me?"
In the course of doing the research to whittle down the options, individuals often find themselves deluged with informational brochures, booklets, fliers, and advertising pitches. The virtual tornado of enticements is liable to cause one's head to spin.
"We offer the finest this and the best that … We provide first-rate enrichment … Our level of service and care is unsurpassed in the industry … We're the leader in senior living … We treat every resident like a member of the family."
At Attleboro Community in Langhorne, perhaps the most telling statement comes not from a brochure or ad campaign but from the mouth of a current resident: "I felt at home here the minute I put the key in my door."
As the resident suggests, Attleboro is a community instilled with a sense of genuine warmth and camaraderie, where a stroll through the idyllic campus is likely to elicit a smile or an enthusiastic wave from every resident or staff member who passes by. A premier active senior community in Bucks County for more than 30 years, Attleboro is a community unlike any other—a place where neighbors come to form lasting friendships, make unforgettable memories, and continue leading lives of engagement and enrichment.
The community's experienced staff is proud to offer a dynamic retirement experience for those 62 years or older in a safe, secure environment. Whether a resident is in good health, needs short- or long-term care after a hospital stay, or requires skilled nursing or rehabilitation care, Attleboro takes great steps to address each individual's needs to the fullest extent possible.
"I believe what sets us apart from larger senior living communities is that we offer everything they would like to do, but we also have more individual services," says Mary K. Kender, NHA, Attleboro's executive director since 2012. "At the same time, we're smaller, so we can be nimble. People who choose Attleboro feel right at home. It's a very easy community to adjust to."
Exceeding Expectations
The Attleboro Community has spent the past three decades striving to achieve a common goal: resident satisfaction. To this day, Kender suggests the desire to exceed residents' expectations drives each member of the Attleboro staff.
As part of the Wilmac Family Healthcare Network, Attleboro embodies a welcoming spirit designed to enhance everyday living for each resident. The community takes a proactive approach to promoting healthy, active lifestyles while offering an advanced continuum of care, with a full spectrum of certified health and rehabilitation services offered at every level.
Attleboro residents benefit from three distinct levels of care: Independent Living, Personal Care, and Skilled Nursing and Rehabilitation Care. All buildings are within short walking distance from one another in a welcoming community surrounded by small-town charm and the scenic countryside of bucolic Bucks County.
Independent Living consists of 134 apartments, including studio apartments or one- and two-bedroom apartments. This level of care is designed for those with a maintenance-free lifestyle, in which a resident can pack his or her schedule with as many activities and amenities as he or she wishes—multiple exercise programs, arts classes, and continuing-education opportunities, for example, as well as scheduled entertainment and shopping trips, and complimentary transportation to medical appointments. Included are one chef-prepared meal a day and a continental breakfast; lunch is available for an additional fee. Independent Living also offers conveniences such as onsite banking and multidenominational worship services.
Personal Care is housed at The Brunswick at Attleboro. This level of care comprises a broad range of specialized services whenever needed including private units, three meals a day, activities throughout the day, and licensed wellness staff available 24 hours a day, either for long term, memory care, or just a respite stay.
"We've had people returning from a hospital stay or skilled nursing stay," says Kender. "Maybe a spouse or loved one was in skilled nursing, and when they saw what we had to offer, they wanted to make this community their home. Residents have the option to go to The Brunswick and be in an apartment and still have access to care."
When residents require Skilled Nursing and Rehabilitation Care, Attleboro provides an array of therapies, including speech, occupational, restorative, and respiratory, and memory support, among others. Residents also have the option of taking transportation to the nearby Newtown Athletic Club to use their aquatic center. Many residents' contracts don't require them to use those services, but a majority of them who are undergoing rehabilitation select the nursing facility.
"We also can coordinate transportation and monitor them while in a skilled nursing state before they return to independent living or personal care," says Kender. "We have weekly campus meetings where nursing, social services, and administration gather to discuss the patients' conditions and needs. The goal of these meetings is to ensure that each individual is receiving the care and attention they require."
Another benefit to joining Attleboro is the absence of an entrance fee. In exchange for the contractual promise of lifetime housing and access to care services, most CCRCs require an entry fee in addition to their monthly service fees. Average entry fees range from a low of approximately $107,275 to a high of approximately $427,000, according to the CCRC database at MyLifeSite.net, which covers more than 500 providers across the country.
"At Attleboro, residents get all levels of care without paying the entrance fee," says Kender. "For most CCRCs with three levels of care, there's a fee. That's just another benefit to choosing Attleboro. We offer a lease contract and a Type C, which includes an upgraded apartment and a lower monthly fee, that gives residents access to healthcare services."
When new residents come to Attleboro, they quickly learn that the community is a class by itself. As one resident attests, sometimes the realization comes the very moment they place the key in their door for the very first time.
Attleboro Community
290-310 E. Winchester Ave.
Langhorne, Pa.
(215) 750-7575
Photograph by Jody Robinson

Published (and copyrighted) in Suburban Life magazine, June 2019.
For more info on Suburban Life magazine, click
here
.
To subscribe to Suburban Life magazine, click
here
.
To advertise in Suburban Life magazine, click
here
.