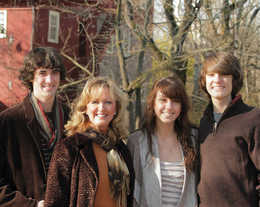 Perfect Balance
WellStar's marketing engine runs on the creativity of working mothers
Barbara Alba knows what it's like to have her cake and eat it, too—but she has earned every bite.
"Even at a young age, I knew I wanted to be a mom, but I also wanted my career," says Alba, president and founder of WellStar Marketing Inc., a Yardley-based strategic marketing firm that specializes in both new and traditional media. "I had a wonderful mother who instilled in me a love for this most important job—being a mom—but I also had creative and intellectual needs and desires, and I needed to use those muscles, too."
Alba had a firm grasp on the idea of work/life balance long before the term became part of the modern American lexicon. Her company, which celebrated its 20th anniversary in 2009, was built on the concept of providing superior marketing and branding services without the overhead and other expenses associated with "brick and mortar" marketing houses. Beyond that, she also wanted her company to employ and empower other women who craved the same freedom.
"I decided to deliberately hire women who had professional careers but wanted to work part-time because of their families," says Alba, a former adjunct professor of marketing and advertising at Holy Family University. "Right now I have a team of 10 professionals, and all of them have kids and are working out of their homes. We have conference calls. We communicate through Skype. We get to be there when our kids get on and off the school bus, but we also get to do the work we love.
"I'm a virtual agency and run the business largely out of my home," she continues. "The truth is that this model is now very common, but it wasn't always that way."
Alba is a modern-day pioneer, of sorts, having found a way to carve out the life she envisioned while supporting both herself and her family financially. In fact, while many other marketing firms have struggled or even folded amid a stubbornly troubled economic climate, Alba's 2010 year-to-date revenue has increased 40 percent compared to last year. And she did so while raising three children as a single parent.
"I've done every variation on the theme when it comes to being a working mother," says Alba, who earned her undergraduate degree in English/communication arts and a master's degree in human organization science/human resource development, both from Villanova University. "I've run an agency with 45 people. I've been in a large corporation. I've worked in a small company. And now I have this virtual agency, and I'm grateful I can offer this to other women."
Faith Foyil, a mother of two teenage sons, joined Alba's highly skilled team in 2007 in the wake of a divorce. She remains devoted to her work as a WellStar account manager and copywriter, which has enabled her to learn new skills, yet without sacrificing the needs of her family.
"On a Monday morning I could be writing an ad for a dentist, and that afternoon I could be doing a website for a global IT company based in Canada," says Foyil, who has authored two books and penned various newspaper columns throughout her career. "I've worked with a lot of people all over the world, from England to the Bahamas to the U.S., and I've never met anyone like Barb. … If direction A doesn't work out, she can immediately move to direction B. She's an incredible multitasker—the perfect female entrepreneur."
The Right Time
WellStar designs targeted, effective marketing campaigns for small to midsized businesses, specializing in health care, wellness and technology. Alba's background as a business leader in both Pennsylvania and Georgia, where she spent 12 years, serving clients on a global, regional and local basis, has enabled her to offer the full gamut of marketing services—from advertising and public relations, to collateral development and Internet communications.
"Most of what we're doing now is Internet-based marketing—a ton of website development, e-videos and other web work," she says. "We saw a precipitous drop in print advertising from 2008 to 2009, but we picked all that up in e-marketing revenue. … This is a field that requires constant innovation and creativity. The science of what we do has changed so dramatically, even in the past few years. There were times I didn't know if I could keep up with the rapidly evolving world of new media, but I have and we've continued to grow."
Broomall-based dentistry practice Williamsburg Dental has been working with Alba's firm for 10 years, and in that time the practice has grown consistently. Alba's marketing efforts are a big reason for the practice's steady growth, according to Andrea Ferretti, practice administrator for Williamsburg Dental, whose associates practice general, aesthetic and cosmetic dentistry.
"She's helped us immensely," Ferretti says of Alba. "Whenever we would bring on new associates, she would help me get their names out and introduce them to the patient base. … Barbara has also helped us brand our practice, and she has done a great job tracking whatever [marketing] activities we have going on so we know what works and what doesn't.
"There's a lot involved with marketing and advertising," Ferretti continues. "I'm busy helping our doctors and employees and patients, so in a way Barbara has helped me personally with my own job. You have to go to the experts for things you don't know, and Barbara is an expert in her field."
It's not only clients and employees who recognize Alba as a master of her craft. Villanova University recognized her as a Distinguished Graduate in 1985 for both academic and professional achievement. That same year she garnered the prestigious Gold Quill Award from the International Association of Business Communicators for video scripting, followed by numerous local and regional awards for marketing excellence. Also, within four years of creating her own agency, originally called Alba Communication Associates, the firm was named to the "Fast Track 100" as one of the fastest-growing companies in Atlanta.
Alba was also named a finalist for the Small Business Person of the Year in the state of Georgia, recognizing the success of her company but also her support of charitable organizations such as Literacy Action in Atlanta. Most recently, she was by far the top vote-getter in Suburban Life's call for "Superwomen" nominees in matters of local business. Alba certainly appreciates such accolades but is most proud of her family and the model she has created in WellStar.
"Thanks to my parents, I was born with an entrepreneurial spirit, and I came into this [business] at the right time in our society," Alba says. "It always made sense to me that people should be able to have a family and still have a satisfying career. I knew that I was not going to be a mom under anyone else's terms but my own, and I can make a living doing something I love.
"More importantly," she continues, "I get to see these three wonderful human beings that I am raising blossom every day. And for that I am truly blessed."
WellStar Marketing
Yardley, Pa.
215-321-3592
WellStarMarketing.com
Rob Hall is a freelance photographer based in Plumsteadville.