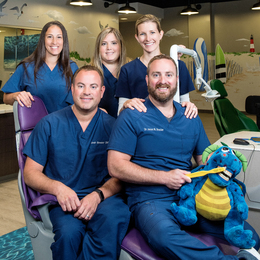 Doc Bresler's Cavity Busters
The dental professionals of family-run Doc Bresler's Cavity Busters—"the Kids' Dentist Kids Love to Visit"—discuss the importance of finding a dental home at an early age.
Parents raise their children with the goals of keeping them healthy, safe, and happy. Information is power. Do you know the right steps to maintain your child's optimal oral health?
Research shows that one in six parents believe children shouldn't begin visiting a dentist until at least age four, according to the 2018 National Poll on Children's Health, conducted by C.S. Mott Children's Hospital in Ann Arbor, Mich. Joshua Bresler, D.M.D., FAAPD, of Doc Bresler's Cavity Busters, a premier pediatric dental practice in the Philadelphia area for nearly 40 years, suggests that waiting until that age can lead to unhealthy consequences that can follow a child into adulthood.
"What we're trying to convey to parents is to get their children to the dentist by their first birthday," says "Dr. Josh," who owns and operates the eight-location Doc Bresler's Cavity Busters with his brother, "Dr. Jason" Bresler, D.M.D., FAAPD, and sister, "Dr. Rachel" Bresler, D.M.D. "The American Academy of Pediatric Dentistry (AAPD) has established guidelines where kids should be seen by a dentist by the time they are one year old. Research shows that kids seen by that age develop fewer cavities, become more comfortable with their dentist, and have parents who are more educated about their dental health."
Both the American Academy of Pediatrics and the American Dental Association support the AAPD guidelines. Visiting a pediatric dentist within six months of the eruption of the first baby tooth enables a child to begin a lifelong preventive dental care program to minimize tooth decay and foster optimal dental health habits. Pediatric dentists such as the Breslers can educate parents about dental, oral, and facial growth and development, show parents how to clean a baby's first teeth, detect early tooth decay, and explain fluoride needs, among other things.
Children who have their first dental visit before their first birthday have 40 percent lower dental expenditures in their first five years, than children who do not, according to a study published in the journal Pediatrics. In other words, addressing a baby's early oral health matters.
"If we see a child by age one, we can also give the parents a list of 'Dos and Don'ts,'" says Dr. Jason. "The discussion includes items such as healthy diet tips, how to clean their gums and teeth, and to start flossing as soon as their teeth touch. The visit is quick. The younger a child starts seeing a dentist, the better their chance to have fewer problems as they grow older."
Following Through
The question remains: How do pediatric dentists convince parents about the tangible and intrinsic benefits of scheduling their child's first dental visit by his or her first birthday? Dr. Jason views the answer as twofold.
"We can explain to parents about the fear factor of a young child being at the dentist's office, that it's normal if they get anxious and that it's normal to cry," he says. "A child's fight-or-flight response is not developed by that age, and learning to feel trust and comfort with dental providers is key. The other answer is the real benefit of starting young, and what we can teach parents about how to care for new teeth that are coming in. We can teach parents, but they need to follow through with important at-home care."
Dr. Rachel emphasizes the preventative nature of the early childhood dental visit.
"It's not only about seeing if there are cavities," she says. "It's about identifying potential unhealthy behaviors parents may be unknowingly engaging in with the child, like allowing the baby to fall asleep with a bottle in its mouth. We can show parents how to wipe the child's gums properly, and remind them to not let substances sit in their mouth overnight. We can also provide information on when and how to stop non-nutritive habits such as thumb or finger sucking, and use of a pacifier. The early visit gives us an opportunity to help the parent be more prepared to care for their child's teeth. Proper early care can last a lifetime."
That degree of caring for pediatric dental patients is a philosophy the Bresler siblings learned from their father, the late David A. Bresler, D.D.S., who founded Doc Bresler's Cavity Busters in Roxborough in 1982. The original "Doc Bresler" loved his work as a pediatric dentist, and adored his patients and families. His commitment to children's dental health became evident to his children when they visited the office as youngsters, frequently "helping" around the office doing little "jobs."
Years later, when they all became dentists and joined the practice, the Bresler siblings experienced first-hand how early experiences of going to the dentist can affect children's behavior, even into adulthood. By following Doc Bresler's practice philosophy and examples of caring professionalism, the Bresler siblings have added to their father's legacy.
"Dad taught all of us, by example, about always putting our patients' needs first," Dr. Josh says of his father, who died in 2015 at age 61.
Drs. Josh, Jason, and Rachel followed in their father's footsteps, graduating from his alma mater, Temple University Kornberg School of Dentistry. From their Red Lion Surgicenter, the first freestanding pediatric dental surgery center in the country, to Special Touch Dentistry, their practice for adults with special needs, the Bresler siblings care for the health and well-being of patients of all ages.
At each of the eight Cavity Busters locations, Drs. Josh, Jason, and Rachel maintain their father's fun and kid-friendly approach to helping kids feel more comfortable about going to the dentist, with waiting-room arcade games, TVs throughout playing kids' movies and games, prizes, and more. All doctors and staff are experienced, compassionate, and caring dental providers.
In addition, the Bresler siblings have furthered their father's commitment to the community through meaningful, philanthropic efforts. The practice has a large free dental health education program, where Community Outreach Department educators visit area preschools and daycare centers, teaching young children good dental and oral health care habits, and give each child a goody bag with a new toothbrush, and educational material for parents. Doc Bresler's is a sponsor or partner of many local organization, community, and township events in its eight location areas.
The Bresler siblings are philanthropists and avid supporters of special-needs communities and organizations. They offer their philanthropic support and efforts to Special Olympics, the Sunshine Foundation, and in their yearly Haiti mission work through the Temple Dental Haiti Club, serving the dental needs of the underserved population.
What's New
Cavity Buster's recently expanded its "Kidfirst" philosophy to a new community. In December of 2018, Cavity Busters merged with the Doylestown private practice of Theodore P. Croll, D.D.S. Affectionately known as "Dr. Ted," the trusted pediatric dental practitioner (and longtime friend of the late Doc Bresler) became a member of the new Cavity Buster's Doylestown office location family.
"We've begun renovations at the Doylestown location," says Dr. Josh. "We've added video games, murals, and TVs. We're making it 'Disneyland-ish,' as my father used to say, and we are happy to be a part of the Doylestown community."
At Cavity Busters, "family" is more than a just a word. Dr. Josh's wife, "Dr. Tracey," a pediatric dentist, and Dr. Jason's wife, "Dr. Jill," a general dentist, both work in the practice. By extension, the children who walk through the doors of any Cavity Busters location are part of the family, too.
Doc Bresler built his practice around the following tenet: "Do what you love and you'll never work a day in your life." It's a lesson his pediatric dentist children will never forget.
Doc Bresler's Cavity Busters has offices in Doylestown, Dresher, Jenkintown, Newtown Square, Northeast Philadelphia (two locations), Roxborough, and South Philadelphia. For more information, visit
CavityBusters.com
.
Published (and copyrighted) in Suburban Life magazine, June 2019.
For more info on Suburban Life magazine, click
here
.
To subscribe to Suburban Life magazine, click
here
.
To advertise in Suburban Life magazine, click
here
.