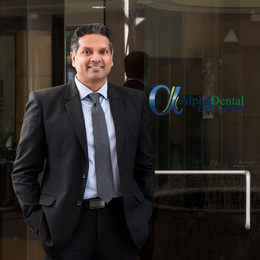 Personal Touch
Led by Dr. Arpan Patel, Alpha Dental Excellence takes a sincere interest in each patient
Arpan Patel, D.M.D., understands that most people don't necessarily look forward to seeing him. He's a dentist, after all, and most people don't relish the thought of spending time in the dentist's chair. That's why he is constantly investing in new and inventive ways to make anyone who walks through his doors as calm, comfortable, and cared for as possible.
This devotion emerges in unusual ways. Not too long ago, for example, Dr. Patel bit into a muffin and felt an unpleasantness one should not experience when savoring a baked good. He wound up needing a root canal, a procedure that fills most people with dread. Although he found the procedure relatively pleasant, it was boring, because there was nothing to entertain him other than staring at the ceiling or into the doctor's eyes.
The experience gave him a brilliant idea. To prevent his patients from suffering the same ennui, they now have access to video goggles that enable them to watch a movie, thereby making their time in his chair enjoyable. If patients would rather listen to a podcast or their own playlist, complementary headphones are readily available.
Considering patients' comfort during a moment of discomfort shows the importance patient care plays in Dr. Patel's practice, Langhorne-based Alpha Dental Excellence, which has been a fixture of the community since 2005. Dr. Patel and his team have gone to great lengths to make their signature brand of care available to more people than ever before.
Overcoming Obstacles
Alpha Dental Excellence provides a full menu of dentistry offerings, including root canal therapy, oral extractions, and dental implants, as well as veneers, bridges, and periodontal treatments. What's most notable about Alpha Dental Excellence is how each patient is treated: as an individual, with unique needs and a distinctive treatment plan. Dr. Patel has a practice-wide rule that pertains to all staff interactions with patients: Don't talk about dentistry; instead ask about their grandchildren, the Eagles' quarterback situation, plans for the coming weekend, etc.
"I'd say the biggest asset we have is the listening skills of our dentists," says Monique Sloan, Alpha Dental Excellence's office manager. "Whether it's the patient's budget, the fear, or the patient's desire for a Kim Kardashian smile, you have to listen and adjust to each individual's needs."
Dr. Patel understands that many patients have longstanding fears of going to the dentist, which he attributes to the obstacles of money, fear, and time. At Alpha Dental Excellence, he and his staff have addressed all three.
To keep patients' fear at bay, the practice offers "laughing gas" and sleep sedation. A recent addition from Alpha Dental Excellence is the ability to take digital impressions, so patients can say goodbye to biting into the sticky goo long associated with traditional impressions. It's a wonderful complement to a visit that favors lasers over needles and drills, comfort over lectures, and convenience over every negative connotation associated with dentistry.
The quest for comfort begins long before a patient dons the bib. The office's main lobby has a spa-like feel, complete with blankets, neck pillows, and an expansive "comfort menu." Patients can take advantage of a soothing paraffin wax treatment for their hands and vibrating chair pads. The lonely potted plant and rumpled copies of The New Yorker common in other doctors' offices are nowhere to be found here.
"We have more of a boutique style," Sloan says, "and that really sets us apart."
The hours offer another point of differentiation. Alpha Dental Excellence is open until 8 p.m. on Monday and Wednesday, and can accommodate lunchtime appointments. If a patient can come only on weekends, the practice maintains hours every other Saturday. In addition, there's a doctor on emergency call 24/7.
Comfort in the Chair and in the Checkbook
The newest cause for celebration stems from months of effort on Alpha Dental Excellence's behalf.
At a time when the rising cost of everyday living means that regular dentistry (meaning non-emergent treatment) can become an extravagance, Dr. Patel believes he has done everything in his power to eliminate the obstacle of cost. Aside from accepting most dental insurance and arranging payment plans, Alpha Dental Excellence now takes medical insurance, making it one of the few dentistry practices in the region to do so. Patients can treat their teeth regularly, not like it's a luxury.
"The out-of-pocket cost is very minimal," Dr. Patel says. "I wish I could say it's none."
With Alpha Dental Excellence, the basics never go out of style. The practice is well staffed with 28 employees, not to mention 17 chairs, and Dr. Patel intends to hire two more doctors and additional hygienists. The reason may seem counterintuitive: Dr. Patel wants to slow down the pace of treatment. A typical cleaning appointment is 40 to 50 minutes, which he wants to increase to 70 minutes so the patient truly receives the care he or she needs.
"From the moment you arrive to the moment you walk out, it should be about individualized care," says Dr. Patel, who has been practicing dentistry for 15 years. "If I have to hire another 10 people to do that, then I'll hire another 10 people."
Likewise, Dr. Patel's staff is devoted to constant improvement. Every week, individual departments hold meetings to address concerns or requests, whether they come from an employee or a patient. "We do this on a daily basis," Sloan explains. "There's no waiting when it comes to the patient's care."
There's a simple explanation for this: Patients at Alpha Dental Excellence are considered part of the family, a philosophy that extends far beyond the luxurious office setting and attentive treatment. Frequently, the practice offers free seminars in the community on various topics. There's no obligation to buy anything or become a patient. In addition, Dr. Patel and his staff support various philanthropic causes, including offering free dental care to those in need.
When it comes to making people's lives easier and their teeth healthier, there are no off-hours. In Dr. Patel's words, "All eyes are on the patient."
Alpha Dental Excellence
240 Middletown Blvd., Suite 100
Langhorne, PA 19047
(215) 970-2515
Photography by Jeff Anderson
Published (and copyrighted) in Suburban Life magazine, June 2019.
For more info on Suburban Life magazine, click
here
.
To subscribe to Suburban Life magazine, click
here
.
To advertise in Suburban Life magazine, click
here
.