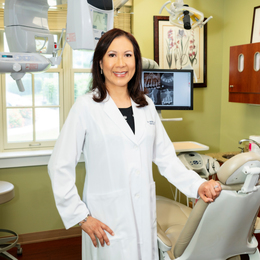 How to Save a Smile
For 10 years and counting, Dr. Ada Greenfield of Lower Gwynedd Endodontists has been helping patients of all ages maintain the health and beauty of their most precious asset
Ten years can pass in a blink. Just ask Ada Greenfield, D.M.D., who is celebrating the 10-year anniversary of Lower Gwynedd Endodontists, her boutique dentistry practice in the heart of Montgomery County. She looks back fondly on the past decade, in part because she helped so many people, but also because she worked so hard to guide her then-fledgling business through the country's worst economic downtown since the Great Depression.
"I was here every day, and I never gave up," says Dr. Greenfield, who opened the practice in April 2009, amid the depths of the so-called Great Recession. "At some points, I thought I might have to do something else to generate income, because that's what a lot of my colleagues were doing. I knew if I did that, I would lose patients, so I toughed up. I was optimistic that the bad times wouldn't last forever."
Through the combination of perseverance and business acumen— trimming expenses wherever she could, at times not taking a salary so she could retain her staff—the practice endured. Slowly, she built a network of referring dentists and earned the trust of patients who came to her for root-canal therapy to save teeth endangered by infection or injury.
She was right, of course, in that the bad times did come to an end. Lower Gwynedd Endodontists started to turn a profit by its fourth or fifth year in business, she says, and 2019 is on pace to be one of the practice's best years yet.
"I think part of the reason I have been able to overcome the barriers I faced early on is that I am very honest, which patients and referring dentists appreciate," she says. "Many patients are referred to me for root canals, but sometimes I begin the diagnostic process and see there's nothing for me to do to help because there's a different issue going on. Some endodontists might do the root canal anyway, just to be safe or just to have the money, but that's not who I am.
"I'm going to do whatever is best for the patient," she continues. "I'm always going to let the patient know if I see something that's not right."
'The Pain Is Gone'
Endodontics is a competitive field in the Greater Philadelphia Area, meaning clinicians cannot succeed on honesty and integrity alone. Since attending Federico Villarreal School of Dentistry in her native Peru, and then continuing her studies at Temple University Kornberg School of Dentistry, Dr. Greenfield has continued to hone her skills in her area of expertise. In fact, she currently shares her knowledge with graduate students at Abington Hospital, following several years of teaching endodontics at her alma mater, Temple University.
As an endodontist, Dr. Greenfield considers it her responsibility to help people see past lingering stereotypes regarding the root canal. It's common for patients who sit in her chair to be incredibly fearful, because films and TV shows have largely portrayed the root canal as, at best, primitive and unpleasant or, at worst, a nightmarish procedure. Likewise, patients often recount to her horror stories from friends and family, citing past experiences that left them in agony, and asking if they are in store for the same.
For these patients, Dr. Greenfield has a message: Don't fret.
"When most people think of getting a root canal, they think it's going to be terribly painful," she says. "We now have good techniques that make the procedure almost painless. In fact, in most cases, people come here for emergencies because they are in pain, and by the time they leave, the pain is gone."
Dr. Greenfield's delicate touch, as well as anesthesia options that include nitrous oxide, help to calm patients during the procedure. In addition, her bedside manner puts patients at ease.
"I also incorporate cone-beam technology, which helps to diagnose every stage of the problem and rule out other conditions that may complicate the long-term success of the tooth," she says. "Each patient is different, and each root canal is different, so this technology helps me see exactly what's going on before we begin the procedure. What we're doing here is not your father's root canal."
Comfort and convenience are paramount to the patient experience. This is why Dr. Greenfield and her staff routinely accommodate patients in need of emergency treatment beyond the posted business hours of the traditional workweek.
"If it's a Friday night or a Saturday morning and the need exists, I will see a patient because I know it will help them be free of pain," she says. "Just recently I had a referring dentist call with a patient in desperate need of treatment. It was the Friday evening before Memorial Day. The patient came in and I treated him, and he was so grateful."
Such devotion has its rewards. Dr. Greenfield has been recognized as one of the area's leading clinicians by several respected publications, including Top Dentist honors from Philadelphia magazine for three consecutive years. Some of the most impactful praise, however, comes from the individuals who come to her seeking relief.
One patient, Gretchen R., writes on the practice's website: "I can't begin to thank you for getting me an appointment so quickly and then treating me with such care and compassion. I could not imagine that having a root canal would be such a wonderful thing. I had not even needed as much as a Tylenol following the procedure. I am pain free and wish I could do more to express my gratitude."
"Some people will say, 'Just pull the teeth and I'll get dental implants,'" Dr. Greenfield says. "It is true that there are options available to address the issue of missing teeth, but those are not best-case scenarios. Alternatives like dental implants and dentures can be much more expensive and problematic than saving a tooth with root-canal treatment. There's nothing better than having your own teeth."
As she looks back on her first 10 years in business, Dr. Greenfield is already planning for what happens next. In the months ahead, for example, she may add another clinician to accommodate ever-increasing demand. Doing so will not only enable her to treat more patients but also have more time to devote to other noble pursuits, such as educating the next generation of endodontists.
"I've been fascinated by dentistry since I was a child," says Dr. Greenfield, who credits her aunt, a practicing dentist, for motivating her to pursue a career in dentistry. "In my practice, I've treated everyone from 5-year-old children to 94-year-old women, and I'm grateful for the opportunity to help patients in pain to leave my office with a sense of relief. It's why I first went into this field to begin with, and that's what will motivate me years into the future."
Lower Gwynedd Endodontists
1600 N. Bethlehem Pike, Suite S-100
Lower Gwynedd, Pa.
(215) 654-5380
Photograph by Jody Robinson