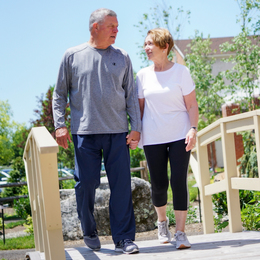 'Something Very Special'
With The Grove, Meadowood Senior Living in Worcester embarks on a bold expansion built around customization, careful planning, and a strong sense of community.
Carl and Holly Sensenig weren't looking to make a move. Then, the couple of 43 years heard about The Grove, the hybrid addition—part apartment, part house—to Meadowood Senior Living in Worcester, located just down the road from Skippack Village and a stone's throw from their home, also in Worcester. The more they learned about the community, the more deeply they fell in love with it.
"All the pieces seemed to fit together," says Carl.
Not only was The Grove a sparkling new addition to an established community, but Carl and Holly could also partake in Meadowood's near-endless amenities: a fabulous fitness program, a concert hall, cuisine worthy of the best fine-dining restaurants nearby, and so much more. Moving to Meadowood would also mean that they wouldn't have to uproot their lives and could stay close to their daughter and her family, plus more opportunities to visit their son and his family in Maine. In other words, they could downsize from their home without compromise.
One of the most attractive selling points was the peace of mind Meadowood affords. Holly is 70, and Carl is 73. They enjoy an active lifestyle, exercising nearly every day, but they appreciate the fact that they will have Meadowood's continuum of care at their disposal, if needed.
"Things change," Carl says. "We want to be prepared for what could happen in the future."
The Grove is still under construction, but it's coming along quickly. The first of the community's three buildings will be finished in November and ready for occupancy in December, when the Sensenigs will move in. Once their move is complete, Carl and Holly will have the lifestyle they didn't realize they wanted but now can't seem to imagine going without.
Fitting in and Standing out
When The Grove reaches completion, 52 units—each featuring a corner view of Meadowood's park-like campus—will grace the sprawling property. The units will range in size from 1,300 to 1,800 square feet.
The expansion project stemmed from the realization that Meadowood had reached full capacity. Through meticulous planning, the community sought to add distinctive housing options without taking anything away from its treasured aesthetics, according to CEO Paul Nordeman.
"We have very wonderful carriage homes—2,800 to 3,200 square feet—on the west side of our property," he says. "We have apartment homes and courtyard homes on our campus. We considered doing twin homes, but in order to preserve more open space, we went with this hybrid design that we like so much. It adds to the diversity of our product.
"We have so many options that you would be hard-pressed to find some new home living arrangement at Meadowood," he continues. "We have something for just about everybody."
When designing The Grove, the team wanted to make good use of the beauty and tranquility of the Meadowood campus. There's a reason why Carl and Holly's new apartment faces greenery and unspoiled farmland.
"The notion of preserving open space was just so important to us," Paul says. "When we took an overhead look at the site after we designed twin homes on it, we saw a lot of streets and driveways. All that blacktop turned us off a little bit."
Of course, the people who spearheaded the project also realized that any new addition would have to build upon the sense of camaraderie and community spirit for which Meadowood has become known. Paul says the new homes "create a great opportunity for community building," as each building features a fireplace and a comfortable seating area, ideal for small gatherings.
The Grove maintains the look and feel of Meadowood's French country-style exterior while offering plenty of tailored options on the inside. The ability to customize a home according to a resident's distinctive lifestyle and preferences appealed to the Sensenigs, according to Eric S. McRoberts, a partner with RLPS Architects, the Lancaster-based firm that designed The Grove.
"[Carl and Holly] want to look at the ability to upgrade their home to fit their own personalities," he says. "That might be different types of appliances in the kitchen, where you might put a wall unit in instead of a range. The kitchens and the bathrooms become the two areas that people really like to upgrade.
"The Grove has a very open floor plan," he continues. "The living room, the dining room, and the kitchen come across like a great room, which is just reflective of a much more casual lifestyle that most people prefer right now."
Carl loves the floor plan he and Holly chose. The 1,600-square-foot home is "perfect for us," he says, complete with a spacious porch and indoor parking. The rest of the daylight-kissed apartment dazzles, with two bedrooms and two full baths, a den and a living room, a laundry room, a fireplace, and a full-sized kitchen, which will serve as the heart of the home.
The Grove still has some units available, according to Paul. Meadowood will host information sessions about the community expansion throughout the summer, with dates and times available on its website, TheGroveAtMeadowood.net.
More Than a Home
Carl and Holly feel right at home in Meadowood. Although they don't officially live there yet, they have been a regular presence on the campus.
"Honestly, I've never been part of a community that we walked right into and felt almost instantly part of," Holly says. "Everyone has been so friendly and kind."
Paul refers to Meadowood as "a good-neighbor culture." The residents engage with each other daily, are active in a variety of activities, and foster the communal atmosphere.
"The spirit of the community is what drives us," he says. "Our founder said it best: 'It's not about growing and expanding the buildings; it's about having more people to experience the Meadowood way.' That always struck me as something very special. It also strengthens my commitment to make sure that sense of community is what brings Meadowood into the future."
Likewise, Paul suggests that the addition of The Grove will only strengthen Meadowood's culture. More residents will generate more ideas to further improve the community.
"That's very, very important to us and our residents," he adds. "One of the main cornerstones of our culture—and this was directly from our founder—is that residents, staff, and board members work together to make this the finest community in the country, and we do that."
Carl and Holly have already witnessed the "Meadowood way" in measures both big and small. The fitness center is a fine example. They describe it as "a great place to work out," complete with modern equipment, an attentive staff, and tons of programs, but Holly says the biggest difference is the sense of community. If they spend a few days away from Meadowood, they know they will likely return to hear their fellow residents remark, "We've missed you! Where have you been? Tell me all about it."
In their minds, moving day in December can't come soon enough.
The Grove at Meadowood Senior Living
3205 W Skippack Pike
Worcester, PA 19490
(610) 584-1000
Photograph by Jody Robinson