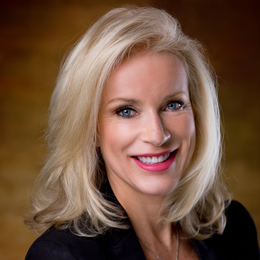 Best Practice
As the head of a flourishing orthodontic practice in Bucks County, Dr. Cathleen George is always scouting for new ways to make a difference in patients' lives.
Good, better, best. Never let it rest. 'Til your good is better and your better is best. This famous quote could easily sum up the mentality adopted by Cathleen George, D.M.D., both in her own life and in her Richboro-based orthodontic practice.
Dr. George knew at an early age that she wanted to help people in some form or fashion. While in high school, she worked in an orthodontist's office near her home in Long Island, N.Y., under John Capogna, D.M.D. That office, she believes, is where she found her calling. The confidence she saw patients develop by way of a renovated smile inspired her to become an orthodontist herself.
Today, she makes a difference in other people's lives in more ways than one. For example, she mentors some current high school students, in some cases helping them nurture a future dream, much like Dr. Capogna did for her.
"I'm teaching these young people everything from proper sterilization to how to be professional and mature in an office setting," Dr. George says. "It's been a great experience for them—and for me, too."
The office also regularly gives back to the community, through involvement with an autism foundation and other events, such as a 5K to raise funds for multiple sclerosis.
Most of all, Dr. George enjoys perfecting her patients' smiles—and she says nothing is more rewarding. She continues to invest in cutting-edge equipment and technology in order to be able to help patients look and feel their best.
For instance, while orthodontic care used to mean gooey and uncomfortable impressions, Dr. George's office uses state-of-the-art scanning technology to take digital impressions. She says the technology continues to improve and is faster and more precise than ever before.
In addition, Dr. George is continually focused on providing the most aesthetically appealing options that have a minimal impact on a patient's lifestyle. Examples include clear alignment treatments and clear braces.
"With summer upon us, I think a lot of patients are more concerned with aesthetics," she says, "so we're looking to help give them the confidence they're striving for."
Devoted to Patients
A commitment to self-improvement extends to Dr. George's free time. Several years ago, she spearheaded an all-female interdisciplinary study group with other dental professionals, including oral and maxillofacial surgeons, periodontists, implant specialists, and cosmetic and restorative specialists. Members of the group meet to discuss difficult adult cases or talk about new technology and research. The group even invites outside professionals to come in and talk about subjects such as cardiology or rare diseases and their ties to dental health.
"We know that when your gums and teeth are healthy, that your body is healthy," Dr. George says. "A healthy mouth is incredibly important so we're always looking at how we can improve patients' health."
In general, Dr. George says she's always been focused on making things as "easy" and "streamlined" as possible for patients. This includes giving them more options to pay. Her office now accepts Apple Pay in addition to credit cards. She and her staff work hard to keep the "checkout process" as efficient as every other aspect of the office experience.
Dr. George was determined to create a place where patients of all ages would "enjoy coming"—and she has succeeded. The office includes a game room with Wii, Xbox, and iPad stations, so kids are not eager to leave. Dr. George wanted the experience to be comfortable for parents, too; the office features amenities such as a complimentary coffee bar, Wi-Fi accessibility, and a private room for watching television or reading a book.
In fact, Kim Bancroft, the professional massage therapist who founded Paisley Sol LLC, has opened a practice within the office, with discounts offered to patients and their families. Bancroft, who is licensed as a dental hygienist, specializes in TMJ massage and utilizes her firsthand experience to relieve patients' symptoms.
This most recent addition synched up with Dr. George's focus on creating a comfortable and even spa-like experience at her office. Going forward, she will continue to look for ways to improve her office—and also expand upon her own considerable abilities—in order to offer patients the pinnacle of care.
"It's all about my patients, who are so important to me," Dr. George says. "They are what drive me to constantly improve the office and what we have to offer."
Cathleen George, D.M.D., P.C.
51 Almshouse Road
Richboro, Pa.
(215) 355-5995
Photograph courtesy of Dr. Cathleen George
Published (and copyrighted) in Suburban Life magazine, September 2019.