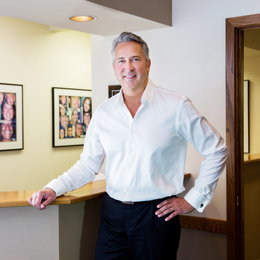 Always Evolving
After 30 years of earning patients' trust, Dr. Peter Flaherty of Main Line Smile continues to find new ways to grow, learn, and "be the best I possibly can."
"It's an exciting time to be a dentist."
So says Peter Flaherty, D.M.D., founder of Main Line Smile, in Devon. He would know; having recently attended his 30th reunion commemorating his graduation from Temple University's Kornberg School of Dentistry, Dr. Flaherty boasts a wealth of experience in his field.
"Looking back on how I was trained, what I was doing back in 1989, so much is different," he says. "Many of the foundational concepts are the same, but the speed and accuracy of what can be done has drastically improved."
Technology that allows such improvement includes 3D printing and scanning, digital imaging, and micro-cameras—tools he keeps at his fingertips at Main Line Smile. Dr. Flaherty also utilizes digital X-rays, which reduce patients' exposure to radiation by 90 percent when compared with traditional X-rays.
Other procedures, including those for implants, veneers, crowns, and bridges, and even teeth whitening, are light-years ahead of where they once were. Dr. Flaherty and his staff, he says, are committed to staying at the forefront of dentistry.
"My staff and I are very invested in continuing education," he says. "To excel, you really have to read journals and articles, view webinars, and travel for seminars and symposia. Information doesn't flow to you automatically; you have to be an active participant in your own education."
When asked what inspires him to continue to learn and grow in his field, Dr. Flaherty has a near-immediate answer.
"A lot of people rest on their laurels," he says. "That's true in any industry. I find my industry fascinating, interesting, and challenging. I enjoy staying abreast of new technology and changes. To rest on your laurels could be quite boring. I find challenges rewarding. When I learn a new technique, or learn to work with a new material, I find that personally and professionally rewarding."
More than five years ago, for example, Dr. Flaherty underwent intensive training to perform dental implant surgery.
"Prior to that, implants were something very 'space age,'" he says. "Only a few highly trained oral surgeons and periodontists performed the procedures. Now, a general dentist like myself, who wants to make an educational commitment, can learn. And it's exciting to learn restorative techniques—fillings, crowns, surgical implant placement. It was very exciting to get trained in those."
Dr. Flaherty also stays current in his field as a member of the Academy of General Dentistry, an organization in which he has reached the upper echelon. In fact, he recently earned the eligibility to take the fellowship exam.
"I love what I do," he adds. "I never wanted to do anything else. A lot of people talk about, 'If I only won the lottery, I'd quit my job.' I couldn't imagine not taking care of people with clinical dentistry. And after 30 years," he adds with a laugh, "I'm pretty good at it."
Jest aside, Dr. Flaherty is the first to recognize his excellent staff for their contributions to his success. He says the practice has "probably over 400 or 500" online patient reviews that remark on the level of service, thoroughness, and precision of his staff.
"I'm proud of that, because they are fantastic," he says. "Every member of the team is a star at what they do, and many have been on staff for decades. Patients love the way they are taken care of by everyone in the office. They love the familiar faces. Patients like consistency, and a big part of our success has been because of our great staff.
"It's not about treating teeth," he continues. "It's about treating the people who have them or need them. It's about building long-lasting relationships. A first trip to a dentist is a leap of faith; you have to do what you can, bit by bit, to help them build trust. Those trusting relationships are invaluable."
Throughout his 30-year career, Dr. Flaherty has thoroughly enjoyed helping patients achieve better oral health, be it curing a toothache or artfully restoring a smile. He traces his success to the fact that, no matter the need of the patient sitting in his chair, the individual always receives his utmost attention.
"I never liked doing things halfway," he says. "If I'm going to do something, I want to do it as best as I possibly can. That's just who I am."
Main Line Smile
12 Arlington Road, Suite 102
Devon, Pa.
(610) 687-5360
Photograph by Jody Robinson