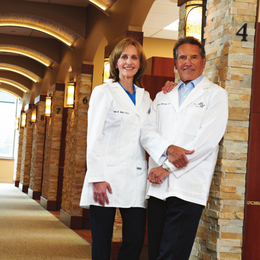 Standing Apart From the Crowd
The clinicians of Matarazzo and Milici Group combine technology and technique to create healthy, beautiful smiles in an environment designed to put patients at ease.
True contentment and happiness come from within. No one knows that better than Francis Matarazzo, D.D.S., and Anita M. Milici, D.M.D., spouses and business partners in the Philadelphia-based dentistry practice of Matarazzo and Milici Group.
As the doctors share on their website, NavyYardSmiles.com, a brighter, whiter smile not only reflects good health but also serves to boost self-esteem. This, in turn, can lead patients down the path to a richer, more fulfilling quality of life.
Dr. Matarazzo found his own road to happiness more than 25 years ago, when, while attending an annual meeting of the American Academy of Periodontology, he met Dr. Milici. Since connecting all those years ago, Drs. Matarazzo and Milici have gone on to not only marry and have two loving children but also form a dynamic practice based within Philadelphia's famed Navy Yard.
From 1995 to 2013, the pair provided the highest-quality dental care from a brownstone on Broad Street, but as the city grew, and their practice along with it, parking became increasingly difficult for patients, as well as the doctors staff, thereby causing unnecessary stress.
"We wanted to make our office more accessible," Dr. Matarazzo says.
At about this time, the Navy Yard was attracting some of the region's best-known companies; approximately 150 companies and organizations now call the Navy Yard home, including GSK, Penn State, Tasty Baking Co., Urban Outfitters, and the U.S. Department of Agriculture. In 2012, Drs. Matarazzo and Milici secured a space in suite 300 of One Crescent Drive, offering stunning views of the city's skyline, sports stadiums, and maritime vessels.
Besides being centrally located to existing patients in Philadelphia, the location is easily accessible to patients from the Bucks and Montgomery counties, and the Main Line, as well as Delaware and New Jersey. This location is especially meaningful to Dr. Milici, whose father was a naval doctor and officer in World War II. In an incredible coincidence, her mother was stationed at the Navy Yard as a naval nurse.
"I've always been in love with anything Navy," she says. "And the fact that my mom was stationed here, it just feels so right."
High Standard of Care
Drs. Matarazzo and Milici both have dual degrees in periodontics and prosthodontics, and they utilize their postdoctoral knowledge and clinical skills on a daily basis. Matarazzo and Milici Group offers dental implants, gum and bone grafting, and cosmetic procedures such as crown lengthening, veneers, crowns, and bridges, plus general dentistry and teeth whitening. No matter the patients' needs, Matarazzo and Milici Group is committed to providing the highest standard of care.
Technology serves as the beating heart of the office, which is networked to facilitate communication and collaboration between Drs. Matarazzo and Milici. This fosters a seamless flow of information among all staff members and, ultimately, enhances patient care. In addition, each of the 11 operatories is outfitted with two monitors—one for patients, the other for staff—and features electric hand pieces, ultrasonic scalers, and intraoral cameras to facilitate treatment. Also, when the doctors require addition resources to explain prescribed treatment to patients, they utilize high-resolution digital radiography and photography to capture detailed images of the patient's mouth.
Other specialized procedures include LANAP (Laser-Assisted New Attachment Procedure), a minimally invasive procedure that uses a highly specialized laser to regenerate bone and soft tissue as a way to effectively treat moderate to severe periodontal disease; CariVu early-decay detection through auto-fluorescence; 3D imaging by way of cone beam technology that allows for CAT-scan-like interpretation of the jaw bones, teeth, and facial structures, which is particularly beneficial for the placement of implants; and VELscope oral screening for the early detection of cancer, pre-cancer, and other ailments of the mouth.
Dr. Milici realized early on that quality care encompasses much more than advanced equipment; it also requires the patient to feel relaxed and comfortable, and trusting of the individual performing the dental work. She wanted a professional yet spa-like environment, and worked with her designer to select color tones and textures to complement the equipment and cabinetry. The result is a truly integrated, efficient, and ergonomic office with aesthetic appeal. Designer tiles of Italian origin line the entrance of the warmly lit space, the reception area features comfortable furniture, and several strategically placed water features offer a sense of calm.
Whether it is the sweeping city views or the soothing interior, Drs. Matarazzo and Milici have a distinctive space designed to put patients at ease. Their team is also committed to this goal. Dr. Milici, an avid gardener who enjoys decorating the office with fresh-cut flowers from her garden, describes the office as, "a comfortable place for patients to receive everything we have to offer."
"The space may not be new anymore, but it still feels new," says Dr. Matarazzo. "Moving here was probably the most important thing we could have done in order to continue practicing dentistry. It has given me a renewed sense of accomplishment and fulfillment. Every day, our team looks forward to coming here to seeing our patients."
He is not the only one to experience the positive energy coming from the new facility. The practice's 4,800-square-foot office boasts an elegant reception area that overlooks a four-story atrium. It also features 11 operatories in which staff members address myriad patient needs, from diagnosis through treatment.
In other words, six years after its move to the Navy Yard, the team of the Matarazzo and Milici Group continues to improve the day-to-day lives of everyone who walks through its doors.
Matarazzo and Milici Group
One Crescent Drive, Suite 300
Philadelphia, Pa.
(215) 389-3161
Published (and copyrighted) in Suburban Life magazine, June 2019.