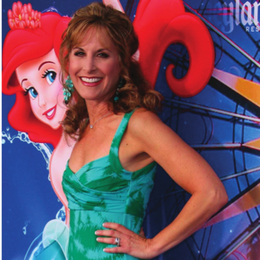 Under the Sea and Over the Moon
Three decades after the release of The Little Mermaid¸ Jodi Benson feels more connected than ever to the character of Ariel.
Jodi Benson admits that while she was interested in auditioning for the role of Ariel in The Little Mermaid back in the late 1980s, the Broadway star wasn't as keen on letting it be known to her peers in the industry.
"I absolutely had no clue it would change my life," Benson says. "In fact, when I recorded it, I was doing a Broadway show, flying back and forth, and kind of kept it under wraps because voiceover was not a very great job back then; it's what you did when your career was going downhill. And our names weren't going to be revealed; it was going to be a secret project that would disappear forever. But obviously it changed my life forever, such a blessing."
As the cast and crew get ready to celebrate the 30th anniversary of the film's release, Benson looks forward to marking the milestone and connecting with fans both young and young at heart.
We spoke with Benson as she was gearing up for a multi-city promotional tour and taking a break from touring colleges with her daughter, one of two children she has with her husband, Ray, who also serves as her manager. She talked about her connection with Ariel, the film's impact on her career, and why she may be the most in-demand wedding singer in the country.
Q&A
At the time you auditioned for The Little Mermaid, voiceover work wasn't exactly a coveted job. Obviously that has changed quite a bit since then. What was the experience like for you?
There was absolutely no doubt about it. I was going to audition. Anything that [producer] Howard Ashman asked me to do, I would jump on board; he's absolutely brilliant. So when he invited all the girls from our Broadway musical Smile—which was ill-fated and closed way too early—to audition for The Little Mermaid, we all jumped at the opportunity.
The audition itself was really neat. I had never done anything like that, never been behind a microphone before. It was in a Broadway rehearsal studio in New York City with a reel-to-reel big tape, and Albert Tavares who was the casting assistant. It was just he and I in the room alone. I ran to the ladies room with the script in my hand and looked in the mirror and waited for people to leave so I could try and create the voice I thought she might have. I kind of talked to myself in the mirror and ran back in time for my name to be called.
As the film gets ready to mark its 30th anniversary, how often do you reflect on its success and what it would ultimately mean for your career?
It changed my career, changed my trajectory and the direction in my life, and I probably reflect on it daily. Ariel is a big part of my family's life and my living and my career and our day-to-day life.
Last year, you also went viral when you surprised a couple at their wedding in Avalon, N.J. How did that all come about?
They are such a sweet couple. They contacted my agent in Los Angeles, [and] then contacted my husband as my manager and we went through an agency that handles celebrity appearances that was based in the New York area, and we kind of vetted through to make sure it was legitimate. I spoke with the father and mother of the bride and just fell in love with them, they were so precious. It was an amazing surprise and tribute for their daughter.
After the video became so widespread, were you thinking: Oh boy, I'm going to be asked to do everyone's wedding now?
It has turned into requests on a daily basis, so my husband now has another full-time job searching and going through every inquiry and request to see if they are legitimate and to see if it lines up for the character of Ariel and the music of The Little Mermaid. The wedding in New Jersey was an Ariel wedding.
You have been quoted as seeing a lot of yourself in the Ariel character. How so?
We do have a lot in common. I think we are both tenacious, both strong willed, [and] we both think outside of the box. Coming from a small town in Illinois and wanting to go to Broadway without ever seeing a Broadway show is pretty ridiculous. So I felt like that was something that Ariel and I could really connect on, trying to live outside the box, dreaming big, and thinking beyond what looks possible.
Published (and copyrighted) in Suburban Life magazine, July 2019.
For more info on Suburban Life magazine, click
here
.
To subscribe to Suburban Life magazine, click
here
.
To advertise in Suburban Life magazine, click
here
.