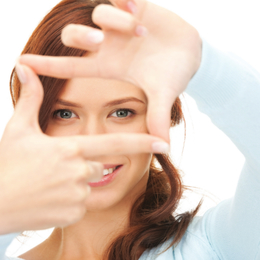 Remaking the Makeover
Solutions abound for anyone compelled to enhance how they look and feel.
Life is tough. Work, family, and other obligations often leave us feeling tired and downtrodden, craving the comforts of naps and fatty foods to make us feel better. The demands tend to pile up in the summer.
The pulls of age and stress don't help matters, making many of us wishing we looked—and felt—more like the people we were years ago: a flatter belly, fuller lips, fewer wrinkles, and darker hair, or at least more of it. For many of us, it's a long list.
Luckily, the Greater Philadelphia Area is home to an array of skilled medical professionals, salons, and spas, among other service providers, who specialize in helping men and women look and feel as good as possible. Looking to reclaim your pre-pregnancy body with a "mommy makeover"? You're in luck. Time for a new hairstyle? Check. Seeking solutions for losing those 10 extra pounds that seem to defy diet and exercise? They're here in spades.
Whether your wish list calls for a trip to the spa, a minor aesthetic procedure, or an intervention of a more dramatic sort, locally based providers such as the 13 outlined here offer options to suit every need.
* Stress can do a number of an individual's overall health. Yardley Day Spa in Bucks County has the remedy. There, patrons enter a blissfully tranquil environment where they can choose from an abundance of spa treatments, ranging from skincare, haircare, and nail-care services, to the full gamut of massages. The end result: improved wellness, stress reduction, and a good day made better. ydspa.net
* At Cirillo Center for Plastic Surgery—part of The Cirillo Institute, which also includes Bryn Mawr Skin & Cancer Institute and Cirillo Cosmetic Dermatology Spa—Laura A. Gowen, M.D., blends artistry and surgical skill to sculpt, shape, and otherwise perfect the human form. Among the practice's areas of specialty: the "mommy makeover," which typically includes an abdominoplasty and a breast-specific procedure (augmentation, lift, or reduction, for example, though the practice also specializes in breast reconstruction) to help mothers look and feel more like who they were prior to pregnancy. cirilloinstitute.com
* At Jude Plum Co. in Bryn Mawr, you'll find an array of spa treatments designed to soothe and relax, as well as gifted hair stylists who can provide a new look you'll love. Of course, Jude Plum is best known for a very distinctive specialty: its ability to manufacture perfectly made, natural-looking wigs for women who, amid their fight with cancer, may be losing their hair as a result of chemotherapy treatments. judeplumsalon.com
* Nothing captivates quite like a pearly white smile. For transforming smiles, patients turn to board-certified dental implant specialists such as James A. Vito, D.M.D., in Wayne. Dental implants have evolved considerably in recent memory, both in terms of technology and the expertise of the professionals who are performing these procedures. What this means to the patient: Just about anyone these days is a good candidate for a procedure that can provide a gorgeous and long-lasting smile. jamesvito.com
* Recharge at Le Rêve Rittenhouse Day Spa. Spa options include a one-of-a-kind space known as the Himalayan Salt Organic Energy Lounge. In this beautifully designed room, guests can bask in the energy of Himalayan salt blocks from Pakistan, which create a tranquil atmosphere in which clients can center themselves and de-stress. Some swear that spending time immersed in the negatively charged ions released by the salt blocks can enhance one's mood and amplify one's energy, and even lead to other positive changes to one's health. lereverittenhousespa.com
* Varicose veins arise from causes including pregnancy, weight gain, or simply spending time on one's feet. While these veins in the legs and feet have the potential to cause pain and discomfort, most people who have them are more concerned about their unsightly appearance. At The Center for Vein Restoration in King of Prussia, the medical team can make varicose veins a distant memory. centerforvein.com
* Back in the day, braces were considered the bane of many a child's existence. The world of orthodontics has changed, though, and many kids now consider braces a fundamental—and even fun—rite of passage. In fact, many adults now find themselves heading to the nearest orthodontist to address any shift in their smile with traditional braces, Invisalign, or innovative therapies such as Wirelign from Chalfont-based Benjamin A. Cassalia, D.M.D., M.S.D. drcassalia.com
* From CoolSculpting to aesthetic facial services (Botox injections, dermal fillers, microneedling, laser treatments, etc.), Newtown Square's KP Aesthetics checks just about every box in regard to helping clients look and feel like the best version of themselves possible. The practice also boasts a spa-like environment and friendly staff that routinely draw rave reviews. kpaesthetics.com
* Bucks Eye Specialists, the Yardley-based ophthalmology practice of Sanjay Kamat, D.O., can restore patients' vision—in some cases getting them back to 20/20 or better by way of laser implant surgery. Of course, if you'd rather stick with corrective lenses, Dr. Kamat and his team are happy to outfit you in a pair of stylish new eyeglasses or contact lenses able to address refractive errors such as nearsightedness and farsightedness. buckseyespecialists.com
* Southampton's Kole Plastic Surgery Center offers the full gamut of contouring services for the face and body, including CoolSculpting, a minimally invasive procedure designed for permanent fat removal. The procedure uses below-freezing temperatures to kill and eliminate fat cells in targeted areas, such as the abdomen, without damaging the nerves, blood vessels, or skin. After one or two treatments, patients may find a flatter, tighter abdomen, though it also works well elsewhere, such as the thighs, buttocks, and love handles. One of the most alluring benefits: no downtime. koleplasticsurgery.com
* Not every aspect of aging is associated with something that we can see or touch. Anyone who has noticed a change in their hearing that have begun to affect the way they live their lives should pay a visit to professional audiologists such as the ones at Main Line Audiology. With locations throughout the area, Main Line Audiology can provide perfectly fitted hearing aids to address any hearing issue. Incidentally, for those who are concerned about aesthetics, rest assured that today's hearing aids are less conspicuous—and more powerful—than those of yesteryear. mainlineaudiology.com
* Sometimes, no matter how well we eat and how often we exercise, the body just does not conform to our wishes. If this describes your struggle, Physician Transformations in Newtown Square offers full-body liposculpting using liposuction, laser, and ultrasound technologies to address stubborn pockets of fat. Good news, according to Earl M. Bryant, D.O.: compared with the more invasive and traumatic procedures of old, liposculpting has become a safer, less invasive, and more effective method for addressing unwanted pockets of fat. physiciantransformations.com
* For lifting and tightening or reducing fine lines and wrinkles, Strella Aesthetics in Lower Gwynedd has options aplenty to help patients win the battle against aging—from nonsurgical facelifts to fractional laser skin resurfacing. The practice even offers an innovative treatment known as PRP (platelet-rich plasma), a natural approach designed to improve the skin's color, texture, and tone in as little as 24 hours to two weeks. strellapa.com
Published (and copyrighted) in Suburban Life magazine, July 2019.
For more info on Suburban Life magazine, click
here
.
To subscribe to Suburban Life magazine, click
here
.
To advertise in Suburban Life magazine, click
here
.