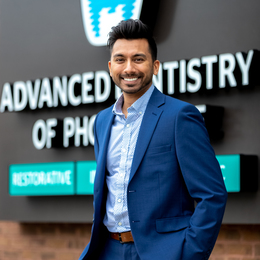 Taking the Fear Out of Dentistry
At Advanced Dentistry of Phoenixville, Dr. Sunny Thakkar offers exceptional dental care in an environment rooted in kindness, compassion, and respect.
Many people do not enjoy going to the dentist. In fact, some even say a trip to the dentist's office stokes feelings of fear, anxiety, and even panic. But Sunny Thakkar, D.M.D., says it doesn't have to be this way.
Dr. Thakkar has seen and treated plenty of patients affected by dentophobia, or fear of going to the dentist. So when a nervous patient comes to him for the first time, saying bad experiences with other dentists has made her or him "hate" sitting in the dentist's chair, Dr. Thakkar offers a matter-of-fact reassurance: "You came to the right place."
"I want to change the whole mindset surrounding dentistry,'" says Dr. Thakkar, the primary clinician at Advanced Dentistry of Phoenixville, founded by Dilip N. Dudhat, D.M.D. "A lot of people have negative associations with dentistry. They hear the words root canal or extraction, and they automatically get panicked. Going to the dentist might not be like going to the spa, but it doesn't have to be traumatic."
The difference, he believes, comes down to a combination of technique and compassion.
"There are certain techniques you can use and ways to treat people so that a patient will say after a procedure, 'I didn't feel a thing. How are you already done?'" he says. "That's part of the reason we've continued to grow. We started out as a one-and-a-half-chair practice, and now we're a six-chair practice. I think the way we treat patients has everything to do with that."
At Advanced Dentistry of Phoenixville, Dr. Thakkar and his staff provide a full range of dental services. This includes everything from routine cleanings and checkups to more complex procedures, such as dental implants, cosmetic dentistry, and LANAP (Laser Assisted New Attachment Procedure), a minimally invasive procedure that uses a specialized laser to effectively treat periodontal disease.
"Dentistry is not just about treating patients with a dental drill or laser; it's also about speaking to them with kindness and respect," he says. "I believe in treating every patient the same way I would treat one of my parents. When you treat people the way you would want your parents to be treated, it goes a long way."
Patients seem to agree. As one patient writes on the practice's website, "The office feels more like a close-knit family rather than a doctor's office. The dentist has never been one of my favorite places to go. However, after going to Advanced Dentistry of Phoenixville, I am no longer worried or nervous when I have an appointment coming up."
And another: "I have spent a lot of time in a dentist's chair and have pretty much always dreaded going to the dentist. And now, honestly, I can tell you that I actually look forward to going."
Standing Out
Dr. Thakkar, age 29, has had an interest in medicine since high school. After receiving his bachelor's degree in cellular and molecular biology from the University of Illinois at Urbana-Champaign, not far from his native Chicago, Dr. Thakkar moved east and earned his Doctor of Dental Medicine degree from the University of Pennsylvania School of Dental Medicine.
In 2016, after completing his education and postgraduate training, Dr. Thakkar fielded several attractive offers from dental practices looking to bring him on. One offer in particular stood out from the rest: the one from Dr. Dudhat, who has affiliations with offices in Abington, Ambler, Blue Bell, Collegeville, Colmar, Dresher, Hatfield, Harleysville, Lansdale, Parkesburg, Whitehall, Warminster, and Northeast Philadelphia, as well as Phoenixville.
"Dr. Dudhat took the time to get to know me on a personal level, and only after that did we talk about dentistry," Dr. Thakkar recalls. "I felt as though the others were simply trying to get a number in the door. As much of a good businessman he is, and as skilled of a dentist he is, Dr. Dudhat really wanted to know me as a person, and that meant a lot to me. He's been a great mentor, and he's been an amazing person to learn from considering the advanced procedures he's doing."
In turn, Dr. Dudhat says Dr. Thakkar has "exceeded my expectations" since joining the practice. From Dr. Dudhat's perspective, Dr. Thakkar has excelled in virtually every aspect of dentistry, particularly dental implants and laser gum surgery. Perhaps most impressive, though, has been Dr. Thakkar's ability to make an impression on those around him—namely, patients and staff.
"He connects with people on an emotional level, and he has brought a great energy to the practice," Dr. Dudhat adds. "He provides dental services at the highest standard, and he takes a lot of pride in his work. It would be tough to find someone who is more passionate about dentistry, and I think the patients feel that energy. They love him."
Dr. Thakkar attributes his success to his upbringing as much as he does to his education and training.
"My parents came to the United States from India and worked three jobs every day to provide for my two brothers and me," he says. "They did anything and everything they could and sacrificed a lot so each of their three children could have the opportunity to get a good education and become successful. I think about that now, and it still gives me goose bumps."
Dr. Thakkar's Hindu faith has had an equally profound effect on his approach to his vocation, as well as his approach to everyday life. He and his wife are "extremely involved" in their temple, BAPS Shri Swaminarayan Mandir in Robbinsville, N.J., where they volunteer their time to participate in cultural programs and health fairs, as well as simpler tasks such as cleaning the temple and washing dishes.
"Giving back to the community is at the center of everything we do through our temple," Dr. Thakkar says. "It reminds me of a quote from my guru, Pramukh Swami Maharaj: 'In the joy of others lies our own.' You'll be in the kitchen washing dishes and look around and see someone next to you who has a net worth of $1 million. There's no ego. It's about being part of something bigger than yourself."
Perhaps unsurprisingly, he takes a similar approach with each patient interaction.
"I love what I do, and I constantly try to improve, improve, improve," he says. "No matter how much you improve, you humble yourself when you realize there is always so much room to grow and learn. As much success as I've had, I still have so many more patients to help."
Advanced Dentistry of Phoenixville
119 Nutt Road
Phoenixville, Pa.
(610) 935-7509
Photograph by Nina Lea Photography