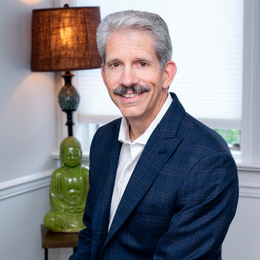 A Path to Vitality
Dr. Michael Kaye of The Center for Functional Health empowers patients to lead a healthier and energetic life.
When Dr. Michael Kaye was a child, other kids made fun of his weight, and he dreaded shopping for back-to-school clothes in the "husky" section of the department store. As he grew older, he saw unhealthy diet and lifestyle choices all around him, and worried for his family members, who were being diagnosed with serious conditions such as hypertension, diabetes, cancer, and heart disease.
As a result of these experiences, Dr. Kaye committed himself to a life of empowering others to take control of their health.
Now, as a licensed chiropractor, functional medicine practitioner, and founder of The Center of Functional Health in Doylestown, Dr. Kaye channels his 30-plus years of clinical experience into ensuring that all of his patients have the tools they need to improve their health.
Health is Dr. Kaye's No. 1 passion. He's pursued extensive postgraduate education, including studies in digestion, immunity, cardiovascular health, detoxification, nutrition, emotional wellness, neuromuscular rehabilitation, and neuroendocrine and hormone regulation. His work is successful due to his commitment to truly understanding each patient's needs and goals. Instead of simply treating a specific ailment or pain, he takes the time to listen to his patient's history, experiences, and hopes for a healthier future.
"Patients are never rushed in my practice," he says. "I promise each of them I will take the proper amount of time to listen and support them on their journey towards a healthier life."
Dr. Kaye's practice centers on the concept of "integration over separation"—that is, understanding that the human body is not just a collection of parts but rather a dynamic whole. By hearing an extensive health history and asking the right questions, Dr. Kaye is able to recommend a variety of lab tests, such as bloodwork, gastrointestinal screening, and hormone testing, that shape his initial diagnosis.
"We look at patients' bio-individuality," Dr. Kaye explains, noting that there is no one-size-fits-all diet or lifestyle regimen that will work equally well for every patient. "We approach care from a clinical perspective, but we also look at their whole lifestyle. A good doctor can't just prescribe cookie-cutter solutions for all patients; they need to know what's right for each person."
From lifestyle to medical history, Dr. Kaye leaves no stone unturned in searching for the root cause of each patient's dysfunction.
"Often, a patient will have been seen by several doctors, undergone testing, and told everything is normal—yet, the patient still feels horrible," he says. "We search for a deeper cause."
Dr. Kaye collaborates with the patient's primary care physician to ensure that all avenues of treatment are being researched. Often, he partners with gastroenterologists, endocrinologists, and other doctors to ensure that his patients receive complete care.
In addition to partnering with other doctors, Dr. Kaye works with KORU Real Wellness in Doylestown, which provides his patients with more opportunities to explore and obtain a healthy lifestyle. KORU is a movement-based wellness center where everyone who walks in the front door is invited to explore their human potential through the Feldenkrais Method and Extreme Performance Training. These two movement disciplines promote a framework for living fully and growing stronger each day.
"When I collaborate with KORU," Dr. Kaye says, "together we can provide the care, knowledge, and skills to support a transformative process towards increased longevity, performance, and awareness."
Dr. Kaye also frequently collaborates with Frances Kaye, his business partner and wife of more than 25 years, to provide patients with an opportunity to improve their health by sustainably losing weight. Frances coaches patients through The Metabolic Reset program, which uses a proven diet and supplement plan that isn't based on "self-depreciating mantras or prepackaged microwave dinners," but rather on eating real food. Ms. Kaye even showcases how to make Metabolic Reset-approved meals at home on her weekly Facebook Live cooking show, "Friday with Frances."
"In our world, Frances and I look at how a patient can change his or her lifestyle," Dr. Kaye says. "I'm here to bring back vitality—to put the mojo back into your life. Functional wellness is an investment in the self. For my patients, the goal is to live a life that is energetic and full of vitality."
Dr. Kaye adds that overall wellness is the foundation to living a full and successful life.
"When you look at it, most of us can't afford to get sick," he notes. "If you're not healthy, you can't follow your passion or be there for your family. Everything comes back to you being healthy."
To learn more about functional health and wellness and how it impacts your life, visit
thecenterforfunctionalhealth.com
or call Dr. Kaye's office to schedule a complimentary discovery conversation at (215) 258-0155.
Photograph by Jody Robinson

Published (and copyrighted) in Suburban Life magazine, July 2019.
For more info on Suburban Life magazine, click
here
.
To subscribe to Suburban Life magazine, click
here
.
To advertise in Suburban Life magazine, click
here
.