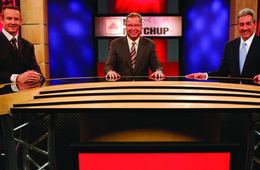 Man in Motion
His playing days are behind him, but Ron Jaworski is still scoring big from the broadcast booth to the boardroom.
One thing is clear: Ron Jaworski knows football. After all, he was a quarterback in the National Football League for 17 seasons. And, in the two decades since the one-time league MVP retired, he has remained a fixture in the game, thanks to a successful broadcasting career at ESPN, where he now holds a coveted seat in the "Monday Night Football" broadcast booth.
But the Medford, N.J., resident also knows a thing or two about leadership in business and in the community. He runs a successful golf course management company that operates five courses in Pennsylvania and South Jersey. He's a majority owner of the Arena Football League team Philadelphia Soul. And, he spearheads the Jaws Youth Fund, a charitable foundation that partners with the United Way of Camden County to help area children.
The man affectionately known as "Jaws" has made South Jersey his home since joining the Philadelphia Eagles in the late '70s. We recently sat down with Jaworski at NFL Films in Mount Laurel, N.J., to talk football, family and business—and to find out how he got that nickname.
SUBURBAN LIFE MAGAZINE: You've told a story about seeing a New York Jets vs. Buffalo Bills game while in college, and thinking you could throw a ball just as well as Joe Namath. Was that a moment when you thought you could go pro?
RON JAWORSKI: It was my senior year at Youngstown State and we had a bye week. I was born and raised in Buffalo, and a Bills fan, so a bunch of my teammates and I jumped in the car and drove to Buffalo and scalped some tickets outside of the stadium. We were down in the end zone watching Joe throw and I'm going, "Damn, I can do that. I can throw like that." It was the first time I was that close to a superstar player, and it really was a confidence builder.
SLM: You played 17 years in the NFL, making you a virtual ironman by today's standards. How do you think the game has changed since you left?
RJ: You don't have enough time (laughs). I think it starts with the speed and quickness of the players and the size of the players. That's the one thing that is really noticeable. The game has become much more violent because the contact is inevitable when guys are flying around. That's the first thing that jumps out.
And because of what I do now, being involved in football every single day and here at NFL Films studying the game, I see how the game changes—not every year, but every week. When I came into the league in 1973 with the L.A. Rams, 11 guys played offense and 11 guys played defense on first, second and third down. Now if you watch a game after first down, five guys from offense and five guys from defense run off the field and guys replace them. It's a situational game now, and it makes it really hard on the quarterback.
SLM: You once said that the Eagles' Super Bowl loss in 1980 didn't get easier over time; it got worse.
RJ: Absolutely. In fact, the tape geek that I am, that's one game tape I still haven't looked at. I have the TV tape at home, and I think I had a couple beers one night and I said, "I'm going to force myself to watch this." And they showed the starting lineups and I got introduced, and I turned it off.
The further you go out from winning a World Championship, you realize there are very few opportunities to do it, and we had that one opportunity and didn't take advantage of it. At the time, it wasn't as painful—it was painful, don't get me wrong—but we were a young football team and we said, "All right we lost this one; we'll be back next year." Well, there never was a next year. We never got back. So every year I see these teams hoisting the Vince Lombardi Trophy, I feel more pain because the one opportunity we had as a team, we didn't make it happen.
SLM: Current Sixers coach and former player Doug Collins reportedly coined the Jaws nickname. How did that come about?
RJ: Doug was my neighbor when he and I were playing. And we were very good friends and our families were very close, and we've maintained that friendship through all these years. I was a talkative guy, and at that time the movie "Jaws" was very popular and everyone thought he coined the name because of the movie. But he said, "No, every time I see Jaworski his lips are flapping." So he coined that name because I never shut up.
SLM: Philly can be a tough place to play, and often the great players aren't appreciated until later in life. You also experienced some of that, didn't you?
RJ: At one time or another, we all did. I think the sports fans here are incredibly knowledgeable; they really are. And I get the opportunity now with ESPN to travel to a different city every week and get to experience other cities and sports fans with a little different perspective. But I've always felt in Philly the people are going to let you know how they feel. And some guys, I'm going to be honest with you, couldn't handle the fans being on their butt. You don't have to embrace it, but you have to understand it.
The first time I got booed, I was ticked. But you realize they have that incredible passion. They want to win and they are living their lives vicariously through me or other players. Once I understood that, I was able to deal with it a lot better. That's all you can ask of your fans, that they show up and they care. [Before I came to Philly], I was in L.A. where they sat on their hands. There were 85,000 people, but you thought there were 5,000 [in the stands]. In Philly, if there were 5,000, they sounded like 85,000.
SLM: You obviously made your mark in the league playing with the Eagles, but you went on to finish your career elsewhere. What made you decide that this area would remain your home after retirement?
RJ: The people. As a kid growing up in Buffalo, it was a blue-collar, ethnic-oriented town … a steel-mill town where I grew up in Lackawanna. … When I came to Philadelphia, I thought it was a real blue-collar town and living in South Jersey, we've absolutely loved it.
I spent 10 years in Philly as a player, then I went to Miami. At that time, we decided, "OK, I am going to go to Miami, but I am just going to play football there." It wasn't going to be home. We went to Kansas City for a year, but we eventually knew we would make this our home—not only from a sports side, but from a people side.
SLM: I imagine one would not envy the schedule you keep. What is a typical week like for you during the season?
RJ: It's nonstop. I have a football responsibility every single day until the day after the Super Bowl. From "Monday Night Football" to the "NFL Matchup" show, to all the meetings and my study [of game tapes at NFL Films]. You spin that with kids, grandkids … it's a demanding schedule, but it's the way I've always been.
SLM: Obviously this is your job, but your intensity shows that you are also a big fan of the game.
RJ: Oh, I am a fan. And I think that is where it starts. I have an affinity for the game. I love the game. I love the players that play it. I love the coaches that coach it, the administrators that administrate it. I've always had great respect for people in sports.
In fact, when I hire people, I go through résumés and I look to see if they were involved in some sort of sport. Because then they know how to compete, they know how to handle losing, they know how to be challenged, they know how to strive to be successful. I think those things are always important.
SLM: The St. Louis Cardinals drafted you to play baseball right out of high school. How different would life have been for you had you chosen baseball over football?
RJ: Don't know, but it really was a turning point in my life, because I wanted to play baseball. I was a 17-year-old kid drafted by the St. Louis Cardinals. I don't remember how much I was going to be paid—probably $10 a game—but I was going to be a pro baseball player.
But no one in our family had gone to college and so my dad was adamant that I was going to go to college. And I had like 33 or 34 scholarship offers for not only football, but basketball as well. But I really wanted to play baseball and we argued many a night at the dinner table. But he convinced me to go to college, and, in hindsight, it was one of those great decisions that was made for me.
SLM: Aside from football, you are also a very successful businessman. You started Ron Jaworski Golf Management in 1980. What inspired you to build the brand?
RJ: It was fear, quite honestly. When you are a player, you know that the next play could be your last. When I came to Philly, John Bunting, one of my former teammates, and I picked up a business in Jenkintown called the Abington Club, which was a golf course, a health club and banquet facility, and we grew that business to be successful. I actually liked the golf business, so it kind of grew off that. I love working with people, and directing and managing them, and putting them in a position to be successful.
SLM: Is there any football experience that you are able to apply to business?
RJ: My approach in business is just like when I played: I want to win. I get daily reports from every one of my companies. I want to know the score. Just like in a football game, you are playing and making adjustments. The lessons I learned on the field, you have to take that fierce competitiveness to business, especially in this economic environment. You have to be working at it all the time. Fortunately, my wife, my sister, my son, my daughters are all involved in my business and they share those same values that I do. We love what we do, but it's also competition. There's always someone trying to knock us off the horse.
Peter Proko is editor-in-chief of South Jersey Magazine.