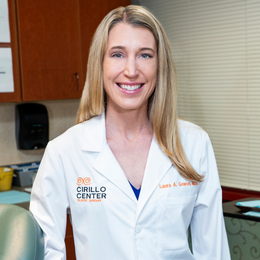 Rejuvenated
At Cirillo Center for Plastic Surgery, Dr. Laura Gowen leads a team devoted to helping mothers reclaim their "pre-baby bodies."
Having and raising children is an incredibly rewarding experience, but it can also be quite demanding—physically, emotionally, and financially. Tending to the needs of their families takes up so much time and energy, in fact, that mothers often neglect their own health and wellness. But that shouldn't be the case, according to Laura A. Gowen, M.D., a board-certified plastic surgeon and leader of Cirillo Center for Plastic Surgery, a practice of the renowned Cirillo Institute.
"As a mom myself, I understand that all mothers have to make sacrifices," says Dr. Gowen. "Sometimes we have to be reminded that it's OK to devote time to ourselves, even if it's just taking the time to exercise or making sure we're getting enough sleep. It's unfortunate that this happens because taking care of yourself will help you do a better job of taking care of those who depend on you."
For an increasing number of mothers, such self-care includes making the investment to reclaim the body they had prior to pregnancy. At Cirillo Center for Plastic Surgery, Dr. Gowen offers a combination of body-contouring procedures known as the "mommy makeover," designed to address the bodily changes that occur after pregnancy and breastfeeding—namely, loose skin, stretch marks on the abdomen, and sagging or otherwise altered breasts.
While exercise and diet can help women lose their postpartum "baby weight," the mommy makeover can trim and tighten, thereby making a mother feel more like the woman she was prior to having a child. Each mommy makeover is tailored toward the individual, but usually includes an abdominoplasty (also known as a tummy tuck) and a breast procedure, such as an augmentation, lift, or reduction. It may also include supplemental procedures, such as liposuction, an arm lift, or a thigh lift. Some even opt for labiaplasty, also known as vaginal rejuvenation.
"Every patient is different, and every surgery is different," she says, adding that some women have a mommy makeover and then go on to have another child, in which case they often come back for revisions. "This is why I spend so much time talking to and listening to the patient. We develop a close relationship based on trust and communication."
Dr. Gowen can perform minor procedures in the office, while surgeries are best conducted in a hospital environment; she regularly performs surgeries at all Main Line Health hospitals, as well as Brandywine Hospital and Chester County Hospital, and is on staff at Paoli Surgery Center.
The surgical process begins long before a patient enters the operating room, however. An initial conversation between patient and surgeon enables both parties to discuss options and expectations, and then determine the best path forward.
"During this consult, I ascertain the patient's goals, talk about the things they want to change but also the things they want to stay the same," she says. "We also do a thorough physical and medical history to make sure they're good candidates for surgery, and make sure the procedure they want is in line with their goals."
In this regard, Dr. Gowen believes one of the more important skills she possesses is the ability to determine who is an appropriate candidate for surgery. Some patients may be looking for less dramatic results, for example, which could be accomplished with a less invasive procedure, free of the risks associated with surgery.
Optimal Results
While body-contouring procedures may be an effective means of helping a woman reclaim her "pre-baby body," Dr. Gowen reinforces the fact that a mommy makeover is not designed to assist with weight loss. She suggests patients will experience the longest-lasting results if they are at or near their "goal" weight and have been able to maintain this weight for approximately six months. She also recommends delaying any breast procedures until six months after a woman has finished breastfeeding, to allow the breasts to return to normal following engorgement from milk production.
"The better shape you are in going into the procedure, the better results and experience you will have," she says. "I urge people to get to the best point possible, which may mean that we defer surgery for a few months."
She also wants patients to know what to expect in terms of recovery. For more complex surgeries, patients are likely to experience postsurgical pain for the first two weeks after the surgery. To help each patient plan for a successful recovery, Dr. Gowen works to gain a clear understanding of the patient's support system, as well as the age of her children.
"It usually takes six to eight weeks for someone who has had a mommy makeover to get back to her baseline, where she is back to doing everything she usually does, including high-impact workouts," she adds. "She's not going to be able to do any heavy lifting for a while, so if she has a one-year-old at home, she's going to need some help while she recovers, and we talk about that beforehand."
When selecting a surgeon to perform a mommy makeover, Dr. Gowen suggests it is imperative to choose someone who is certified by the American Board of Plastic Surgery. Such certification shows that a surgeon has met high standards in training and education, and is devoted to safety, superior patient care, and optimal surgical outcomes.
In addition to leading Cirillo Center for Plastic Surgery, Dr. Gowen works closely with the Cirillo Institute's other two practices, Bryn Mawr Skin & Cancer Institute and Cirillo Cosmetic Dermatology Spa. With the former, she works with the Mohs surgeons to perform complicated surgical repairs of skin cancers that are aesthetically pleasing. With the latter, she will refer patients for nonsurgical body sculpting (such as CoolSculpting® and EMSculpt®) to optimize her patient's results and to achieve his or her body-contouring goals.
While Dr. Gowen enjoys treating all patients, she takes special joy in helping those who come to see her specifically for a mommy makeover. Some choose to have these procedures done soon after they have a baby, while others wait much longer, in some cases when their children have gone off to college.
"It's never too late," she adds. "I love seeing a woman with a renewed sense of confidence. After the surgery, women tend to find that their clothes fit them better, they feel more comfortable in their skin, and they just feel good about themselves. Nothing makes me happier."
What Patients Have to Say
"After two pregnancies and losing a significant amount of weight, my abdomen and upper arms were draped in problematic, painful loose skin and stubborn fat. … My surgery was almost one year ago, and I am so pleased with the results. In addition to no longer struggling with the pain associated with loose skin, I am gaining confidence in my body—something I wasn't even able to accomplish after losing 100 pounds." —Roxanne R.
"The care that I received from Dr. Gowen was awesome. She is compassionate, kind, and patient enough to take the time to answer all of my questions, alleviating any concerns that I had before surgery. I am happy with my results as well as the post care provided by her and her staff. I especially love the compliments that I now receive." —Danae M.
"This was an exceptionally personal process. … Once I met Dr. Gowen, I felt at ease. She listened attentively to my concerns and fears, providing clear answers to all my questions. The team she works with at Cirillo and Bryn Mawr Hospital maintain that easy feeling. My results after surgery have been remarkable. Physically, I feel better after my breast reduction and the abdominoplasty has given me abs again after pregnancy! I am so thankful I found Dr. Gowen and am beyond happy with her work." —Heather L.
About the Cirillo Institute
Founded by dermatologist Victoria A. Cirillo-Hyland, M.D., FAAD, the Cirillo Institute includes three fully integrated practices: Cirillo Center for Plastic Surgery, Cirillo Cosmetic Dermatology Spa, and Bryn Mawr Skin & Cancer Institute. Together, these three entities represent a leading dermatology and plastic surgery practice model for patients where "Your Skin, Face and Body Deserve Our Experience.™"
Cirillo Institute
- Bryn Mawr Skin & Cancer Institute
- Cirillo Cosmetic Dermatology Spa
- Cirillo Center for Plastic Surgery
Bryn Mawr Office
919 Conestoga Road
Building Two, Suites 105 and 106
Bryn Mawr, Pa.
Newtown Square Office
3855 West Chester Pike
Suite 325
Newtown Square, Pa.
Photograph by Jody Robinson

Published (and copyrighted) in Suburban Life magazine, July 2019.