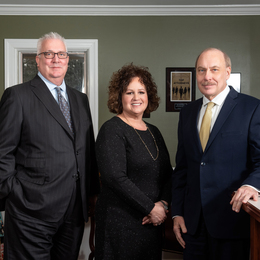 Heroic Efforts
Friends For Heroes, a local nonprofit led a small group of professionals including Jeffrey Liebmann of Liebmann Family Law, aims to improve the lives of wounded local veterans.
Jeffrey Liebmann, a well-respected attorney and founder of Liebmann Family Law in Newtown, has spent his entire professional life working to improve the lives of his clients who are grappling with complicated legal family matters. He also believes in giving back to the community, especially to veterans in need.
On August 12, for example, he and a small group of friends will host the fifth annual golf outing for Friends For Heroes, a nonprofit foundation they started five years ago to raise money for local wounded veterans and their families. The daylong event will take place at Spring Mill Country Club in Ivyland.
"This is an extremely rewarding endeavor," explains Liebmann, a co-chair of the event. "The work that we do every day as family law attorneys can be difficult and takes a lot out of us, so it's gratifying for the six of us to get together weekly to plan an event like this for service members in need. No one is more deserving than those who have fought for our country."
So far, more than 130 golfers have signed up to show their support for local wounded military men and women. Check-in for the golf outing is 11:30 a.m., followed by a cookout for lunch, and a 1 p.m. start time. The participants will play golf all day and then return for an evening banquet and awards ceremony. The entire event will brim with camaraderie and patriotism.
Liebmann intends to close his office on the day of the fundraiser, and several of his staff members, as well as the staff of other organizers, will volunteer to ensure that the event runs smoothly.
One of the players and beneficiaries of the upcoming golf outing will be U.S. Army Cpl. Kevin McCloskey, who lost both legs and the vision in one eye while serving in Afghanistan. After the construction of an especially accessible home in Lower Southampton stalled, Friends For Heroes stepped in with the funds and labor to complete the home for McCloskey and his family.
"When Kevin and his wife Bridget received the keys to their house on January 12, we thought about our part in it," Liebmann recalls. "We were grown men at the back of the room who became highly emotional. Those are the times when we think of the impact that we have."
Doing Something Positive
The group's earliest efforts to help date back to 2004, aided by U.S. Army Col. Charles S. "Chuck" Hutt, now retired from military service and working as executive president and chief credit officer of Huntingdon Valley Bank. At the time, Hutt had lost a soldier under his command in Iraq, Lt. Col. Mark Phelan, and the group held a golf event to benefit for Phelan's family.
In addition to Liebmann and Hutt, the other friends who are instrumental in making Friends For Heroes a reality are Steven Bross, John Conzelman, Dennis McDonald, and Brian Ruhling, all of whom donate their time to the cause.
"We are involved in different areas of business, and we are all successful," Liebmann explains. "So we wanted to use the contacts that we have made over the years to do something positive to help people. We started the foundation for the purpose of raising money to be directed to local veterans."
As the group's website states, Friends for Heroes was founded "to honor and give back to those veterans and their families that have given so much in service to our country. It is our small way to humbly say 'thank you,' and to remind as many of our veterans as we are able that they will not be forgotten." The group is happy to do anything it can to help local veterans, including providing resources to make homes wheelchair accessible.
While raising money and awareness for any charitable cause can be difficult, Liebmann says he has been heartened by the many people who have been "so wonderfully gracious and generous" with their time and resources. His longtime friendship with Hutt is one of the reasons that he became so involved in helping veterans.
"This means an awful lot to Chuck as well," he adds. "Chuck has a unique perspective on the value of our work to help wounded service members."
Inspired to Help
Shortly after the 2004 golf outing, Hutt returned to Iraq for another tour of duty. When he retired from active service, he met the current fundraising group and together they started the foundation. After spending 30 years in the military, Hutt considers being able to help local veterans vitally important. He explains that veterans can be shy about sharing their stories and often do not like to ask for help.
"We know he needs help, and he deserves it," says Hutt, who also serves as event co-chair. "Our goal is to make sure Kevin is in a great spot to not just live his life but to thrive while doing it every step of the way."
Furthermore, he believes McCloskey "is going to be instrumental in locating other vets who share similarities with his situation." As a result, the group will be able to help more veterans who were injured in the line of duty and have been unable to obtain the funds needed to retrofit their homes in a way that would accommodate their injuries.
"We want to find those veterans who need a ramp, retrofitting, or anything else that will make their lives easier," says Hutt. "We are dedicated to helping them."
For now, he and his friends are focused on this year's golf outing. He says many of the same faces return from one year to the next, and for good reason. In addition to a day on the course, the players receive high-quality gifts, including windbreakers emblazoned with the Friends For Heroes logo to help spread the word about the organization's cause. Non-golfers can get involved by making donations, and corporations or groups are encouraged to sponsor holes and flags on the course.
"We are proud to see the same players who say they keep coming because everything runs smoothly, and they appreciate what we are doing," Hutt explains. "The event is always filled with so much camaraderie, and everyone appreciates having Kevin and other vets speak at the end of the event. It's inspiring, and it encourages others to get involved."
For more information on Friends for Heroes, visit friendsforheroes.com. For more information on Liebmann Family Law, visit
liebmannfamilylaw.com
or call (215) 860-8200.
Photograph courtesy of Friends For Heroes Foundation

Published (and copyrighted) in Suburban Life magazine, July 2019.
For more info on Suburban Life magazine, click here.
To subscribe to Suburban Life magazine, click here.
To advertise in Suburban Life magazine, click here.