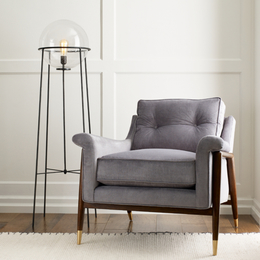 Let There Be Light
With a variety of high-quality products from Kichler Lighting, Denney Electric Supply helps homeowners find lighting solutions that offer both function and elegance.
Although Kichler Lighting and Denney Electric Supply are unique, the two companies share many traits. Both were founded in 1938, for example. In the 81 years since, each has earned a reputation for putting its customers' needs above all else, and each takes pride in helping homeowners turn their houses into warm, inviting spaces in which they want to spend time.
Naturally, the two companies enjoy a longstanding relationship.
"Denney Electric Supply is a proud partner of Kichler Lighting, for their excellent customer service—residential or distributor—even after purchase and installment," says Emma Dinnocenti, marketing director for Denney. "Their quality of fixtures compared to price point is fantastic and makes them a household name, as well as their wide range of products. Every lighting application that is needed in a residential household can be done with Kichler."
Kichler offers solutions for all areas of the home, including indoor and outdoor systems, landscape lighting, ceiling fans, under-cabinet lights and more. Its vast selection of fixture styles ranges from contemporary to French country to industrial.
Outdoor and landscape lighting are especially in demand now, with people enjoying their yards throughout the summer, and will become even more important in autumn, when the days grow shorter. Of course, Kichler offers many products to suit this need.
"Kichler has three different tips for doing a landscape layout," Dinnocenti says. "One is obviously focusing on safety: walkways, water features, and steps. Two would be highlighting the unique features of the home: peaks of the roof, stone features, yard art, etc. And three would be greenery; with different beam spreads or lumen output, you can really adjust the fixtures to complement your backyard the best.
"Landscape and outdoor lighting really do increase the value of the home," she adds. "You get that curb appeal and added value when you're looking to remodel or resell."
One popular Kichler product in the outdoor area is an adjustable LED spotlight, in which the beam spread can be changed, for example, as a tree grows to different heights. "It is a very customizable fixture for one price," Dinnocenti explains.
Portable Bluetooth LED lanterns are a big hit with those who like to entertain, as they are damp location-rated and combine light and music—perfect for everything from graduation parties to small gatherings of friends. "Kichler has tons of different styles that connect to home apps like Alexa and Google Assistant," Dinnocenti says. "You can strategically place them around the yard on your patio or outdoor kitchen."
A recent trend in both outdoor and indoor applications—thanks in part to high-profile designers such as Joanna Gaines—is the use of pendant lights. In a backyard, they can serve as a focal point on a gazebo to highlight a dining area. In the home, glass pendants are being seen more and more in master bedrooms, hanging over the bed.
"That's a different style that is becoming more popular as opposed to wall sconces," Dinnocenti says. "People are making their bedrooms a little more decorative and not just functional. There are adjustable pendants you can coordinate to any size ceiling, so you're not tied into a certain length."
Kichler is also drawing raves for its fixtures that mix materials, such as brass and wood accents, and even recycled materials. These pieces allow homeowners to showcase art as well as light.
All of the abovementioned products can be purchased through Denney Electric Supply, a family-owned company with nine locations in Pennsylvania and New Jersey, all of which have Kichler's offerings on display. Denney also has an online showroom and can ship orders to the customer's home or to the nearest store for pickup.
Homeowners or contractors who visit Denney can expect unparalleled service.
"We have showroom managers and showroom staff at all of our showroom locations who can really help the customers find what they need," Dinnocenti says. "It's not like the big-box stores where you ring a bell and just get something off a shelf. We sit down with you, go through the catalog, and find what styles work best for you and your home."
Denney Electric Supply
Multiple area locations
Photograph courtesy of Denney Electric Supply

Published (and copyrighted) in Suburban Life magazine, July 2019.
For more info on Suburban Life magazine, click
here
.
To subscribe to Suburban Life magazine, click
here
.
To advertise in Suburban Life magazine, click
here
.