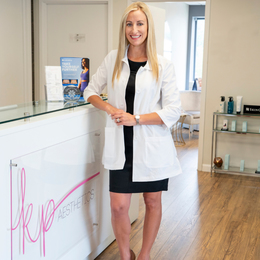 Where Every Day Is Mother's Day
For any mother wanting to look and feel her best, KP Aesthetics offers "mommy makeover" solutions designed to help her put her best self forward.
The desire to look and feel one's best is a universal trait. This may help to explain why the so-called "mommy makeover" trend continues to gain momentum from one coast to the other, with plenty of mothers making the decision that they want to restore their pre-baby bods—pronto.
Therein lies the challenge. As easy as some celebrities might make it seem, restoring one's appearance isn't always all that simple for those who have gone through pregnancy and childbirth. While plastic surgery is one option, complex procedures that require significant downtime are not feasible for women who have busy schedules and kids to take care of. That's why so many are turning to noninvasive and minimally invasive procedures, offering noticeable results but without the unwanted recovery period.
At KP Aesthetics in Newtown Square, minimally and noninvasive procedures are a specialty; in fact, they are the only services the practice provides. From Botox injections, dermal fillers, and microneedling, to sclerotherapy, laser treatments, and laser hair removal, KP Aesthetics offers the full gamut of services for the face and body. One increasingly popular service is CoolSculpting, a minimally invasive fat-removal procedure as a counter to liposuction and tummy-tuck surgery.
Kimberly Costalas, R.N., nurse injector for cosmetic medicine, a Certified CoolSculpting Specialist, and the co-owner of KP Aesthetics with her husband Steve K. Costalas, D.O., says that these types of procedures are quickly replacing the need for patients to ever have to "go under the knife." And that's a good thing, for many reasons.
"I have been able to give patients 'liquid facelifts' with dermal fillers and Botox," she says. "It's amazing to be able to change lives without anesthesia and surgery, which come with their own risks. These are the options that today's women want—and men, too."
'No Downtime' Restoration
Among those options, CoolSculpting tops the list. Put simply, CoolSculpting uses innovative technology to essentially freeze fat cells away. Once an area is treated, the fat cells undergo a process called cryolipolysis, in which they die and are excreted from the body naturally. It's safe, effective, and virtually pain free, says Costalas, who has had the procedure performed on herself. The 40-minute procedure does not bother the vast majority of patients who have it done, she adds. In fact, she says some people may find it "slightly uncomfortable for a couple of minutes," but others who come in for CoolSculpting wind up falling asleep during the treatment.
Costalas says that moms love the idea that after one or two treatments, they have the flatter, tighter belly they've been seeking. In addition to the abdomen, CoolSculpting also works well on the thighs, buttocks, and love handles. It's an added bonus that the frozen-away fat cells are gone forever, making it a permanent method of fat removal. Of course, patients also love that there's no downtime associated with this procedure.
"You can leave the office and go back to whatever it is that you need to do," Costalas says. "Whereas surgery would have lots of restrictions during your recovery period, including even how much you can walk, this has no downtime associated with it. That's really appealing to busy mommies, like me, who don't have time to go through a lengthy recovery."
A Personalized Experience
As the mother of two children, Costalas says that women often feel comforted that she understands their needs. The fact that she has tried every product she has purchased for the practice certainly helps. As a result, she has firsthand knowledge of what patients can expect before adding each product to the lineup of services offered. Doing so tends to put patients' minds at ease and also enables Costalas to care for patients with true empathy.
While other practices in the region may offer similar services, the personalized attention given to patients, as well as the high level of experience, is what draws people to Costalas' doorstep. She has more than 10 years of patient-care experience and trained with the American Academy of Facial Esthetics. She has also received extensive training from Zeltiq, the maker of CoolSculpting, and attended CoolSculpting University for further instruction.
"I think something that really sets us apart is our focus on education," Costalas says. "We strongly believe in educating our patients on exactly what their options are and, for that reason, we get a lot of people who are new to aesthetics in general. You won't get talked into anything here. We believe in giving you the options and then letting you make the decision that is best for you."
In addition to education, the practice emphasizes high-quality products. If it means patients will have a better outcome, Costalas will invest in new technology and products proven to deliver a superior overall patient experience. That's because she really does care about the people that come through her doors. KP Aesthetics' approach seems to have resounded with patients, as the practice has been experiencing unprecedented growth of late. On average, for example, the practice performs 200 laser hair removal treatments per week, according to Costalas.
"We really get to know our clients here and build relationships with them," she says. "In some practices you get pushed through quickly, but we really care about getting to know the people that come to us. Many clients want to have the same practitioner for each treatment, and we ensure that happens."
In general, Costalas says it's wonderful to see today's moms focused on taking care of themselves. She believes this kind of self-investment can ultimately make someone a better parent.
"I have a lot of moms who express to me that they aren't vain people; they just want to look and feel better after having had kids," says Costalas. "I think that's great. We shouldn't have to feel guilty about that or make excuses. It's OK to want to put your best face and body forward. When you look great, you feel great, too, and that can make a big difference in how you live your life. We all deserve to live life to the fullest."
KP Aesthetics
4621 West Chester Pike
Newtown Square, Pa.
Photograph by Jody Robinson

Published (and copyrighted) in Suburban Life magazine, July 2019.
For more info on Suburban Life magazine, click
here
.
To subscribe to Suburban Life magazine, click
here
.
To advertise in Suburban Life magazine, click
here
.