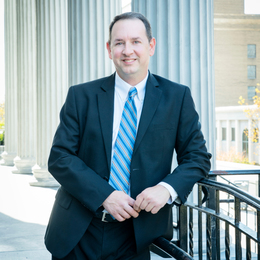 Human Touch
The new Chester County office space of Weber Gallagher's Family Law Group deepens the firm's commitment to clients in need of guidance, comfort, and a clear path forward.
The world of family law deals with the unexpected.
Two individuals who were once deeply in love fall into a pattern of ceaseless acrimony. An agreeable divorce between two soon-to-be-former spouses turns ugly when they cannot come to terms on the issue of child custody. The dream of having a family turns into a nightmare when an adoption turns heartbreakingly complicated. A breakup goes bad and veers into psychological torment, requiring unimaginable strength and, in some cases, a protection from abuse order.
The attorneys of Weber Gallagher's Family Law Group understand that life is complicated enough. When their clients find themselves on uneven terrain, dealing with situations in which there's a lot at stake, the attorneys provide comfort, guidance, and resolve every step of the way.
One of the attributes that defines Weber Gallagher's Family Law Group is its attention to details both big and small. Such clear-minded focus is apparent in the firm's new office space located in West Chester, which opened in February, just two blocks from the Chester County Courthouse. Complete with conference rooms and meeting spaces, the workspace enables a quiet, comforting home base for clients to meet with attorneys and discuss strategy before a hearing or other times when a client's nerves may need soothing. Experienced Family Law Attorneys Carolyn R. Mirabile and Lawrence J. "Skip" Persick understand that they need to create a true comfort level for their clients at a time when many of the subjects being discussed are sensitive and highly emotional. Of course, the setting matters less than the attorneys devoted to the case.
"Family law is a very complex area," Mirabile says. "You have to secure information perhaps about someone's job, their income, their benefits, custody, whatever the latest issues might be. You are also going to court, so our job is to understand that a person may have never been through the system and may be going through an emotional time, and their judgment or information may be blurred by what is happening in their life. Through it all, they need someone who has the experience, who can direct them, who can say, 'This is what you need to do, this is what's going to be your responsibility, this is what you're entitled to, this is how our court is going to handle the situation,' I can't imagine going through the process without an attorney."
A Trusted Ally
Persick, who joined the firm in December 2018, has a lot to do with Weber Gallagher's new West Chester space. He has been a fixture in the Chester County legal community for 30 years, first as a public defender and then with a very prominent West Chester-based firm. He even played on the bar association softball team with a number of judges who are still on the bench.
"Clients like to know that you have an attorney who has relationships with judges, other attorneys that practice in the county," says Mirabile, who enjoys a similar familiarity. "That's what clients are coming to you for. They want to make sure that their attorney has the same relationship as the attorney their spouse might hire."
The attorneys' success isn't solely derived from knowing who is who at the Courthouse, of course.
"If people are faced with a divorce or a custody situation, people need to know that it is emotionally taxing and can be a major distraction to the point of being debilitating," says Persick, who serves as Co-Chair on the Legislative Committee of the Pennsylvania Bar Association's Family Law Section. "You need to work with someone who can listen to you, who can direct you, and take your situation and move it to an acceptable conclusion as efficiently and quickly as possible. I'm patient with my clients. I hear them out. I take their perspective on things. I take that and try to advance the ball and resolve the case as they see appropriate."
It's a balancing act he has worked hard to perfect over the years. The same can be said of his colleagues, including Mirabile and the Family Law Group's other two highly capable attorneys, Donna M. Marcus and John Zurzola.
"We have the experience, and we have a presence in the western suburbs," Persick says. "We have manpower. We have other attorneys that we can collaborate with and share ideas with. We have a number of people that know the court system, that know the players, that know the various experts, such as real estate appraisers and accountants and psychologists. We have a wealth of information among the four attorneys and three support staff."
In fact, Mirabile sees the power of the collective as one of the firm's greatest strengths.
"We do like to work with a team approach here," she says. "We often will have more than one attorney working on a file, so if one of us is not available, then the others can say, 'Oh yes, we've talked about the case,' or 'I know the client, I can help you with that.' The client doesn't feel as though their case is pushed off on a stranger or they don't know who is working on the file."
Mirabile, Chair of the Family Law Group, has accumulated a number of credentials throughout her career. She received an AV Preeminent Rating from Martindale-Hubbell, while several respected publications, including Suburban Life, have bestowed her with "Top Attorney" honors. Super Lawyers has chosen her for inclusion in its top-rated family law attorneys' listing every year from 2011 to 2018, based on peer recognition and professional achievement in legal practice. She strives to treat each client with a compassion that matches her courtroom abilities.
"You have to be honest about everything," she says.
As soon as she receives information that affects a case—good, bad, or indifferent—she shares the information with her client. After all, a client needs the unvarnished truth just as much as he or she needs the comfort of having a trusted ally while undergoing a stressful time.
Persick says it best: The firm's family law clients are treated as people with "real problems and real questions that will be answered." Life doesn't stop, he says, and neither does the Family Law Group of Weber Gallagher.
The Family Law Group of Weber Gallagher Simpson Stapleton Fires & Newby, LLP
(610) 272-5555
2 W. Market Street
West Chester, Pa.
One Montgomery Plaza
425 Swede Street, Suite 1001
Norristown, Pa.
Photograph by Nina Lea Photography

Published (and copyrighted) in Suburban Life magazine, July 2019.
For more info on Suburban Life magazine, click
here
.
To subscribe to Suburban Life magazine, click
here
.
To advertise in Suburban Life magazine, click
here
.