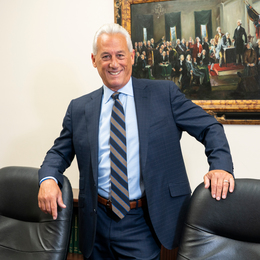 Outstanding in His Field
As both an elite athlete and a high-performing attorney with the law firm Haggerty, Goldberg, Schleifer & Kupersmith P.C., Terry D. Goldberg is driven by the will to win.
Terry D. Goldberg is a competitor at heart. Whether he's on the ball field, where he has earned six gold medals and was recently inducted into the Israel Sports Hall of Fame, or in the courtroom, Goldberg wants to win. Fortunately, for his clients, winning happens to be exactly what Goldberg has a reputation for doing.
"The competitive nature of baseball, which I've been playing since I was six, translates nicely into law, believe it or not," says Goldberg. "Both get those competitive juices flowing in me. On the field, I want to win for not only myself but also my team and my country, if I'm playing for the United States. But in the courtroom, my sole focus is winning for my client."
As an attorney specializing in personal injury, that level of attention is vital. Over the years, as a partner with the law firm Haggerty, Goldberg, Schleifer & Kupersmith P.C., Goldberg has gone to bat for his clients against insurance companies and corporate giants—behemoths that his clients never could have stood up to alone. The kinds of cases he has fought and won involve motor vehicle accidents, slip and/or trip and fall accidents, premises liability actions, defective product liability actions, social security and disability claims, liquor liability actions, medical malpractice, worker's compensation, and insurance bad-faith matters.
"Nothing that we do is hourly based," explains Goldberg. "Our fee is all contingent on winning the case. It's true that most people don't have the resources to present their personal injury case, including the finances, but they don't pay for anything until they've won."
One of his more recent cases made national headlines in legal circles. A deck collapse in the Poconos led to the injuries of adults and children there to celebrate a birthday. Despite the overwhelming evidence that the deck had been constructed, maintained, and inspected negligently, the defendants were unwilling to accept liability for the accident until Goldberg and his team became involved. He and his team successfully negotiated a settlement in excess of $2 million.
Of course, that's just one example of many. Throughout his career, Goldberg has won large settlements and verdicts against negligent drivers, big-box retailers, physicians in medical malpractice and birth-defect cases, dentists in dental malpractice cases, and so much more. Any time there is an injury involved—and someone else is at fault—Goldberg has earned his reputation as a go-to attorney who clients want on their side.
"While I may have several hundred cases my firm is working on at any given time, my clients have this one case—and it means a lot to them, so it means a lot to me," Goldberg says. "I take that seriously. When I'm in court, no matter what else is going on, that one case is my only priority."
Working as a Team
The law firm of Haggerty, Goldberg, Schleifer & Kupersmith P.C. has continued to grow, now serving clients in Bucks County, Philadelphia, Reading, Allentown, Harrisburg, Lancaster and beyond. Goldberg remains based out of the firm's office in Bucks County, where he has been living and working since the early 1980s. Prior to that, Goldberg grew up in Northeast Philadelphia and graduated from Temple University.
Since moving to Holland, Goldberg says that he has made an effort to "keep things local." Everyone who works at the Bucks County office is from the area. Goldberg calls his colleagues his "work family," adding that although attorneys and other legal employees tend to jump from firm to firm, consistency among team members is among his office's core strengths. In fact, of the two secretaries Goldberg had working for him in a co-op program while also attending high school in 1983, one recently retired and the other is still working with him today. That says a lot.
"I've also had attorneys who have been with me for a decade or more," adds Goldberg. "That's not too common in this industry, but we work well as a team here."
At work, Goldberg has always maintained a busy schedule and thrives in high-stress, high-demand situations. He maintains a large revolving caseload. On top of that, he is an active member of organizations such as the Philadelphia Bar Association, Bucks County Bar Association, Philadelphia Trial Lawyers, Pennsylvania Bar Association, and Pennsylvania Association for Justice.
Despite his full work schedule, Goldberg has always made ample room in his life for his two greatest passions away from the courtroom: baseball and his family. Goldberg has represented the United States as starting shortstop for the Maccabi USA Men's Fastpitch Softball team, and he ultimately rose to the position of head coach. His endeavors in baseball have taken him around the globe. Those six gold medals mean a great deal to him because of what they symbolize—victory—but he also has a deep appreciation for the fact that putting in the effort to attain them has strengthened his character. The sport has made him a better person, he believes, and a better attorney.
"Baseball teaches you to work hard, to put in the commitment, and also to be a team player," he says. "That all carries over to the courtroom as well."
Of course, Goldberg says he couldn't do it all without his family's support. He recently celebrated 25 years of marriage with his wife, Cindee, with whom he has three boys—Brandon, Blake, and Hunter. There's nothing he enjoys more than spending quality time with his family to unwind from the daily stresses of a high-performing attorney.
No matter whether Goldberg is with his family, on the ball field, or in the courtroom, he's the type of person that commits all of his effort and attentiveness—100 percent. When injured clients are putting their trust in him, that type of dedication means everything.
For more information on the law offices of Haggerty, Goldberg, Schleifer & Kupersmith P.C., call (215) 354-9100 or visit www.hgsklawyers.com
.
Photograph by Jody Robinson
Published (and copyrighted) in Suburban Life magazine, July 2019.
For more info on Suburban Life magazine, click
here
.
To subscribe to Suburban Life magazine, click
here
.
To advertise in Suburban Life magazine, click
here
.