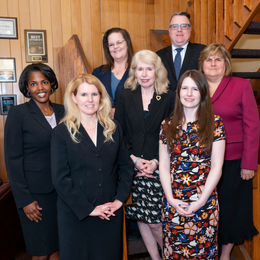 Karen Ann Ulmer P.C.
Led by Karen Ulmer and April Townsend, the legal team of Karen Ann Ulmer P.C. guides clients through the unsteady terrain of divorce and other life-changing legal matters.
Getting divorced can be a transformative experience, if not a jarring one. People who have had to endure a divorce or some other serious family law matter often say they felt "adrift" or "unmoored," a fitting description considering the fact that finding resolution to one's problem often takes months or, in some cases, years in unfamiliar territory, with no clear picture of what the future holds.
Questions abound: Will I be able to OK financially once the dust has settled? How will the changes I'm going through affect my children and my relationship with them? When will my life return to normal? The need for clarity in answering these questions, among many others, is precisely why people who are going through these significant life events need someone by their side who knows the terrain, who can clear the fog of uncertainty, and who can lead them safely to "the other side"—safe, secure, and equipped to begin a new and exciting chapter in their lives.
Enter the attorneys of Karen Ann Ulmer P.C., a law firm headquartered in Langhorne. Led by Karen Ulmer and April M. Townsend, the law firm focuses primarily on all aspects of family law—divorce, child custody, mediation, child and spousal support, adoption, etc.—as well as complementary areas of practice such as estate planning, bankruptcy, and real estate. All four of the firm's attorneys are licensed to practice in both Pennsylvania and New Jersey.
Ulmer, who founded the firm in 2001, concentrates her practice in divorce and other areas of family law. She has undertaken extensive training and received certificates in mediation, a voluntary process through which two disputing parties agree to resolve their dispute with the guidance of a neutral third party. In addition, she has trained to become a parenting coordinator, the term for a neutral third party who is brought into custody cases to reduce conflict and improve communication so parents can make better decisions concerning the parenting of their children.
"At the heart of our firm, we are based in education," says Ulmer, who has firsthand experience with divorce and custody. "Whether someone is going through a divorce or dealing with a custody issue, we want them to know all of their options so they can make informed decisions. I wrote a book in 2018, Divorce in Pennsylvania: The Legal Process, Your Rights, and What to Expect, as a resource for anyone in Pennsylvania who is going through a divorce or considering a divorce. Every client we take on gets a copy of the book, as well as a will, so they can be better prepared for the future."
Townsend, a longtime member of Karen Ann Ulmer P.C. and partner, shares Ulmer's perspective. While traditional litigated divorce in Pennsylvania and New Jersey accounts for the majority of her practice, she's in the process of becoming certified as a mediator. She also does probate and estate planning, as well as adoptions, to help clients make more informed decisions that will affect their future and to help them when a loved one dies.
"When it comes to litigation, there aren't too many winners," says Townsend, who comes from a family of public service professionals; her father and brother both have backgrounds in law enforcement. "Personally, I'm looking forward to a more mediation-based practice, because I think it will help people limit the fallout of litigation. In family law, I think people are often best served when they work through their issues themselves."
Chris Little Simcox—the newest addition to the Karen Ann Ulmer P.C. legal team—brings years of seasoned experience to the firm. She practices not only in family law but also in the areas of wills and estates, and Chapter 7 bankruptcy. As part of her family law practice, Simcox has been trained in collaborative divorce, which is a relatively new alternative to litigated divorce designed to keep divorcing spouses out of the courtroom. She also has been a support officer for the county and is very familiar with the support system.
Russell J. Manning, who has been with the firm for almost two years, handles real estate and family law.
"Helping people is what we do," Manning says. "Whether someone is going through something like a divorce or a custody issue, I see my job as making the process as painless and stress free as possible. So many of our clients are coming out of difficult relationships, and I get a lot of satisfaction out of helping them maintain strength and move on to the next chapter of their lives."
Making a Difference
Apart from fighting on behalf of their clients, every attorney at Karen Ann Ulmer P.C. has an interest in uplifting the community through philanthropic outreach. For example, Ulmer has been actively involved in the Pennsylvania Bar Association's Mock Trial Competition for high school students since 1997, and has served many years as the regional chair of the competition for Bucks, Chester, and Delaware counties. She is also on the Alumni Board at Delaware Law School at Widener, is president of a local office condominiums association, coordinates and coaches soccer locally, has coached baseball, and is involved in volunteer work at local schools.
Likewise, both Ulmer and Townsend serve on the Board of the Bucks County YWCA, where Ulmer has been president for the past two years. Both are particularly interested in the YWCA because of the organization's most vital goals—eliminating racism, empowering women, and promoting peace, justice, freedom, and dignity for all.
Simcox gives back by way of education. Currently she is an associate professor at Bucks County Community College in Newtown, teaching classes to students who may one day represent the next generation of attorneys; previously, she taught at the Justice and Safety Institute at the Pennsylvania State University, which offers training programs and classes designed to meet the professional-development needs of law enforcement and public safety professionals across the state. Also, she is a member of the Bucks County Collaborative Law Group, as well as an active member of the Bucks County Bar Association, which she served for five years as chair of the Family Law section.
Manning, for his part, serves on the Board of Directors for Neshaminy Kids Club and is president of his homeowners association. He is also an active member of the Sons of Union Veterans of the Civil War, a fraternal organization dedicated to preserving the history and legacy of heroes who fought and worked to save the Union. In addition, he's an avid fencer, and has had a passion for Civil War reenactment since the age of 15.
"I think each of us became attorneys because we wanted to make a difference in the lives of other people," says Ulmer. "Whether we're helping our clients move on to the next stage of their lives or doing our part to improve the community through the different organizations we support, we're thankful for the opportunity to give back."
Karen Ann Ulmer, P.C. maintains a central office at 174 Middletown Blvd., Suite 300, in Langhorne, Pa., and also has offices in Doylestown, Jenkintown, and King of Prussia. For more information, call (215) 752-6200 or visit ulmerlaw.com.
Photograph by Jody Robinson
Published (and copyrighted) in Suburban Life magazine, July 2019.
For more info on Suburban Life magazine, click
here
.
To subscribe to Suburban Life magazine, click
here
.
To advertise in Suburban Life magazine, click
here
.